Samsung has released the third beta update for its One UI 6.0, offering users a chance to experience the latest features before the official launch. The One UI Beta Program is open to users in select countries and comes with a set of guidelines for participation. This article provides a comprehensive guide on how to access this update and what to expect.
One UI Beta Program: An Overview
What is the One UI Beta Program?
The One UI Beta Program is Samsung's initiative to allow users to test and experience the latest One UI features integrated with Android 14 before they are officially released to the public. This program is not just about testing; it's about gathering valuable feedback to enhance the overall Galaxy user experience. Currently, the program is available to participants in China, Germany, India, Poland, the Republic of Korea, the United Kingdom, and the United States.
Why Participate?
By joining the One UI Beta Program, users get a firsthand experience of the new features and design. More importantly, they can send feedback directly to Samsung, helping the company refine and optimize the software for a broader audience.
How to Join the One UI Beta Program
Become a Beta Tester: Start by downloading the Samsung Members application from the Galaxy Store or the Google Play Store. Once downloaded, log in using your Samsung Account. Look for the "Registration for One UI Beta Program" option either on the home banner or the notices page and register.
Update Your Software: After registration, navigate to "Settings > Software update > Download and install" on your device. This action will install the beta software. Remember, you need a Samsung Account to participate. If you don't have one, create it here. Note that the beta program is device, OS version, and country-specific.
A Redditor's Experience with One UI 6.0 Beta 3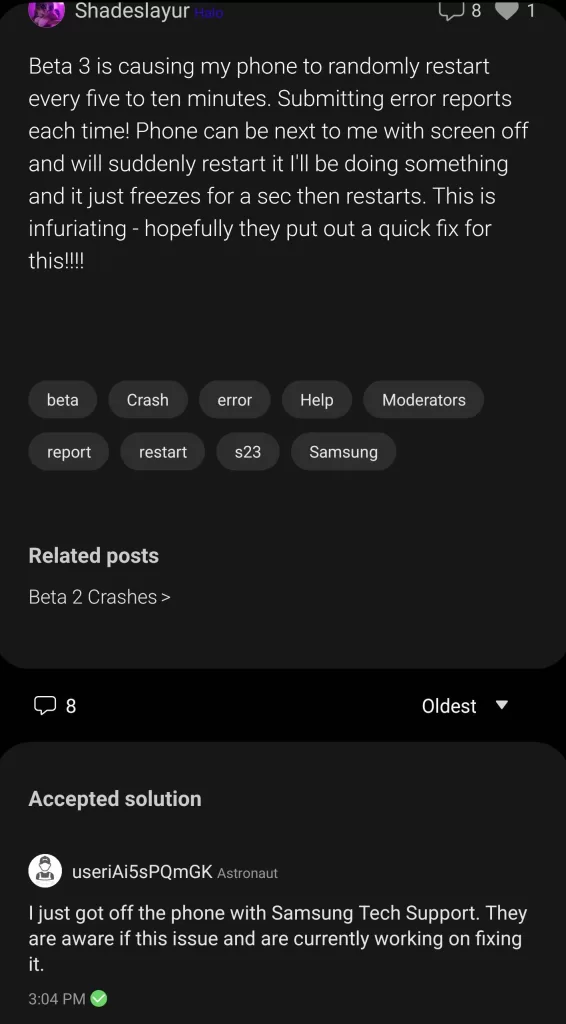 The original poster reported constant random reboots and crashes on their Samsung device after updating to OneUI Beta 3. They stated that their phone would spontaneously restart every 5 minutes or so while idle, making the device extremely frustrating and unusable.
Other redditors chimed in confirming they have experienced similar constant crashing and rebooting after installing Beta 3. Some reported lag and general bugginess as well beyond just the crashes.
A few redditors said they have not had these constant reboot issues on their devices with Beta 3. But the majority of comments indicate there is clearly a bug causing excessive crashing introduced in this latest beta update.
The OP and others suggested the crashes seem to be tied to Always On Display, as turning that off appears to reduce or eliminate the reboots temporarily. However, this does not fix the underlying issue.
Overall, the redditor reported a major bug causing constant device crashing and reboots in OneUI Beta 3. It appears to be impacting many users, making Beta 3 unstable and unreliable. The issue requires further diagnosis and a fix from Samsung. In the meantime, some redditors have recommended potential workarounds like clearing cache partitions or doing a factory reset. But the reboots persist for most experiencing this problem in Beta 3.
Beta Activities and Feedback
Reporting Errors
If you've enrolled in the program and come across any issues, it's crucial to report them. To do so, open the Samsung Members application and select "Beta feedback > Send feedback". Ensure you submit the report within three minutes of encountering the bug and keep the app running until the report is sent, which might take up to five minutes.
Making UX Suggestions
The One UI Beta Program isn't just about identifying bugs. Users can also suggest improvements to the user experience. To provide UX or UI-related feedback, navigate to "Beta Community > Suggestions" within the Samsung Members app.
FAQs about One UI Beta Program
What does it cost to participate? The program is free for eligible users.
How do I send feedback to Samsung? Use the Samsung Members app to send feedback or report bugs.
How do I withdraw from the Beta program? You can opt-out through the Samsung Members app.
When will the release version be available? The official release date will be announced by Samsung in due course.
For a complete list of FAQs, visit the official Samsung website.
One UI 6.0 Beta 3 update
The One UI 6.0 Beta 3 update is an exciting opportunity for Samsung users to get a sneak peek into the future of the Galaxy user experience. By participating, you not only get early access but also play a role in shaping the final product. Remember to backup your data, stay updated, and provide valuable feedback to Samsung. Happy testing!