If you just got your Samsung Galaxy S7 Edge (#S7Edge), it's better you take time familiarizing it's layout and knowing its parts and their functions. Your device was elegantly designed by Samsung engineers with its buttons and other components placed in areas where users can easily and comfortably them.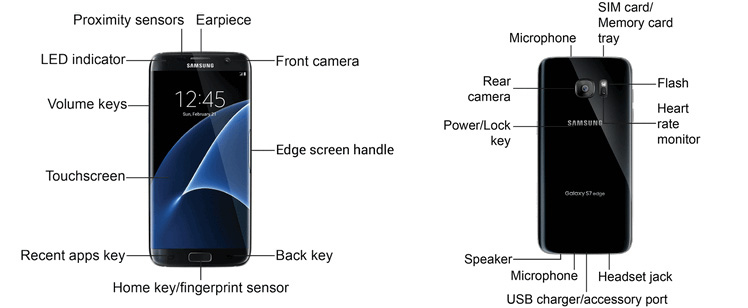 The first thing you'll notice when you look at the front view of your device is the huge screen (glass) but did you know there are 10 parts visible when you look at it that way? There are also 9 parts when you look at the back view. Try to go over the list of the parts below…
Front View
LED Indicator – it will tell you whether your phone has a low battery or if you have unread notifications and/or messages. It may glow, blinks or pulsates depending on what it's telling its owner.
Touchscreen – it displays information necessary to operate the phone and aside from that, it's the primary tool used to execute touch commands.
Earpiece – lets you listen to voice calls and/or automated prompts
Front camera – allows you to record videos and snap pictures while facing the screen but the quality is much lower than that of the back camera. Other functions include taking selfies and video conferencing.
Edge Screen handle – one of Samsung's newest features and is exclusive only to Edge models. It's a part of a touchscreen that allows owners to add more functions according to their preferences.
Back key – more often, tapping this key will bring you to previous screen or menu, close a dialog box and options menu, or close apps.
Home key with Fingerprint sensor – aside from bringing you to the Home screen, it is also a fingerprint scanner that allows the owners to unlock their devices by just tapping it. Pressing and holding it will also bring up Google Search or Google Now.
Recent apps key – opens the screen that lists down some recently used applications.
Volume keys – it allows you to adjust the volume of your device up or down.
Proximity & light sensors – the proximity sensor is responsible in detecting objects that are near the screen. It's most common function is to turn the display off when the owner puts the phone near his/her face during calls. The light sensor is responsible in automatically adjusting the screen brightness when auto-brightness is enabled.
Back View
Heart rate monitor – it measures your heart rate when you place your fingertip over it. It functions only with the S Health app.
Flash – helps illuminate subjects in low-light environments when the rear camera is used to take pictures. It can also serve as a flashlight with the help of other apps.
Rear camera – this is the primary camera of your phone, which allows you to take pictures of high quality as well as videos.
SIM card & microSD card tray – it holds both your SIM card and microSD card in place.
Headset jack – it has the standard 3.5mm jack that allows you to insert standard headsets or external speakers.
Micro USB port – also known as utility port or accessory port, which is used for charging and data syncing.
Microphone – used to transmit owner's voice during phone calls and to record voice and ambient sounds when recording videos and other recordings.
Loud speaker – its main function is to play ringtones and other sounds. It is also where the voice of the caller is streamed when speakerphone is enabled.
Power/Lock key – it's used to turn the phone and/or the screen on and off.
Now that you know the external or visible parts of your new Samsung Galaxy S7 Edge and their functions, it would be easier to operate your phone.
If you have problems or concerns, do not hesitate to contact us by filling up this questionnaire. You may also visit our troubleshooting page for the S7 Edge as we list down every issue we address each week.