While the Android lollipop update brought happiness to many Samsung Galaxy S4 (#Samsung #GalaxyS4) owners, there were some who wished they didn't download and install the new firmware to their phones as they encountered a lot of issues after they did. I addressed some of those problems here including the issue wherein the S4 start to fail or its operating system crashed after an update.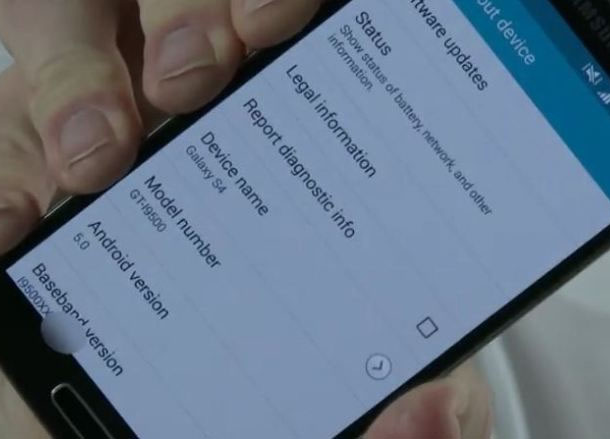 Other problems included here are related to links that won't open when tapped, lost calendar entries after the update, overheating and more crashing issues. Read on to learn more about these problems and how to tackle them in case they happen to you in the future.
For those who are looking for a solution to a different problem, visit our Galaxy S4 troubleshooting page. We already addressed hundreds (if not thousands) of problems sent by our readers so odds are we already address your concern before or there are several others that are similar to yours. Find these issues and try the solutions we provided. If they won't work, then contact us through this form.
Here are the problems I covered in this post…
Galaxy S4 fails or crashes after a firmware update
Problem: Samsung notified me of firmware update. When I try to install, the green robot falls over dead. My phone freezes. It takes several attempts to restart the phone. Samsung keeps posting update download requests.
Troubleshooting: Did the update complete or fail? This information is very important for us so we can provide accurate troubleshooting guides and solutions. But anyway, if the update was successful and you got stuck on the Android System Recovery screen (where you can see the Android robot dead), then all you got to do is wipe the cache partition:
Press and hold the Volume Up, Home and Power buttons.
Release the Power button when the phone vibrates but continue holding on to the Volume Up and Home buttons.
When the Android System Recovery screen appears, release both the Home and Volume Up buttons.
Using the Volume Down key, highlight 'wipe cache partition.'
Press the Power button to select the option.
The phone will automatically restart once cache data are wiped out.
However, if it failed, then you can just reboot the phone. If the reboot failed too, try booting in up in the safe mode and then reboot normal from there. Works every time.
How to boot Galaxy S4 in safe mode
Press and hold the Power button.
Once the Samsung Galaxy S4 logo appears on the screen (assuming the phone responds to Power key press), release the Power button.
As soon as you release the Power button, press and hold the Volume Down key.
Continue holding the Volume Down key until the phone has completed the reboot process.
If you can read 'Safe Mode' at the bottom left corner of the screen, release the Volume Down key. Otherwise, repeat the process until you can boot the phone to Safe Mode.
I hope this helps.
Can't open links after the lollipop update
Problem: I did the lollipop update and now I can't open any links in any apps.  I've tried in Instagram and my goSMS apps, but I can't open links on either one. It starts to go to the website, then goes back to original place where the link is.  Thanks for the help!  I also did a soft reboot,  no change.
Troubleshooting: Is it a valid link? Does it happen to all links or just one? To check if the link is valid, manually type it on the address bar of the web browser (if possible, use a computer). If it's valid or if it displays a real web page, the issue could be in the apps you use. Hyperlinks are opened by default on a web browser unless the user changed the default app. With that in mind, it's better that we reset all app preferences to default by following these steps:
From any Home screen, tap the Menu key.
Tap Settings.
Tap Application manager.
Swipe to the All screen.
Tap the Menu key.
Choose Reset app preferences.
You may now try to open the link and it will prompt you to choose an app to be the default app to open all links. Choose the stock web browser and that's it.
On the other hand, if the problem only happens to certain links but work with others, then the issue isn't with the phone or its apps but with the links.
Calendar entries lost after lollipop update
Problem: After installing lollipop update, my calendar lost all my entries. In application manager I see a calendar with data in it. A calendar with little data in it and an app titled Calendar Storage. What are options for retrieving calendar data? Bountiful blessings! — Blair
Troubleshooting: Hi Blair! The question is have you synced your calendar with any of your online accounts especially Google? If so and if you left your phone synced and connected to the internet all the time, there's a big chance you will recover all those entries by syncing your phone with the same account. Otherwise, it is impossible to recover them.
There were a lot of reported cases wherein the phone got wiped out after an update and this might be the reason why all those entries disappeared. The "little data" you can see when you open the Application Manager are ones that are necessary to run the app and they don't necessary constitute the data for the entries you lost. So basically, if you don't have a backup of your entries, it's impossible to recover them.
Galaxy S4 overheats, crashes after lollipop update
Problem: Overheating…once below 30% battery phone switches off instantly and turns itself on and off until battery dies or until plugged in. Randomly crashes as well. Factory reset twice, massive battery drain when nothing is open. Having to charge constantly. Not a single problem until lollipop update. Help.
Troubleshooting: This is one of the reasons why a lot of owners are afraid to update their phones. You're not the first one to report this kind of problem after an update and I tell you, there are only two possibilities here: either the problem is caused by corrupt caches and/or data or the firmware itself has serious issues.
We shall rule out the former first by wiping the cache partition. Please follow the steps on how to wipe the cache partition in the first problem. If the procedure failed to fix the problem, then I suggest you do the master reset but don't forget to backup data you don't want to lose as they will all be deleted during the process. I understand you already did the factory reset to no avail but try this procedure before you seek help from a technician:
Turn the phone off completely. (Remove the battery and place it back in)
Press and hold the Volume Up, Home and Power buttons.
Release the Power button when the phone vibrates but continue holding on to the Volume Up and Home buttons.
When the Android System Recovery screen appears, release both the Home and Volume Up buttons.
Using the Volume Down key, highlight 'wipe data / factory reset.'
Press the Power button to select it.
Using the Volume Down button again, highlight 'delete all user data.'
Press the Power key to select it.
Once the reset is complete, choose 'Reboot system now.'
Press the Power button to restart the phone.
If the reset didn't work, then it's safe to assume you have downloaded a bad update or a corrupt firmware. It's time you sought assistance from someone who knows how to reinstall the previous firmware or the current one.
TouchWiz keeps crashing after lollipop update
Problem: After lollipop upgrade on my Samsung Galaxy S4, the default launcher – TouchWiz has stopped working. If I try to move any widget, everything hangs. I did try some third-party launchers, but the default one was way better. Can someone advise on how to fix this issue?
Troubleshooting: There's a chance it's a firmware issue or just some corrupt caches affecting the TouchWiz app. But since the error message mentions TW as the one that's crashing, it's the first one you need to go after. That said, try clearing TouchWiz's cache and data:
From any Home screen, tap the Menu key.
Tap Settings.
Tap Application manager.
Swipe to the All screen.
Find and tap TouchWiz.
Tap Clear cache.
Tap Clear data, then OK.
If the problem still persists, try wiping the entire cache partition. Follow the steps in the first problem. Should the problem persist after deleting all caches, try the master reset. For app issues like this, the reset usually takes care of it, otherwise, reinstall the firmware or have someone do it for you.
Activation lock triggered after hard reset
Problem: My wife did a hard reset on her Samsung Galaxy S4. When she tried re-activating it, the activation lock was triggered. I went through everything with Verizon, and then Samsung. Resetting the phone in various ways, resetting the Samsung account password, and nothing worked.
I sent phone to Samsung to be flashed, but they sent it back unrepaired because the activation lock is triggered. I had told them it was locked before sending it to them.
I have found that there are two accounts linked to the phone. My wife's, and another that is missing one letter from my wife account. Now I am waiting for a Samsung engineer to review the issue and get back to me.
Do they have the ability to wipe the phone account info so we can set it up again? Thanks, Johny."
Answer: Hello Johny! The answer to your question is Yes. Samsung techs can wipe the phone account information and account specialists may be able to access Samsung accounts. So, basically, these people are very capable of fixing the problem especially the one your wife has with her phone. I'm a bit confused though why they returned the phone unrepaired due to "triggered activation lock." If it matters a lot to them, they can surely verify on their end who triggered it but even if it was triggered on your end, they should still be able to fix the problem or forward it to your provider if there were network-related issues.
Perhaps triggered activation lock isn't covered in the warranty as it may fall into "tampered firmware" category and the reason they sent it back is because they can't repair it without a fee. My point is, no one can help you better than these people. So, communicate with them because there's not much we can do about it.
Galaxy S4 can't get signal after lollipop update
Problem: One day my phone died just as I was about to plug it in and once I plugged it up a notice popped up saying something about a bad OS and I needed to restart or move on with out it but it took almost 3 hours to get that screen to go  away. The next morning it started normally but it will not get signal anywhere now so I was wondering how I need to fix this so I can use my phone again.
Troubleshooting: Reboot your phone multiple times to make sure it's not just a system crash because the first part of your description sounded like there's a problem with the firmware due to the recent lollipop update. You may also want to do the master reset to try to fix this problem and if it persists, seek help from someone who knows how to reflash the firmware.
Galaxy S4 and apps keep crashing, became slow after lollipop update
Problem: My phone keeps crashing. Everytime I use whatsapp or gmail, the phone crashes, as in, it returns to the home screen and the custom wallpaper that I have set changes to the default blue wallpaper. Battery drains really fast and the phone has massive overheating issues. The phone has become really slow and features like multiwindow have become totally unusable. Please provide some solution to the problem!! thanks in advance!
Troubleshooting: It actually sounds like the problem is TouchWiz, although other apps may also result to these kinds of behaviors when they crash. One way to isolate the problem is to boot the phone in safe mode. If the problem still occurs, try clearing the cache and data of the TouchWiz app, then uninstall and reinstall both WhatsApp and Gmail apps. If all else fails, try the master reset.
Connect with us
We are always open to your problems, questions and suggestions, so feel free to contact us by filling up this form. We support every Android device available and we are serious in what we do. This is a free service we offer and we won't charge you a penny for it. But please note that we receive hundreds of emails every day and it's impossible for us to respond to every single one of them. But rest assured we read every message we receive. For those whom we've helped, please spread the word by sharing our posts to your friends or by simply liking our Facebook and Google+ page or follow us on Twitter.