Do you encounter Ravenswatch crashing on your PC? There are several possible causes for this issue, including game bugs, outdated drivers, corrupted game files, conflicting errors, and compatibility or installation issues with your PC system. To Ravenswatch crashing issue, you can try our troubleshooting guide.
Ravenswatch is a highly replayable, top-down roguelike action game that offers intense real-time combat and immersive gameplay. Developed by Passtech, the creators of Curse of the Dead Gods, this game can be played solo or with up to four players in co-op mode.
In the game, the Nightmares are spreading throughout Reverie, corrupting everything in their path. To defeat these creatures, you must master unique hero abilities that draw inspiration from characters in folk tales and legends. The final chapter of the game can only be reached by honing your skills, building your strength, and working with your team.
The world of Reverie is based on old folk tales and legends, including Norse mythology, One Thousand and One Nights, and even the story of the three little pigs. The game's dark-fantasy style adds to the timeless appeal of these classic tales.
Each playthrough of Ravenswatch is unique, with a randomly generated map and new enemies to discover. As you play as different heroes, you can upgrade your fighting power with the items you find, and explore the game's many activities.
Fixing Ravenswatch Game Crashes
PC players may encounter the frustrating issue of Ravenswatch game crashes, which can significantly impact their gaming experience. Since crashes can occur due to various reasons, it is essential to follow a set of troubleshooting steps to fix the Ravenswatch crashing problem.
Here's how to fix Ravenswatch crashing issue.
Fix #1 Check Ravenswatch System Requirements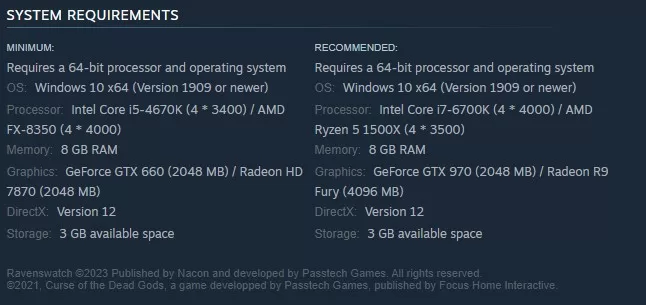 To prevent in-game crashing, the initial step is to ensure that your computer meets the minimum hardware requirements to run Ravenswatch. Here are the minimum hardware requirements for Ravenswatch:
Minimum Requirements
Requires a 64-bit processor and operating system
OS: Windows 10 x64 (Version 1909 or newer)
Processor: Intel Core i5-4670K (4 3400) / AMD FX-8350 (4 4000)
Memory: 8 GB RAM
Graphics: GeForce GTX 660 (2048 MB) / Radeon HD 7870 (2048 MB)
DirectX: Version 12
Storage: 3 GB available space
Recommended System Requirements
Requires a 64-bit processor and operating system
OS: Windows 10 x64 (Version 1909 or newer)
Processor: Intel Core i7-6700K (4 4000) / AMD Ryzen 5 1500X (4 3500)
Memory: 8 GB RAM
Graphics: GeForce GTX 970 (2048 MB) / Radeon R9 Fury (4096 MB)
DirectX: Version 12
Storage: 3 GB available space
Fix #2 Check Internet Connection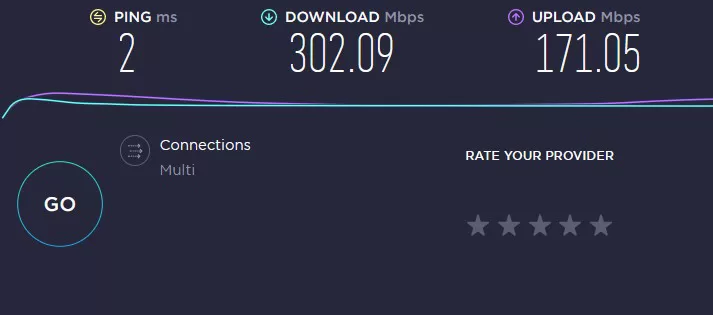 In case you are playing Ravenswatch in online coop mode and experiencing crashes, it could be due to issues with your internet connection. To troubleshoot this issue, you can start by performing a speed test on your internet and ensuring that you have a stable internet connection.
Checking internet connection
Step 1: Open your browser on your computer. Choose any preferred internet browser you want.
Step 2: Type speedtest.net to have your internet speed check. Speed test site is one of the most popular web tools to check your connection speed.
Step 3: Press the Go button. Pressing Go button will start the speed test.
Step 4: Wait for the results of the speed test to be completed. Find out how fast is your download and upload speed.
If you don't have a good connection you can follow all the recommended fixes below:
Step 1: Your computer should be turned off.
Step 2: Unplug the power cords from your Modem and Router.
Step 3: Reconnect your modem and router to the power supply after a minute and turn on the devices.
Step 4: Wait for the lights to come on again.
Step 5: Turn on your PC.
To have a good wireless connection:
Step 1: While playing, try to disconnect any other devices that are connected to the Wi-Fi router. This allows the gadget to utilize the maximum amount of internet bandwidth.
Step 2: Bring the PC closer to the router. This will allow the gadget to receive a significantly stronger Wi-Fi signal.
Step 3: If you have a dual-band router, try connecting the streaming device to the 5GHz channel rather than the 2.4GHz band.
Fix #3 Update Outdated Graphics Driver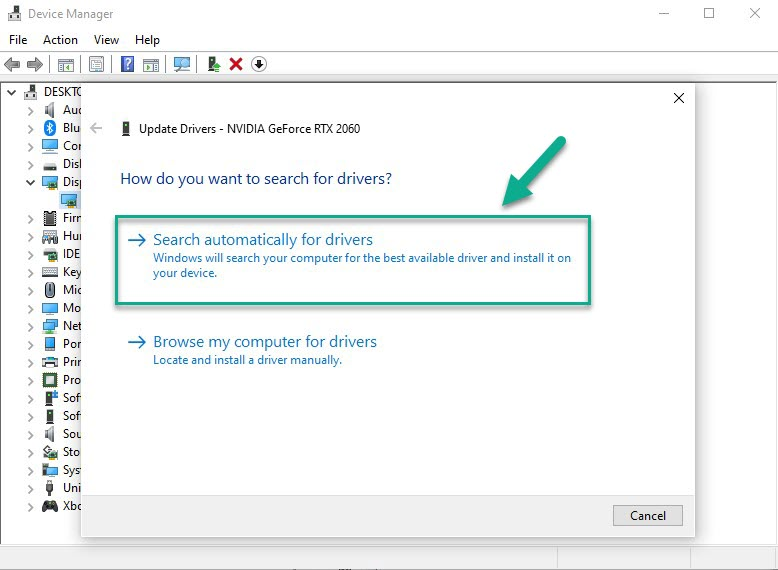 As Ravenswatch is a newly released game, outdated driver on your PC can cause the game to crash. To address this issue, you should install the latest GPU drivers, which can provide performance improvements, updates, crash dump game start fixes, and bug fixes from the GPU card manufacturer.
Updating Graphics Card Driver
Step 1: Simply type Device Manager in the search bar on your desktop and then click the Device Manager icon that appears in the results. This will open the device manager.
Step 2: Click the Display adapters icon. The list of display adapters will be expanded.
Step 3: Right-click the dedicated graphics card you are using to play the game and then select Update driver. This will allow you to update your driver.
Step 4: Choose Search automatically for drivers. This will search online for any new drivers, automatically download it and install it on your computer.
Fix #4 Close Background Programs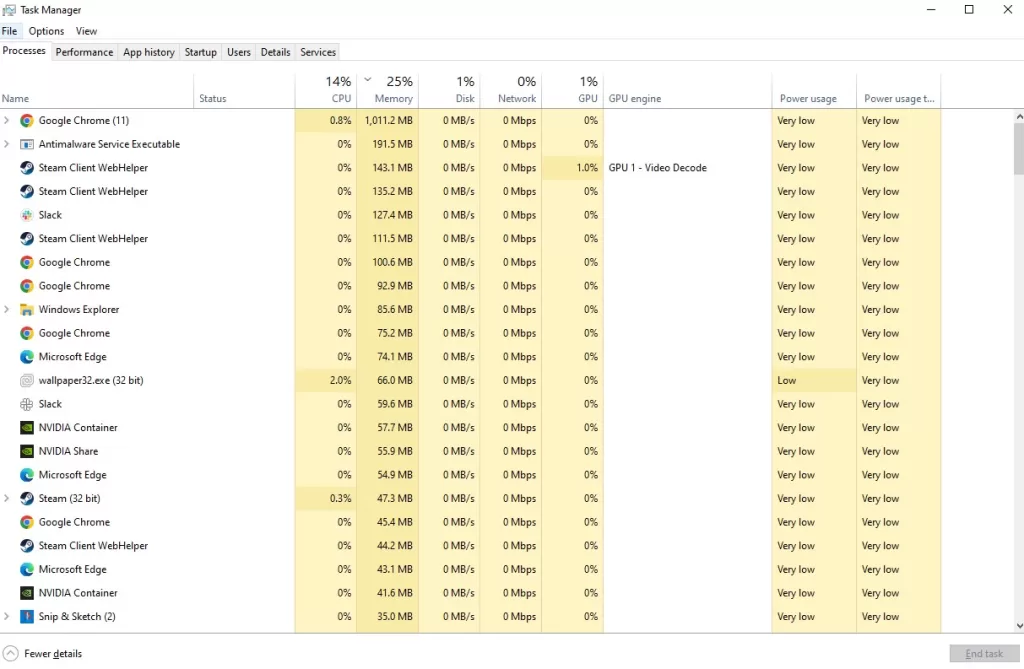 Frequent crashes and conflicting errors in Ravenswatch may be caused by other programs running in the background of your PC while you are playing the game. To avoid such issues, it is recommended to close any unnecessary apps and processes that may be using system resources like RAM and CPUs. This will ensure that Ravenswatch has access to the additional system resources it needs to run smoothly without any crashes.
Closing Background Programs
Step 1: Right click on the Start menu then click on Task Manager.
Step 2: Click on More details found at the bottom left part.
Step 3: Click on the Processes tab.
Step 4: Right click on the apps running and select End task on task manager.
Fix #5 Verify Game Files to Check Corrupted Files
If Ravenswatch is crashing due to a corrupted or missing file, you can repair or replace the file using the Steam tool that verifies the integrity of game files.
Verify Integrity of Game
Step 1: Open Steam.
Step 2: In your Steam launcher, click Library.
Step 3: Right-click the game and select Properties.
Step 4: Choose the Local Files tab and click Verify integrity of game files.
Step 5: Try to play Ravenswatch.
Fix #6 Reinstall Ravenswatch
If none of the above solutions work for the crashing issue in Ravenswatch, the last resort is to reinstall the game. Reinstalling the game will provide a fresh installation and resolve any issues and crashes you may be experiencing.
Step 1: Open the launcher.
Step 2: Go to the library tab.
Step 3: Right-click on games you want to uninstall then click on manage then uninstall.
Step 4: Select uninstall again to uninstall.
Step 5: Go to the Library tab.
Step 6: Right-click on the games you want to install then click on install.
Step 7: Click next to proceed with the installation.
Step 8: Restart your system.