There are several factors that can cause the Project Zomboid download issue. This can be due to an internet connection issue, game files bug, or even issues with the Steam servers. In order to fix this you will need to perform several troubleshooting steps.
Project Zomboid is a zombie survival game that can be played single player or with up to 4 friends in a local coop match or even through online multiplayer. First released in 2013 by The Indie Stone, it is an early access game that's available for download from Steam. In this game you will need to loot houses, craft items, and build defenses in order to survive.
Project Zomboid won't install or update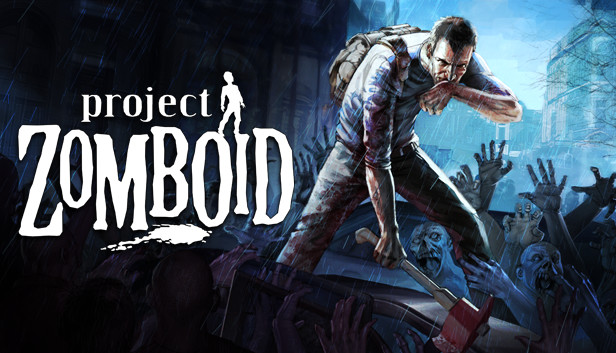 One of the issues that you might experience when trying to get Project Zomboid is when the game fails to download or install. There are various factors that you need to check that might be causing this problem ranging from a bad internet connection to a server issue on Steam.
Here's what you need to do to fix this problem.
Prerequisites:
Make sure you have sufficient hard disk space to install the game
Make sure that your anti virus software is not blocking the game installation.
Solution 1: Check your internet connection
The first thing you have to do in this case is to check your internet connection. If your computer is not connected to your home network or if the internet speed is slow then you will experience issues downloading this game.
You can run a speed test to check your current internet speed. Just use one of the popular online speed test websites such as speedtest.net to run a test.
When the speed test is complete the results you should take a look at are the ping, download, and upload speeds.
A low ping between 50ms to 100ms is good to average. Anything higher than this will affect your online games. Your download and upload speeds should match what you are subscribing for from your internet service provider. The higher your download speed the quicker it is to download a game from Steam.
In case there are issues with your internet connection then you can do the usual network troubleshooting steps.
Turn off your computer.
Unplug your Modem and Router from the power source.
Wait for a minute then plug your modem and router back into the power source.
Wait until the lights turn back on.
Turn on your computer.
Reconnect your computer to the internet.
If internet issues still occurs then you should contact your ISP.
Solution 2: Restart the download
If your Project Zomboid download seems to be stuck then this might just be caused by a Steam client glitch. You should try stopping the download then starting it again as this will usually fix the problem.
Time needed: 10 minutes.
Redownload Project Zomboid
Hover over the Library tab.

This can be found on top of the Steam client.

Click on Downloads.

This will bring you to the downloads setting page.

Click on Pause download.

This will stop the downloading of the game.

Click Remove from queue.

This removes the game from the download queue.

Click Download now.

This will redownload the game.
Try checking if the same problem occurs.
Solution 3: Restart the Steam client
There's a possibility that a temporary glitch on the Steam client is causing the download of Project Zomboid to freeze. To fix this you should try to exit out of the client then run it again.
Right click the Windows Start button.
Click on Task Manager.
Click on More details found on the lower left side of the Task Manager Window.
Make sure to be on the Processes tab.
Right click the Steam app then click on End task.
Open the Steam client from your Windows app menu.
Try to check if the download speed has improved.
Solution 4: Repair the Steam library folder
Your downloaded game will usually be saved in the Steam library folder. If this folder has issues then you might not be able to proceed with downloading Project Zomboid. To fix this you will need to repair this folder.
Repair Steam library folder
Open the Steam client.
Click on the Steam tab found on the upper left side of the client.
Click on Settings.
Click on Downloads.
Click on Steam library folders.
Click on the SteamLibrary folder location.
Click the three dots after SteamLibrary.
Solution 5: Change Steam download region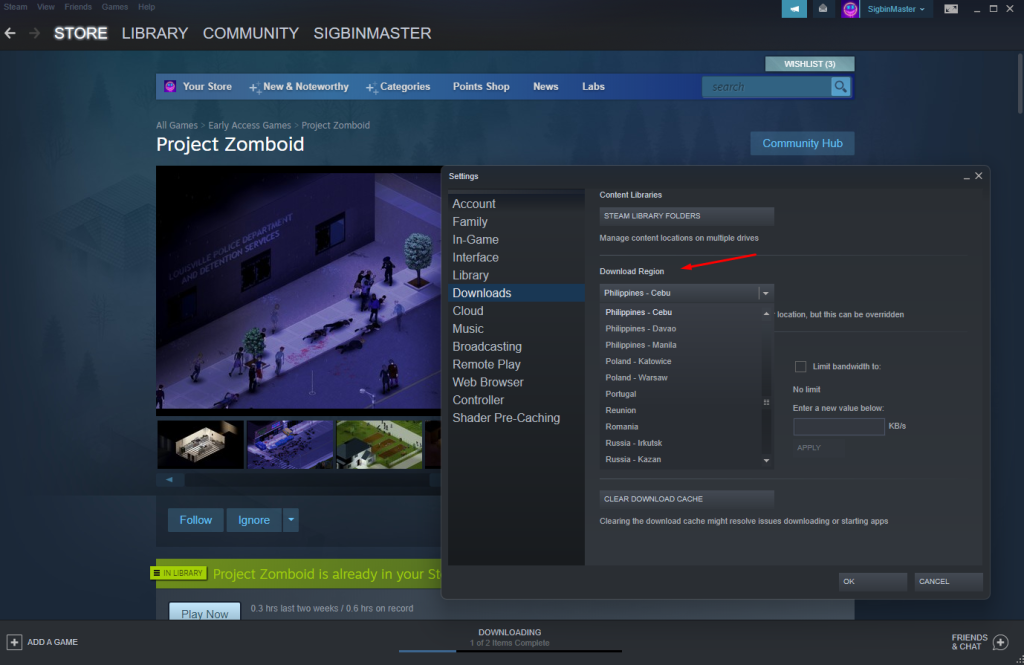 There's a possibility that the server you are downloading the game from is congested or is having issues. You can try changing to a different download region, preferably near your area, and check if this fixes the problem.
Change download region
Open the Steam client.
Click on the Steam tab found on the upper left side of the client.
Click on Settings.
Click on Downloads.
Choose a different download region.
Click ok.
After choosing a different region try checking if the download speed improves.
Solution 6: Get the latest updates for your operating system
You need to make sure that your Windows operating system is running on the latest updates as this will have several improvements and bug fixes not found in the older version.
Check for Windows updates
Right click the Start button.
Click Settings.
Click Windows Update found on the bottom left side of the new window that appears.
Click Check for updates.
If new updates are found then click on the Install now button.
After the updates have been installed try checking if the download speed has improved.
Feel free to visit our YouTube channel for additional troubleshooting guides on various devices.