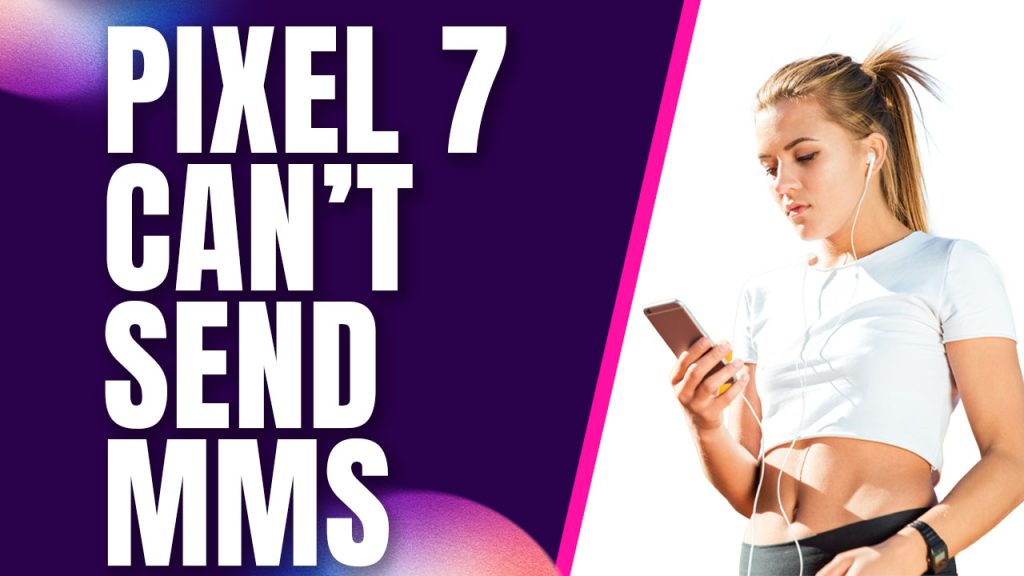 Can't send MMS or pictures messages on your Google Pixel 7? Read on to find out what causes the problem and how to fix it. Multimedia messaging service (MMS) is a more advanced messaging feature found in modern smartphones.
This feature allows you to send multimedia content such as photos, videos and audio files via mobile/cellular network. Indeed it's a great tool for those who opt to send more than just plain texts/SMS messages.
But just like any other features, there are also some instances wherein you won't be able to use your phone's MMS feature simply because it doesn't work. 
Fortunately, such a problem can likely be resolved by performing some tweaks that are applicable to the current situation. Outlined below are some of the most effective solutions that you can try to deal with MMS sending issues on the Google Pixel 7. Feel free to try these methods if you cannot send MMS or picture messages on the same Google smartphone.
POSSIBLE REASONS WHY YOU CAN'T SEND MMS OR PICTURE MESSAGES
There are various reasons as to why the MMS feature does not work even if the phone data is enabled or connected to a WiFi network. Let us find out what these causes are so that we will be able to come up with the appropriate solutions to fix it.
1. INCORRECT APN SETTINGS
APN, also known as the Access Point Name, is the mobile settings that set up connection to the gateway between the internet and your carrier's mobile network. Most carriers require users to enter the APN settings to set up the cellular service. And if this setting is set up incorrectly, services such as MMS and data won't work as expected. Thus, you won't be able to send or receive picture messages.
2. UNSTABLE OR POOR NETWORK COVERAGE
Poor network coverage can reduce mobile phone signal in the area. Unstable signals can be due to bad weather, areas with service disruptions, or remote locations. Weak signals prohibit you from sending or receiving MMS.
3. DATA RESTRICTIONS
As the name suggests, data restrictions being enabled on your device prevent your phone from utilizing mobile data while it's on. Apps won't pull the latest updates nor send notifications. Your apps won't use mobile data if not in use. And when background data is restricted, MMS or picture messages won't be sent or received.
4. OUT-DATED SOFTWARE
Note that software update is the most important update a user should regularly do on their device. Not only does it enhance the phone features, it is also equipped with bug fixes that eliminate random software glitches and other phone issues such as MMS problems.
TROUBLESHOOTING PROCEDURES TO FIX CAN'T SEND MMS OR PICTURES MESSAGES
Not being able to send or receive picture messages is not a serious problem. This issue can be fixed without the help of a professional, and can be taken care of in your end using the troubleshooting tweaks listed below.
FIX #1: CHECK AND UPDATE APN SETTINGS
When you experience MMS issues on your device even if you are connected to the internet, make sure to right away check the phone's APN settings and verify if the carrier server name, port number, and security settings are configured correctly.
Incorrect values and options in the settings prohibits the phone from connecting to the cellular data network. Thus, it will fail to send or receive picture messages.
To be able to check and update (if needed) the APN settings on your Google Pixel 7 device, follow these steps:
1. From the main screen, swipe up and navigate to Settings.
2. Select Mobile Network.
3. Tap Access Point Names.
Check the APN settings and ensure that the values and options are correct. If you are not sure with the proper settings configuration, you can reset the APN settings to default or contact your network provider for assistance.
FIX #2: CHECK NETWORK COVERAGE
Phone issues such as unable to send or receive MMS can be due to poor network coverage. It is because the phone is acquiring a weak signal from the tower and can not connect to the mobile network data. As a result, you are unable to send or receive picture messages on your device.
If you notice that your phone is indeed acquiring a weak signal in your current location, move to another area with better coverage.
Checking your network coverage will help you determine if the problem is due to unstable network signal or other possible causes.
Now if the problem is still not resolved even after moving to a different location, move on to the next solution.
FIX #3: RESET NETWORK SETTINGS
One of the effective ways to address network-related issues such as MMS failure is resetting network settings. It helps restore the phone's ability to connect to the mobile data network which is often caused by incorrect network settings.
To reset network settings on Google Pixel 7, do these:
1. Launch the Settings app.
2. Select System Advanced, and tap Reset options.
3. Tap Reset Wi-Fi, mobile & Bluetooth.
When you reset the phone's network settings, it reverts the phone's network-related settings to its original state. It deletes the saved Wi-Fi connections, Bluetooth devices, and VPN configurations on the device.
FIX #4. UPDATE SOFTWARE
MMS issues can also be caused by some random bugs or compatibility issues, and can possibly be corrected by updating the phone's software.
Software updates are regularly pushed by developers to fix bugs and compatibility issues that evolve over time. It enhances the phone's features and services including the MMS function. Thus, improving the phone's overall performance and stability, and preventing it from being erratic and unreliable.
If you have not set up the phone to automatically download and install new updates, then you can manually do it using the steps below:
1. From the main screen, swipe up to show all the apps.
2. Tap the Settings icon.
3. Select System, then tap System Update.
4. Tap Check for update.
5. Tap OK when prompted.
6. Tap Download to download and install the latest software update.
Any existing bugs and or network system compatibility issues that prevent the phone from sending or receiving picture messages, should be eliminated once the latest software version has been installed.
CONTACT YOUR SERVICE PROVIDER
Getting in touch with your network service provider is your last resort in case you are still unable to send or receive MMS on your Google Pixel 7 after performing all applicable potential solutions.
It is possible that your data service has been capped or there's an existing network settings configuration in their end which affects your phone's MMS function. Whatever the root cause of the problem is, your service provider should be able to rectify the MMS issue in their end. As long as your account is in good standing, there is no way they won't be able to restore your MMS service.
Hope this helps!