Opera, the renowned web browser company, unveils its latest innovation today: Opera One. This groundbreaking browser boasts a range of new features designed to optimize user experience and revolutionize the way people interact with browsers.
Notably, the introduction of Aria, a native artificial intelligence (AI) integration, sets Opera One apart from its competitors.
Introducing Aria – The Native AI Integration
Opera One's standout feature is Aria – described as "the first truly native browser AI." This advanced AI uses OpenAI's leading GPT technology to optimize web searches and enhance user interaction with the browser. Aria allows users to collaborate with AI while browsing the web, generating text or code, or seeking answers to product-related queries.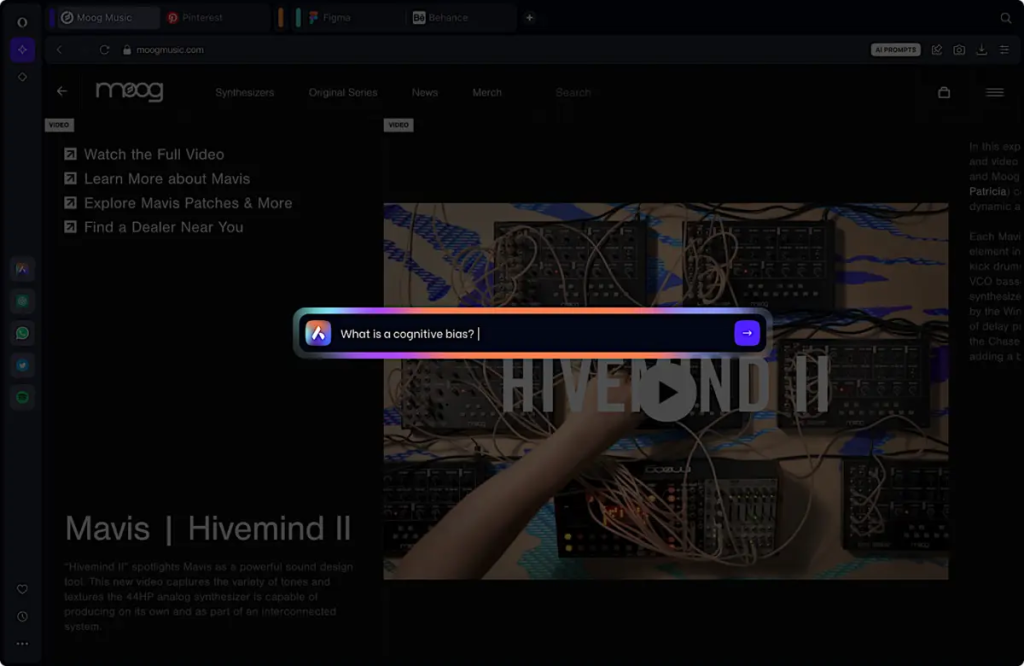 In addition to its extensive web expertise, Aria offers seamless customer support by leveraging knowledge from Opera's entire database of support documentation. This sophisticated AI expert can be easily summoned via a command line or directly from the browser sidebar.
Mac users can access Aria through a handy Command-/ keyboard shortcut, which displays an overlay and initiates interaction with the intelligent assistant. People can ask questions using the command line and either engage with Aria in real-time within the sidebar or return to browsing. Notably, Opera One also grants users access to ChatGPT in-browser.
Tab Islands: Streamlining Navigation
As part of its 100th version release, Opera introduces Tab Islands. Designed to change how users relate to their browser tabs, Tab Islands group associated tabs based on context.
Users can move tabs around freely while collapsing islands for a superior organization—or expanding them when needed. Furthermore, they can save entire groups in bookmarks or pinboards for future reference.
Generative AI Future: Modular Design and Dynamic Adaptation
Opera One prepares for an AI-based future by featuring a modular design that will allow the browser to adapt dynamically to users' needs. This innovative approach means the browser will focus on key features, delivering an uncluttered and streamlined user experience.
Improved Performance: Multithreaded Compositor
Beneath the surface, Opera One houses a new multithreaded compositor to deliver a faster and smoother user interface layer.
This re-engineered engine results in enhanced performance and more responsive browsing experiences for users.
Availability Across Platforms
Opera One is now available for free through the company's website. Users can find download links compatible with macOS, Windows, and Linux platforms.
In conclusion, Opera continues to push the boundaries of browser innovation with the launch of Opera One. The integration of an advanced AI assistant – Aria – sets this browser apart from its rivals. Users will benefit from improved search capabilities, streamlined navigation with Tab Islands, a modular design prepared for a generative AI future, and enhanced overall performance through a multithreaded compositor. Opera One leads the way in revolutionizing web browsers as we know them today.