As Apple continues testing its iOS 17 beta, users and developers have discovered a new feature that resembles the beloved but discontinued 3D Touch.
The faster Haptic Touch option enhances the user experience by offering a quicker response time, almost identical to the older 3D Touch function.
The second developer beta update has incorporated this tweak in the touch duration settings.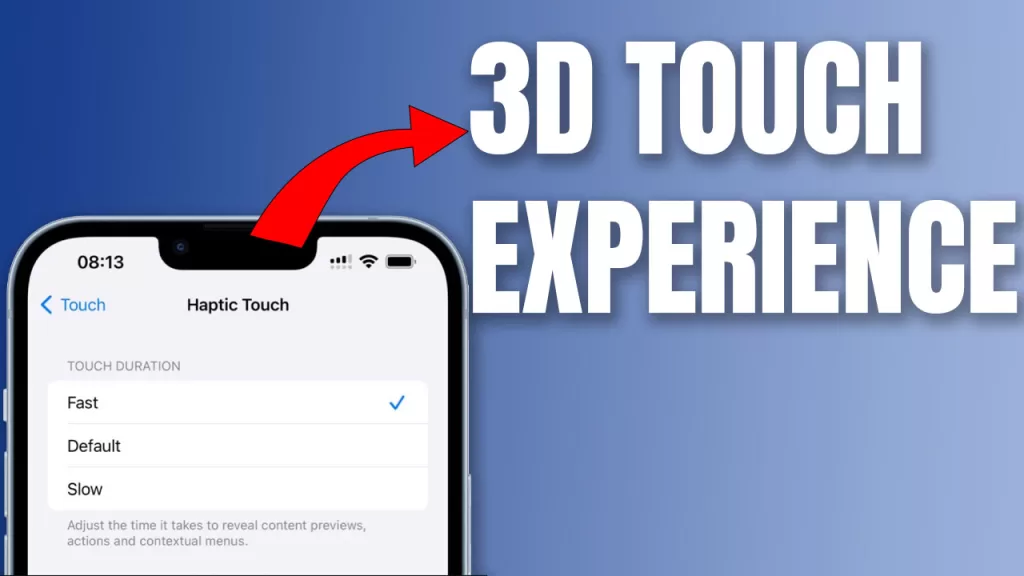 A Look at the History: 3D Touch vs. Haptic Touch
Apple first introduced 3D Touch with the iPhone 6S, which included a pressure-sensitive screen technology. This unique feature would sense applied pressure on the display and provide relevant options accordingly. It remained available on iPhone models through to the XS series running iOS 14.
However, starting with the iPhone 11 lineup, Apple removed the hardware needed for 3D Touch and switched to Haptic Touch, eventually phasing out the pressure-sensing technology through a software update. Although many users were unaware of its advantage, those who utilized 3D Touch found it exceptionally useful.
Haptic Touch served as a software-based replacement for the 3D Touch by simulating similar functions without making use of pressure-sensitive display technologies. Nevertheless, Haptic Touch was perceived as slower than its predecessor in terms of operation.
Embracing Fast Haptic Touch in iOS 17 and iPadOS 17
With the latest iOS 17 beta version, Apple aims to bridge that speed gap by introducing a fast Haptic Touch option. By using this feature, menus appear relatively faster than with regular haptic feedback and replicate the feedback provided by the crushed 3D touch feature.
To enable this option in iOS 17 beta:
Go to Settings
Select Accessibility
Tap on "Touch" followed by "Haptic Touch."
Choose "Fast" from the three available options – Fast, Default, or Slow.
This new preference allows users to experience a 3D Touch-like sensation while running iOS 17 on their iPhones. The fast Haptic Touch option will also be available for iPad users, marking the first time an iPad device would feature a 3D Touch-like option.
What's Next for iOS 17 and the Evolution of Touch Features?
The fast Haptic Touch option aims to improve the overall user experience by providing rapid navigation throughout iOS 17. One should note, however, that this feature might be removed since the operating system is still in beta stages. Nevertheless, it's improbable given its usefulness and potential to enhance user experience.
Apple announced iOS 17 during its WWDC 2023 event, introducing numerous changes and additional functionalities. The platform is scheduled for public release later this year alongside the iPhone 15 lineup. The second beta is currently undergoing testing by developers and incorporating valuable feedback to fine-tune the final product ahead of its official launch.