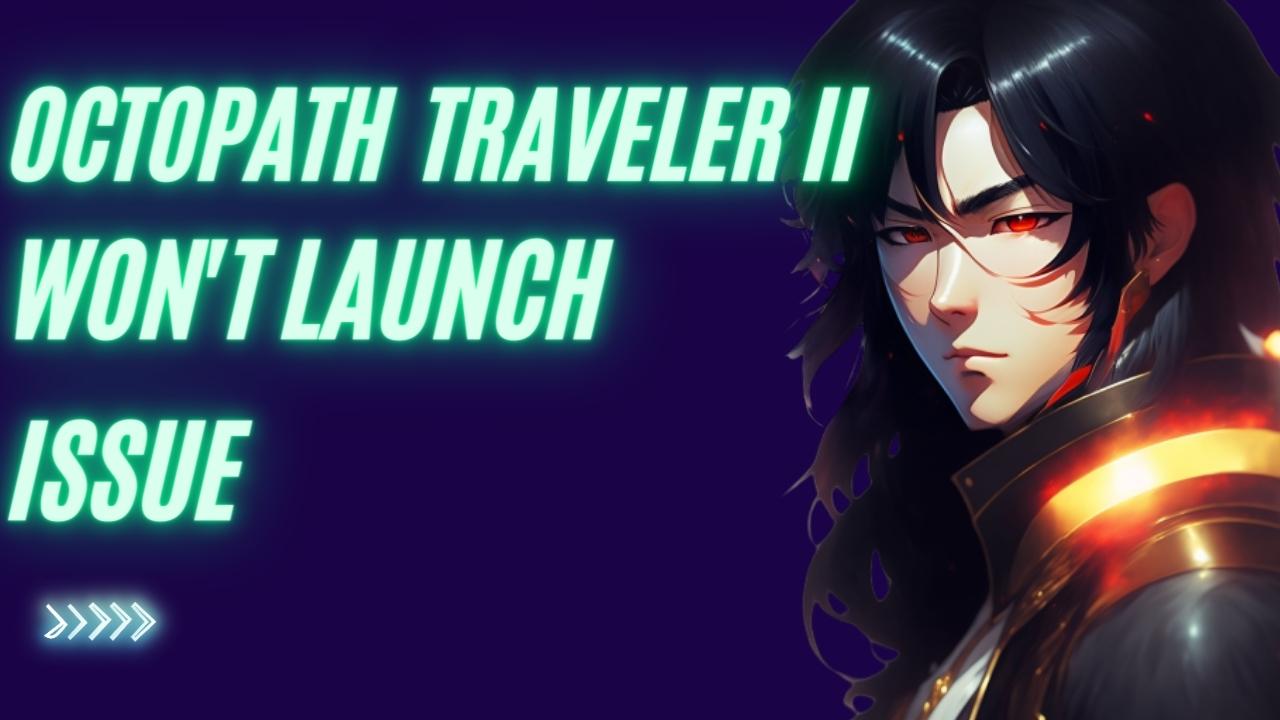 If you encounter problems launching Octopath Traveler II, there are various issues that may be the cause, such as conflicts with other software, outdated graphics drivers, corrupt game files, or compatibility issues, among others. To resolve Octopath Traveler 2 won't launch issue, you will need to follow several troubleshooting steps.
Octopath Traveler II is the latest addition to the series that was initially introduced in 2018. The game is set in the land of Solistia, which comprises two continents separated by the sea. During a time of great technological advancement, powered by steam and large vessels sailing busy sea routes, the story of Octopath Traveler II unfolds. While some enjoy the glitz and glamour of the stage and industry, others suffer from war, plague, and poverty.
The game features eight travelers from various regions, each embarking on their own journey for different reasons. As a player, you can assume the role of any of these eight travelers and explore the world as you see fit, utilizing their unique skills to aid you in your quest.
With its HD-2D graphics, Octopath Traveler II retro pixel art combined with 3D computer graphics takes the series to new heights. The story takes place in Solistia, a world where diverse cultures flourish from east to west, and industries of the new era prosper. You can explore every corner of the world, sail the seas, and experience the changing day-to-night cycle.
Each traveler possesses a distinct set of Path Actions, such as battling townspeople, acquiring items, and bringing others along on their journey. You can choose your path and decide what you want to do. Familiar mechanics from the original game, such as the development of travelers' jobs and skills and the thrilling Break and Boost system during battles, are preserved in Octopath Traveler II. Additionally, new mechanics have been introduced to enhance gameplay.
Fixing Octopath Traveler 2 Won't Launch Issue
If you encounter the problem of Octopath Traveler II not launching on the Steam for PC, there are steps you can take to resolve the issue. Here's what you need to do to fix Octopath Traveler II won't launch issue.
Fix #1 Check Octopath Traveler II System Requirements
To ensure that your Windows system can run Octopath Traveler II, it's important to check the game's system requirements before installing it. Here are the minimum system requirements for Octopath Traveler II in case you haven't checked them yet:
Minimum Requirements
OS: Windows® 10 / 11 64-bit
Processor: AMD Ryzen™ 3 1200 / Intel® Core™ i3-6100
Memory: 8 GB RAM
GPU: AMD Radeon™ RX 460 / NVIDIA® GeForce® GTX 750
DirectX: Version 12
Storage: 10 GB available space
Additional Notes: 60 FPS @ 1280×720, Preset "Low", 2GB VRAM required
Recommended System Requirement
OS: Windows® 10 / 11 64-bit
Processor: AMD Ryzen™ 3 1200 / Intel® Core™ i5-6400
Memory: 8 GB RAM
GPU: AMD Radeon™ RX 470 / Intel® Arc™ A750 / NVIDIA® GeForce® GTX 1060 6GB VRAM
DirectX: Version 12
Storage: 10 GB available space
Additional Notes: 60 FPS @ 1920×1080, Preset "Highest", Systen RAM 16GB required when running on Intel GPU
Fix #2 Update Graphics Card Drivers
The game will not launch on your computer if you have an outdated graphics driver; you need to have the updated driver software of your GPU installed to fix Octopath Traveler II startup error.
Updating Graphics Drivers
Step 1: Simply type Device Manager in the search bar on your desktop and then click the Device Manager icon that appears in the results. This will open the device manager.
Step 2: Click the Display adapters icon. The list of display adapters will be expanded.
Step 3: Right-click the dedicated graphic card you are using to play the game and then select Update driver. This will allow you to update your driver.
Step 4: Choose Search automatically for drivers. This will search online for any new drivers and install it on your computer.
Fix #3 Close Another Octopath Traveler II process on Task Manager
If you are unable to launch Octopath Traveler II on your PC, it is possible that there is another instance of the game running in the background. In order to resolve this issue, you should try ending the game process using the Task Manager.
Closing Another Process
Step 1: Open the Task Manager by pressing Ctrl + Shift + Esc keys.
Step 2: Choose the Processes tab.
Step 3: Right click Octopath Traveler II process then click on End Task.
Step 4: Once you have completed the steps, try to open Octopath Traveler II by going to your Steam library.
Fix #4 Run as Administrator
Some games may not launch properly on your computer if they don't have sufficient permissions to access certain files or resources. To give the game full permission to run, you can try running it as an admin.
Running as an Administrator
Step 1: Right-click on the game executable file from the installation folder.
Step 2: Select Properties.
Step 3: Click on the Compatibility tab.
Step 4: Make sure to place a checkmark on the Run this program as an administrator.
Step 5: Click on Apply then Ok.
Fix #5 Verify Game Files
If you are experiencing issues with launching Octopath Traveler II, verifying the integrity of game files can help resolve the issue. This process checks whether the game is installed correctly and whether any files are missing or corrupted.
Verifying Game Files
Step 1: Open Steam client.
Step 2: In your Steam launcher, click Library.
Step 3: Find the game then right-click the game in your Library and select Properties.
Step 4: Choose the Local Files tab and click Verify integrity of game files. This will let you verify the game.
Fix #6 Reinstall Octopath Traveler II
If you have tried all the above fixes and are still unable to launch Octopath Traveler II, the last resort would be to uninstall and then reinstall the game. This will give you a clean installation and fix any issues that may have been caused by corrupted game files or other factors.