Home WiFi systems are taking over homes by storm. No longer are the traditional router, and modem setup acceptable for most homeowners — folks are wanting simplicity over complications, and that's just what new home WiFi systems are offering these days. Whether you get the Orbi, Google WiFi, or the Eero, they're all promising quick and easy setups as well as never having to think about your wireless network again — it should just work!
* If you buy through links on our site, we may earn an affiliate commission. For more details, please visit our Privacy policy page.
That's an excellent business model, but it makes it difficult — which system should you get? We're going to be comparing the three mentioned above to help you decide which one is right for you.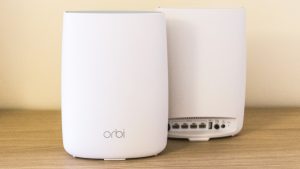 The Orbi by Netgear is a reasonably neat setup. In the package, you get two pieces of hardware — the first Velop as your primary router/modem combo, and then the second Velop, which they're calling a "satellite." The satellite is integral to this package, as it increases the range of the wireless network in your home. It's supposed to cover an additional 1,500 sq.ft of your home, eliminating dead zones and creating a more seamless wireless experience.
It's super easy to set up, too. Netgear offers an Orbi app for your phone that will take you through the entire setup process. Follow the step-by-step instructions, and you'll have your new and improved wireless network up and running in minutes. Another neat feature is that the app can help you set up a secure guest network for any visitors you don't want to hand the primary WiFi password to.
You can get the Orbi 2-pack on Amazon, but if you want to add a node or satellite to your home to cover more sq.ft, it costs an additional fee per node.
Buy it now: Amazon
Next, we have a similar system, but one designed by Google. Aptly called Google WiFi, you can replace your router and modem with this setup, just like the Orbi. It's a little different in that the Google WiFi system looks like little hockey pucks, which keeps them pretty low profile and out of sight. Similar to the Orbi, each node will offer you up to 1,500 sq.ft of home coverage.
The primary difference between Google WiFi and Orbi is that Google WiFi uses intelligent technology to continually scan for the clearest channel and best bands for the device that you're using. This should give you the most seamless and speedy wireless network possible.
Google WiFi is also very easy to setup. There's a Google WiFi app, just like Orbi, that will take you step-by-step in getting your new wireless network up and running. It's very much a pain-free process, and Google WiFi even lets you set up a secure guest network, too.
Google WiFi is more for those on a budget that don't want to spend a whole lot of money on their home WiFi setup. For a 3-pack (4,500 sq.ft of coverage), you can expect to spend more for the 3 pack, but if you want one, you'll be spending less.
Buy it now: Amazon
Last up on our list is the Eero system. The Eero system is unique in that their entire product is built around simplicity — they don't want the user to have to ever think about their wireless network ever again. The Eero, much like Google WiFi, has small "nodes" so that your equipment is out of sight and out of mind.
Eero removes any dead zones you might have in your home. The way it works is that you place your Eero nodes around your home, and depending on where you're using an Internet-connected device, the Eero system will bounce you to the correct node emitting the best signal.
With the Eero, you should never experience a problem with your wireless network. It works to offer your wireless network to the very edges of your home, so you don't get any signal degradation (and thus lower speeds) — they want you to have the best wireless experience at all times.
You can check it out at the link below.
Buy it now: Amazon
Verdict
So, all of these home WiFi systems sound great, but which one should you get? If you're on a strict budget, the Google WiFi is no doubt the best system that you can get your hands on. However, if you've got the cash to spend, we recommend the Netgear Orbi. It's got the most functionality, router settings, and more. It'll be your most reliable system, and tinkerers will obviously love it. But, if you want your network setup and don't have to think about it again, the Eero is your best choice.
* If you buy through links on our site, we may earn an affiliate commission. For more details, please visit our Privacy policy page.