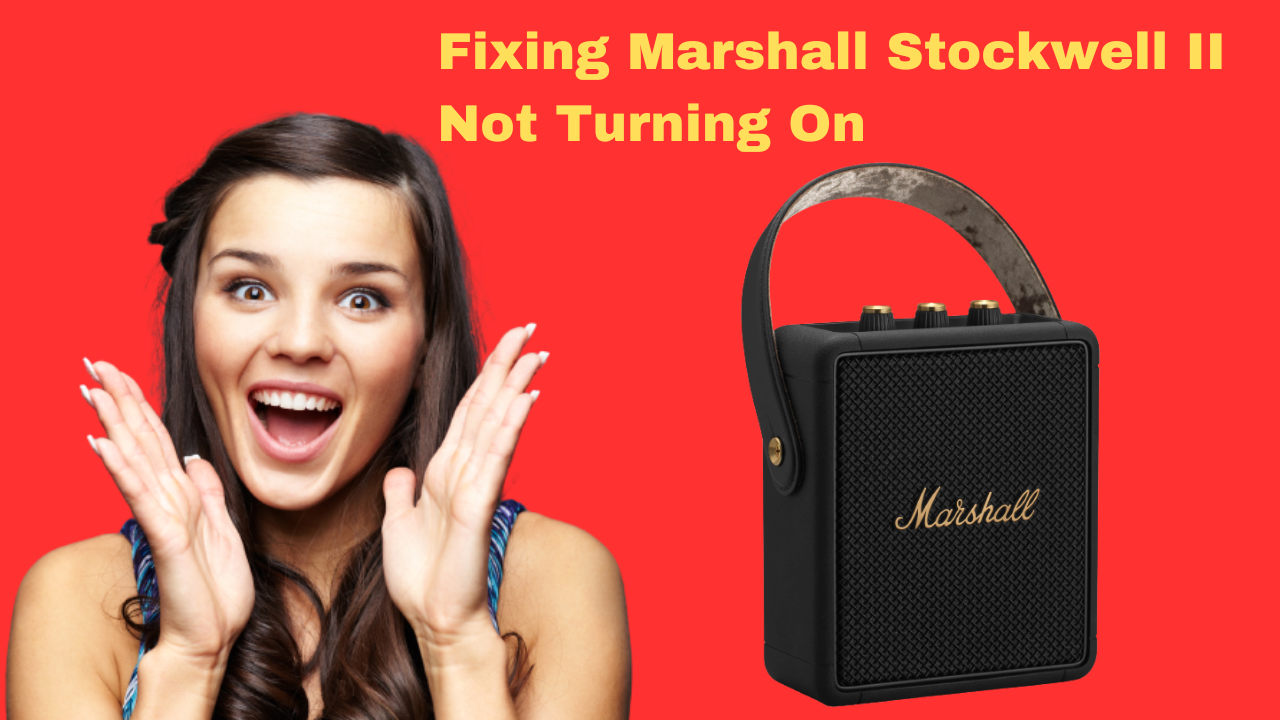 Are you facing an issue turning on your Marshall Stockwell II? There can be several potential reasons for this problem, including a software glitch, depleted battery, damaged charging cable, or a defective charger.The good thing is that there are some troubleshooting steps you can take to address the problem.
The Marshall Stockwell II is a popular Bluetooth speaker that combines impressive audio quality with a sleek, compact design. Its features include multi-directional sound, analogue control knobs for bass, treble and volume, and an IPX4 water-resistant rating. The Stockwell II also boasts a long battery life, making it perfect for outdoor adventures or on-the-go listening.
Technical Specifications:
DRIVER TYPE: Dynamic
FREQUENCY RANGE: 60-20,000 Hz
ADJUSTABLE BASS AND TREBLE CONTROLS: Fine-tune your music using the analogue controls on your speaker
STEREO/MONO: Stereo
MAXIMUM SOUND PRESSURE LEVEL: 80 dB @ 1 m
CABINET PRINCIPLE: Bass-reflex
POWER AMPLIFIERS: One 10 W Class D amplifier for the woofer, Two 5 W Class D amplifiers for the tweeters
MAINS INPUT VOLTAGE: 5-12 V, 3 A USB-C
BATTERY TYPE: Built-in, rechargeable Li-ion battery
PLAY TIME: 20+ hours
QUICK CHARGING: 20 minutes charge gives 6 hours of playtime
CHARGING TIME: 5 hours
WIRELESS CONNECTIVITY: Bluetooth 5.0
Learn how to troubleshoot your Marshall Stockwell II speaker if it's not turning on
If you own a Marshall Stockwell II Bluetooth speaker, you may encounter a frustrating issue where your device won't turn on. Don't worry as there are several troubleshooting steps you can take to fix the problem and get your device back to its normal functioning. In this article, we'll provide you with some practical tips to help you resolve the issue and enjoy your music.
Solution 1: Press the power button of your Marshall Stockwell II
The first troubleshooting step you should try on your portable Bluetooth speaker is to press and hold for a second the power button. If all goes well then it should turn on. If it doesn't then proceed to the next step.
Solution 2: Charge the Marshall Stockwell II Bluetooth speaker
On of the reasons why a portable Bluetooth speaker will not turn on is because of a low battery life. To troubleshoot the issue, start by checking that your Marshall Stockwell II Bluetooth speaker has sufficient battery charge. If the battery life is low, then you should make sure that the device has a fully charged battery.
How to charge the Marshall Stockwell II speaker
Connect the included USB-C charging cable to the charging port on the side of the speaker.
Connect the other end of the cable to a power source such as a laptop or a USB wall charger. Note that the speaker does not come with its own wall charger, so you'll need to use your own.
Once connected to the power source, the indicator light on the top of the speaker will turn on to let you know that it's charging.
When the speaker has a fully charged battery ( usually after 5 hours using a 3A charger, the battery indicator stops blinking.
Solution 3: Update your Marshall Stockwell II software
If you're constantly experiencing power related issues on your Marshall Stockwell II speaker, it's possible that a software bug in the current version is causing the problem. A quick and easy solution to this issue is to update the software of the speaker. Check to see if there's a software update available and install it.
Getting the latest firmware updates
Download the Marshall Bluetooth app and connect to the speaker.
Follow the in-app instructions to ensure that the speaker has the latest firmware version.
Solution 4: Factory reset your Marshall Stockwell II speaker
There's a possibility that this problem is caused by a software glitch. If this is what's causing the issue then you will need to perform a factory reset.
Ensure that the speaker is on.
Push and hold the Bluetooth button for 7 seconds All indicators turn off and the speaker restarts.
Remove Emberton from your audio device's Bluetooth list before pairing again.
Solution 5: Have your Marshall Stockwell II checked at the nearest service center
If after performing the troubleshooting steps listed above your Marshall Stockwell II Bluetooth speaker still won't turn on then it could be due to a hardware problem like a faulty circuit board. In such cases, it's best to take the device to the nearest service center for repair. If your speaker is still under warranty, you may even be eligible for a free replacement or repair service.
Frequently Asked Questions
How long does the battery of Marshall Stockwell II last?

The battery life of the Marshall Stockwell II is up to 20 hours on a full charge.

How do I charge the battery of Marshall Stockwell II?

You can charge the battery using the included USB-C cable and adapter. The device also has a quick charge feature that can provide up to 6 hours of playtime with just 20 minutes of charging.

How do I connect my device to Marshall Stockwell II via Bluetooth?

Turn on the speaker, and press the Bluetooth button on the top of the device. Turn on the Bluetooth on your device and search for available devices. Select Marshall Stockwell II from the list and connect.

How do I customize the EQ settings on Marshall Stockwell II?

You can customize the EQ settings on the device using the Marshall Bluetooth app, available for free on iOS and Android.

Can I use Marshall Stockwell II for phone calls?

Yes, the device has a built-in microphone that allows you to make and receive phone calls hands-free.