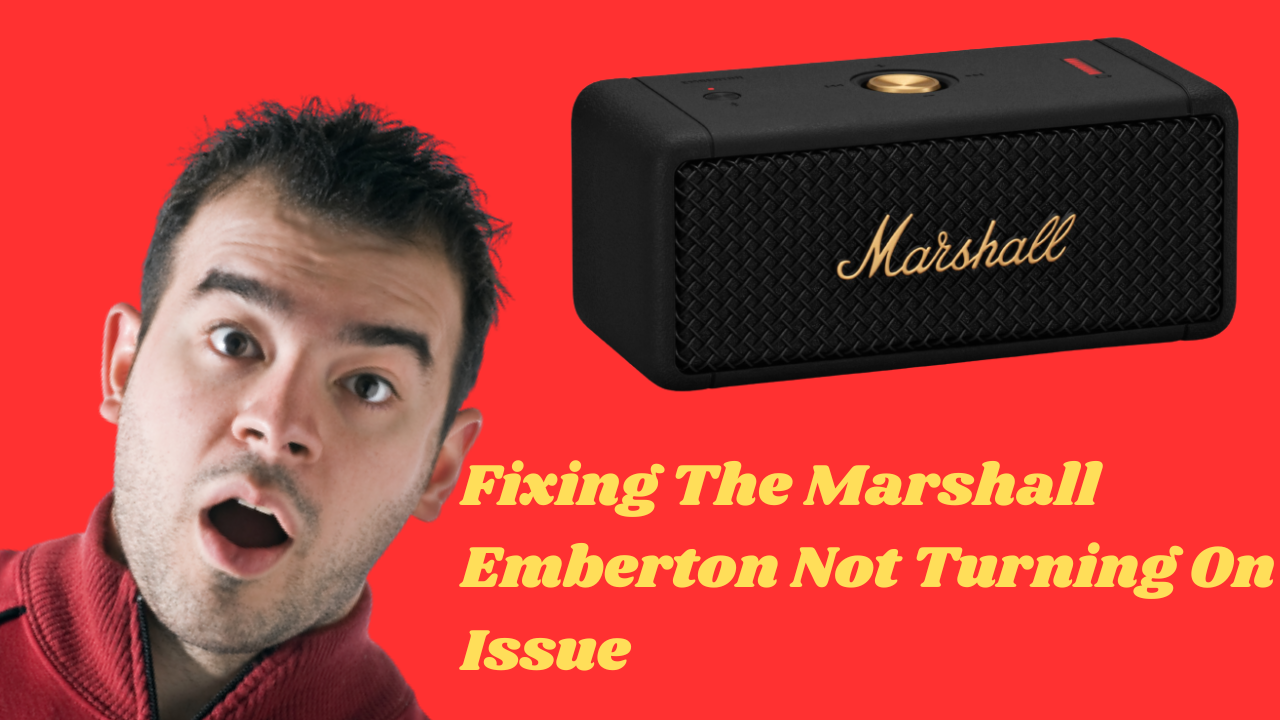 Are you having trouble turning on your Marshall Emberton speaker? There are several possible causes for this issue, including a software glitch, bad battery, faulty charging cable, or a defective charger. Luckily, there are some troubleshooting steps you can take to address the problem.
The Marshall Emberton Bluetooth speaker is a must-have for those who want an excellent audio experience on the go. With 20+ hours of portable playtime, this speaker will keep your music going all day long. The unique True Stereophonic sound from Marshall creates multi-directional audio that is sure to impress. Plus, the extremely durable and easy-to-use design features an IPX7 water-resistance rating, ensuring the speaker can withstand any environment. With Bluetooth 5.0 technology, connecting your device to the Marshall Emberton is quick and easy.
Technical Specifications:
FREQUENCY RESPONSE: 60 Hz – 20 kHz
DRIVER TYPE: Dynamic
FREQUENCY RANGE: 60-20,000 Hz
DRIVERS: Two 2″ 10 W full range, Two passive radiators
ADJUSTABLE BASS AND TREBLE CONTROLS: No
STEREO/MONO: Stereo
MAXIMUM SOUND PRESSURE LEVEL: 87 dB SPL @ 1 m
CABINET PRINCIPLE: Sealed with passive radiator
POWER AMPLIFIERS: Two 10 W Class D amplifiers
BATTERY TYPE: Built-in, rechargeable Li-ion battery
PLAY TIME: 20+ hours
QUICK CHARGING: 20 minutes charge gives 5 hours of playtime
CHARGING TIME: 3 hours
WIRELESS CONNECTIVITY: Bluetooth 5.0
Why is my Marshall speaker not turning on?
If you're a Marshall Emberton Bluetooth speaker owner, you may run into an issue where your device fails to turn on, preventing you from enjoying your favorite music. This can be a frustrating experience, but don't worry, as there are several troubleshooting steps you can take to resolve the issue.
In this article, we'll provide you with some practical tips to help you fix the problem and get your Marshall Emberton up and running again.
Solution 1: Press the power button of your Marshall Emberton portable Bluetooth speaker
If your Marshall Embertom portable Bluetooth speaker fails to turn on, one of the first troubleshooting steps you can try is to press and hold the power button for a second.
Disconnect the charger from the Marshall Emberton then wait for at least a minute before connecting it again.
Connect charger to the mains electricity supply.
Press the Power button.
Solution 2: Charge the Marshall Emberton speaker
If Marshall Emberton Bluetooth speakers fail to turn on, the most likely cause is a low battery life. To troubleshoot the issue, start by checking that your Emberton speaker has sufficient battery power. If the battery is low, try charging the device and see if this resolves the problem.
How to charge the Emberton speaker
Connect the included USB-C charging cable to the charging port on the side of the speaker.
Connect the other end of the cable to a power source such as a laptop or a USB wall charger. Note that the speaker does not come with its own wall charger, so you'll need to use your own.
Once connected to the power source, the indicator light on the top of the speaker will turn on to let you know that it's charging.
When the battery is fully charged, the battery indicator stops blinking.
Solution 3: Update your Marshall Emberton software
If you're constantly experiencing issues turning on your Marshall Emberton speaker, it's possible that a software bug in the current version is causing the problem. A quick and easy solution to this issue is to update the software of the speaker. Check to see if there's a software update available and install it.
Getting the latest firmware updates
Download the Marshall Bluetooth app and connect to the speaker.
Follow the in-app instructions to ensure that the speaker has the latest firmware version.
Solution 4: Factory reset your Marshall Emberton
There's a possibility that this problem is caused by a software glitch. If this is what's causing the issue then you will need to perform a factory reset.
Ensure that the speaker is on.
Push and hold the Bluetooth button for 7 seconds All indicators turn off and the speaker restarts.
Remove Emberton from your audio device's Bluetooth list before pairing again.
Solution 5: Have your Marshall Emberton checked at the nearest service center
Sometimes, the reason why your Marshall Emberton Bluetooth speaker won't turn on is due to a hardware issue, such as a faulty circuit board. If this is the case, the best course of action is to bring the device to the nearest service center for repair. If the speaker is still under warranty, it may be replaced with a new one or repaired for free.
Frequently Asked Questions
Can you pair multiple devices to the Marshall Emberton at once?

Answer: No, the Marshall Emberton can only be paired to one device at a time.

Is the Marshall Emberton waterproof?

Answer: Yes, the Marshall Emberton has an IPX7 water-resistance rating, meaning it can withstand being submerged in up to 1 meter of water for up to 30 minutes.

Can you use the Marshall Emberton while it's charging?

Answer: Yes, you can use the Marshall Emberton while it's charging. However, it's important to note that doing so may impact the charging time and overall battery life.

How do you connect the Marshall Emberton to Bluetooth?

Answer: To connect the Marshall Emberton to Bluetooth, turn on the speaker and press and hold the Bluetooth button until the indicator light starts flashing. Then, search for available Bluetooth devices on your phone or other device and select "Marshall Emberton" to pair and connect.

Can you connect the Marshall Emberton to other speakers for stereo sound?

Answer: No, the Marshall Emberton is not designed for stereo pairing with other speakers.