Maybe you're having trouble deciding between getting the Netgear Orbi, Google WiFi, or Linksys Velop home WiFi systems. They're similar products but have a few key differences in functionality and price that might better influence your decision. Today, we're going to go through their differences, comparing them against each other and ultimately showing you which one is best to outfit your home with. Follow along below, and we'll get started!
* If you buy through links on our site, we may earn an affiliate commission. For more details, please visit our Privacy policy page.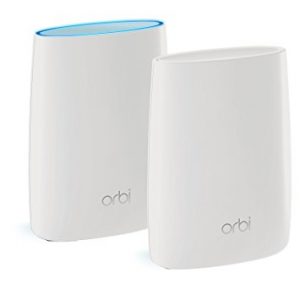 The Netgear Orbi system is impressive. It replaces your modem and router with a primary node and then increases the strength and radius of your wireless network with additional nodes. The Netgear Orbi set can emit your wireless network up to 5,000 sq.ft. That's a little more than 1,500 sq.ft per node.
The Orbi system features tri-band technology, which works to keep your connection up and to run all the time. It essentially maintains the flow of data using an impressive backhaul system so that you never lose the connection with your router.
If you haven't seen, the Netgear Orbi is super easy to setup. The Orbi app will take you step-by-step in getting your wireless network up and running. However, the Orbi router also is open for a lot of tinkering — DNS changes, security modifications, whitelisting and blacklisting if you so choose and so much more.
Check out the Netgear Orbi for yourself below.
Buy it now: Amazon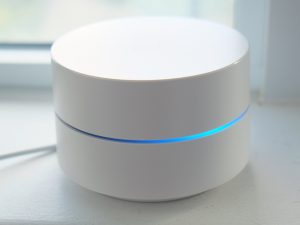 Next, we have the Google Wifi system. This works similarly to the Netgear Orbi, but with one major change, which we'll get to in a moment. The Google Wifi system is designed to be an out of sight out of mind product, and even their low profile "puck" design resembles this.
As far as technology built into it goes, it's designed to replace your router and modem, just like the Netgear Orbi. However, it uses smart, intelligent technology to constantly scan for the clearest channels and best radio bands for the Internet-connected device that you're using. This ensures that you're always using a speedy, seamless, and efficient connection.
Google Wifi is also accessible to set up with the app for your phone. It'll take you step-by-step in getting your wireless network up and running, and if everything goes well, it should only be a couple of minutes before you can start using it.
Google Wifi is also super attractive because it's cheap and aligned with those on a budget. Just one puck will not cost you too much, but if you want to cover your entire home (1,500 sq.ft per node), you can get a 3-pack for a little more.
Buy it now: Amazon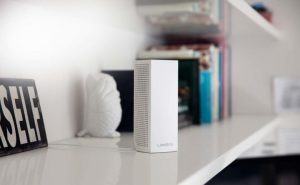 Last up on our list is the Velop by Linksys. This system has a much larger profile than the Orbi and Google Wifi. It acts as a router replacement for your home network and extends your wireless network radius by up to 6,000 sq.ft with a 3-node pack.
The technology built in the Velop is just as impressive as its radius. It uses a tri-band mesh system, which works to distribute your wireless network to 100% of your home — say goodbye to dead zones and signal degradation with the Velop. Not many home WiFi systems can do that: extending your network so far without any signal degradation or drops in speed.
Another essential portion is the artificial intelligence built into the Velop. If the Velop system detects that a node has gone down, it will automatically work behind-the-scenes to keep your wireless network established. When a node goes down, your network might not extend as far as it initially did, but the Velop system will at least keep it working.
You can set it up through the Velop app. There's a step-by-step wizard that can help even the layman in getting their wireless network up. The app can do plenty of other things as well, such as letting you tinker with the system: troubleshooting problems, creating secure guest networks, DNS changes, and so much more.
Buy it now: Amazon
Verdict
So, now that we've shown you what these systems are offering, which one is the perfect system for your home? If you're on a budget, the obvious way to go is the Google Wifi system. It's not the best system out there, but it will at least get you by (and it's far better than the traditional router and modem setup). If you've got cash to drop, we recommend the Linksys Velop. It's perfect for tinkerers and those that want to set up a more complex network with specific security modifications, tokens, DNS configurations, and more. Finally, if you want something more straight forward with some more user-friendly tinkering, the Orbi is the way to go.
Which one are you picking up? Let us know in the comments below!
* If you buy through links on our site, we may earn an affiliate commission. For more details, please visit our Privacy policy page.