Home WiFi systems are coming a long way, which means there's a bunch of new systems on the market. They're created to bring you internet that's faster and more reliable than ever before. But not only that. These systems are easy to set up, and even easier to use.

---
At A Glance:

Linksys Velop vs Eero Best Home Wifi System 2020
---
* If you buy through links on our site, we may earn an affiliate commission. For more details, please visit our Privacy policy page.
Today, we're going to compare two of our favorite
home WiFi systems
, the Velop by Linksys, and Eero.
Linksys Velop vs Eero Best Home Wifi System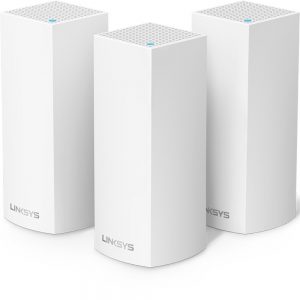 The Linksys Velop is a fantastic option for a home WiFi system. If you have dead zones or places within your home where you can't seem to hold a stable connection, these will help you get internet there in no time. You also don't have to worry about any hassle when setting these up. It's all done through a mobile app to keep things simple.
On Amazon, the standard pack comes with 3 Velops. With each Velop covering 2,000 square feet worth of space, 3 may sound like a lot to you, but sometimes it's good to have several so you can specifically set one up in areas that cause the most trouble. But while that that overlap could be a lifesaver, perhaps that's still far too much for your home or apartment. If that's the case, you can also buy a 2 pack, or even a single Velop.
Linksys Velop Features
These Velops actually have a pretty neat set of features. There are parental controls and guest WiFi, which you'll find most of these new home WiFi systems come with, but with the Velop, there's more. First, this system comes with a 3-year limited warranty, so if you run into any problems, it should be easy to get the help that you need. Secondly, this system can link to your Alexa, which means you'll be able to voice control your WiFi.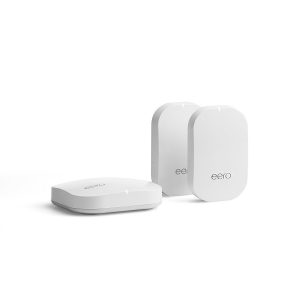 Eero is another awesome home WiFi system. While it doesn't have all of the capabilities that the Linksys Velops have, it's still fast, efficient, and one of the best home WiFi systems out there on the market today. Similarly, setup is also going to be a breeze with the corresponding mobile app.
Now, let's talk about how many if these you'll need.The Eero is essentially the hub, and the beacons are what you're going to need to expand your WiFi.
This is where things get a little tricky, because there is no solid number provided for how much space these will cover. Supposedly this particular package (1 Eero and 2 beacons), will be sufficient for homes with 2 – 4 bedrooms. Unfortunately, that's hardly detailed enough to figure out how many you will need. While this is a great system and we recommend it, you may need to contact the company directly to help you decide on how many beacons you will need to start with.
Eero Features
As for features, you've got your parental controls, which will allow you to "pause" the internet for specific users at different times, as well as a guest network to set up for friends and family visiting your home. Once your eero is set up, the beacons require being plugged into a wall outlet, and they emit a nightlight-like glow. It has a built in sensor to adjust to light and darkness, or you can control it from your mobile app.
Linksys Velop vs Eero Comparison
As we've mentioned, we think both of these products are awesome. They truly do deliver a faster WiFi connection that's smooth and consistent. You can't go wrong with either one.
At first glance, they don't vary in price much. However, with the Velop, guaranteed coverage of 6,000 square feet for a price. That is a lot of space, and will be more than enough for the majority of homes. With the eero, however, we wish they had a more solid number to go off of.
The Velop is a great one to just go ahead and order. But if you like what you've seen of the eero, we definitely recommend contacting them beforehand for some help to get a more accurate look at what exactly will fit your household best.
Linksys Velop vs Eero Comparison Closing
We hope we could be of service in your search for a new home WiFi system. There are plenty of great ones out there right now, but these are definitely a couple of our favorites. If you decide on one, we'd love to hear all about your purchase in the comments section.

* If you buy through links on our site, we may earn an affiliate commission. For more details, please visit our Privacy policy page.