There's a handful of neat home WiFi systems right now, all designed to make your home WiFi area the best that it can be. These systems don't want you to have to even think about your WiFi connection — it's just supposed to work. Companies are really able to achieve this type of wireless reliability, thanks to using modules or "nodes." They'll have you place three nodes throughout your home, and if one were to go down, the remaining nodes would automatically work to keep your connection working flawlessly.
---
At A Glance:

Orbi Vs Velop Vs Eero Best Home Wifi System 2020
---
| Product | Brand | Name | Price |
| --- | --- | --- | --- |
| | NETGEAR | NETGEAR Orbi Home Mesh WiFi System | 3-Pack Wall-Plug Version (RBK33) | Check Price on Amazon |
| | Linksys | Linksys Velop AC2200 Tri-Band Whole Home WiFi Intelligent Mesh System | Check Price on Amazon |
* If you buy through links on our site, we may earn an affiliate commission. For more details, please visit our Privacy policy page.
Today we're going to be looking at three of these systems — the Netgear Orbi, the Linksys Velop, and the Eero. Follow along, and we'll compare.
Orbi Vs Velop Vs Eero Best Home Wifi System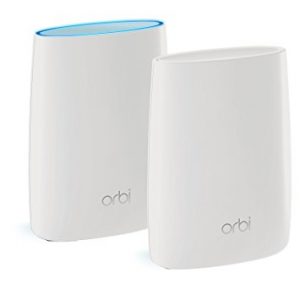 The Netgear Orbi is a little different from the Linksys Velop and the Eero. In the pack, you only get two hardware units in the package — a primary router and then something Velop calls a "satellite," more often referred to as a node. These two work together to bring 5,000 sq.ft of high-speed WiFi to your home. Not only that, but it has a tri-band mesh WiFi system designed to eliminate dead zones throughout your home.
Designed to replace your current wireless router completely, the Netgear Orbi is easily set up by even the layman with a downloadable app. The Orbi app will guide you step-by-step in setting up your network without needing to have a professional help you. Besides, the Orbi app will help you set up a secure guest network for visitors in your home that you might not want to give the primary WiFi password to.
The Orbi 2-pack can be bought on Amazon, and you can buy each additional node for an additional fee.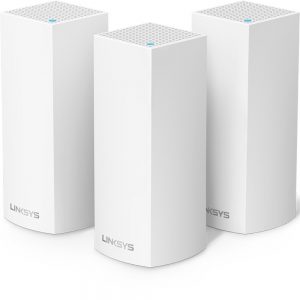 The Linksys Velop is a 3-pack system, featuring a primary node that replaces your wireless router and mode, and then two additional nodes that you place throughout your home to increase the sq.ft coverage of your wireless network. The Velop also has tri-band mesh network technology built into the system, which helps extend 100% of your wireless connection to the very edges of your home without any signal degradation.
The Velop is a great system because of it's node-based setup. If one node in your home loses connection or malfunctions, the remaining nodes work to keep your wireless connection established.
Similar to the Orbi, there's a Linksys Velop app so that you can set up your wireless network without any professional help. The step-by-step guide can have even the layman setting up a full-fledged home network in just a few moments.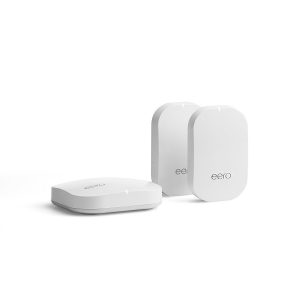 Last up on our list is the Eero. While the Velop and Orbi are designed around removing dead zones and maximizing speeds and signal coverage, the Eero system is built around you not having to think about your Wi-Fi connection. The idea is that your Wi-Fi connection simply works.
With the Eero, you get one primary node as your router and modem replacement, and then you have the additional two nodes to maximize your wireless network throughout your home. These three nodes replace your router, your modem, any WiFi extenders or repeaters you might have, and so on. The Eero system is virtually the only WiFi system you'll need in your home. Using intelligent Wi-Fi and mesh technology, you'll seamlessly be able to jump from node to node, never experiencing a connection interruption. Again, you won't even have to think about your Wi-Fi connection because it'll just work.
Besides, you can download the Eero app to get things set up. It'll take you step-by-step through the entire process until you are up and running. Check it out below.
Orbi Vs Velop Vs Eero Best Home Wifi System Verdict
So, which one should you buy? For the layman, we recommend picking up the Eero. Those who aren't proficient in technology just want their WiFi to work — they don't want to fiddle with it and figure out why their new home WiFi system is too slow or isn't outputting a signal correctly. The Eero will make sure you're up and running all the time without any user intervention after the initial system setup.
For those that like to tinker, we'd recommend the Linksys Velop. It's still pretty simple to setup, but there's a lot more you can tinker with inside the router — parental controls, DNS settings, guest network modifications, the ability to diagnose and fix a node from your mobile device and so, so much more. The Netgear Orbi is a great product as well, but if you have the cash to spend, we recommend the Eero or the Linksys Velop, as they're a little higher quality.
| Product | Brand | Name | Price |
| --- | --- | --- | --- |
| | NETGEAR | NETGEAR Orbi Home Mesh WiFi System | 3-Pack Wall-Plug Version (RBK33) | Check Price on Amazon |
| | Linksys | Linksys Velop AC2200 Tri-Band Whole Home WiFi Intelligent Mesh System | Check Price on Amazon |
* If you buy through links on our site, we may earn an affiliate commission. For more details, please visit our Privacy policy page.