The Galaxy S10 Lite is expected to be announced soon, and as we prepare for its arrival, leaks manage to give us a better glimpse of the device. This latest leak comes in the form of a leaked user manual in Portuguese. The illustration tells us that the phone will have a front camera located at the center rather than on the right like the Galaxy S10.
It's also worth pointing out that the phone will have an in-display fingerprint scanner, something that we've seen with the recent Galaxy Note 10 flagship as well as a bunch of Samsung's A Series phones. The manual also reveals that the phone will have three cameras on the back, accompanied by support for Samsung Pay as well as a USB Type-C port, which is not very surprising. This leak further tells us that the phone will only have buttons on the right, with no buttons or keys on the left-hand side.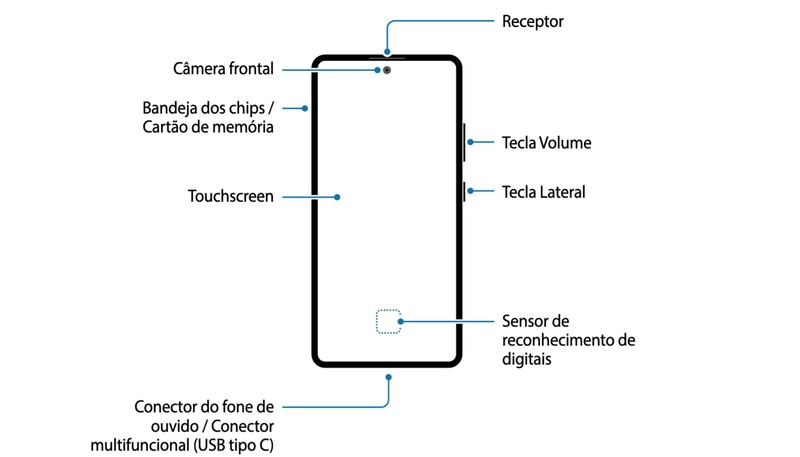 The phone won't have a headphone jack, which was along expected lines given the direction that the mobile industry is heading in. Previous rumors have suggested that the Galaxy S10 Lite will be announced alongside the Galaxy Note 10 Lite during the CES 2020 event in early January. Keeping this in mind, there's not long until we get to see the smartphone in action.
As far as the hardware is concerned, it's been rumored that the phone will run on the Snapdragon 855 SoC, which will be combined with 8GB of RAM as well as 128GB of internal storage. In the camera department, the phone is expected to pack a 48MP primary camera lens, a 5MP camera for macro photos, and a 12MP ultrawide sensor. The front, apparently, will only have a single camera lens.
Source: SamMobile
Via: Android Central