Many gamers who play the game have reported that they have experienced matchmaking issues either casual or ranked game which they can't find opponents. It could be a problem with your network connection, King of Fighters XV server issues, compatibility issues, or a problem with your network devices. You will need to go through several troubleshooting steps to address the matchmaking issues when playing ranked matches.
Fighting game The King of Fighters XV, popularly known as KOF XV, was created by SNK. The King of Fighters series' first game to use Unreal Engine 4 and the first to employ GGPO rollback networking, it was released on February 17, 2022, for Microsoft Windows, PlayStation 4, PlayStation 5, and Xbox Series X/S. The story, which takes place after The King of Fighters XIV, focuses on two fighters named Shun'ei and Isla who have extraordinary abilities related to the multiverse, along with other returning heroes who must face new enemies. The character roster, team-based gameplay, and slick online performance of King of Fighters XV generally earned accolades, however the game's story mode, challenging tutorials, and intricate mechanics received criticism.
The King of Fighters XV has the same three-fighter team fighting system as its predecessors. Additionally, the Parry system is back as Shatter Strike. Additionally, the standard MAX Mode system, which allows fighters to use more powerful moves once their energy bars are full, is reinstated. Ranked Match, Casual Match, Room Match, and Online Training are just a few of the game's numerous online modes.
PC Community experienced matchmaking issues when playing ranked matches either casual or ranked game in KOF XV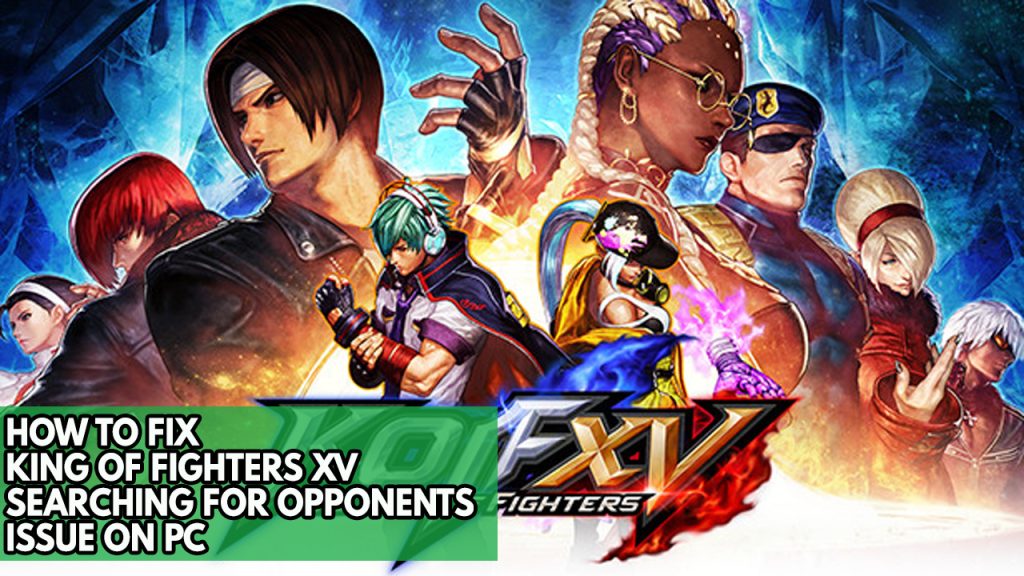 Being unable to search opponents for online matches is one of the challenges that many players may have experienced when playing King of Fighters XV. It can be frustrating if you are constantly unable to find opponent or have long wait times because of these matchmaking woes. Almost all the users of KOF XV have experienced this match making issues. Below are the steps to fix this issue on the PC version.
Fix #1 Check the server status of the game
If you cannot find opponents in the matchmaking of the game or are waiting over an hour and still no opponents to be found then the problem stems might be from the server. You won't be able to find opponents if there is ongoing maintenance or ongoing outages. Check the status of the server if there are any ongoing issues.
Fix #2 Check internet status
Users won't be able to connect to the server and have a matchmaking game without a reliable internet connection. To be sure your computer has a steady and reliable connection, run a speed test using an internet tool like speedtest.net.
Time Needed : 3 minutes
Checking Internet speed
Open your browser.

Use any browser you want.


Open speedtest by typing speedtest.net.

This will lead you to the speedtest site.


Press the Go button.

This will start the speed test.


Check Internet speed result.

This shows the connection speed results.

If your internet is slow and your connection drops out frequently, you will have problems connecting to the server.
Your ability to connect to the internet may be temporarily affected by a problem with your router or your internet service provider. Simply rebooting your network equipment can solve this issue.
Restarting devices
Step 1: Your computer should be turned off.
Step 2: Remove the power cords from your Modem and Router.
Step 3: Reconnect your modem and router to the power supply after a minute and turn on the devices.
Step 4: Wait for the lights to come on again.
Step 5: Turn on your PC.
Fix #3 Allow the game in Windows defender firewall
One of the main causes that you are not able to find an opponent is that the Windows Defender firewall might be blocking the incoming and outgoing connections of the game. You should check your firewall settings and make sure that the game is allowed to pass and communicate with the game server.
Adding as an Exception through Windows Firewall exceptions
Step 1: Type Windows Firewall in the search bar on your desktop and then click the icon that appears in the results.
Step 2: Choose Allow an app or feature through Windows Defender Firewall.
Step 3: Scroll down until you find the game, then check all boxes.
Step 4: Click the OK button.
Frequently Asked Questions
Will King of Fighters XV be on switch?

There are no plans yet for the game to be released on the switch.

Will King of Fighters XV be on Xbox one?

Yes it is already releases on the Xbox one.

Does King of Fighters XV have a story?

Yes it has a story.

How do you play King of Fighters XV?

It is a fighting game like street fighter.

How many characters are in King of Fighters XV?

There are 39 playable characters.