If you want to change your name in Rocket League but are uncertain of how to do so, this guide should be able to help. Changing your Rocket League name is entirely free, and we'll show you how to do it in this article in a few simple steps.
Rocket League is a soccer video game in which players drive rocket-powered automobiles. Up to eight players can participate in a match, divided into two teams, with the objective of advancing the ball to the goal of the opposition. The game, which is playable on Microsoft Windows, PlayStation 4, Xbox One, macOS, Linux, and Nintendo Switch, was created and published by Psyonix.
The game combines elements of indoor soccer and a demolition derby; participants drive a rocket-powered car and utilize it to launch a larger ball at the goal area of the opposite team to score goals. When combined with mid-flight boosting, the ability to rotate the car while it is in flight gives players additional control. The typical length of a match is five minutes, with a sudden-death overtime session added if the score is still tied. There are competitive and recreational playlists for Rocket League as well as one-on-one and four-on-four player options. The latter is Rocket League's multiplayer competitive mode, where players compete in tier-based rankings over the course of game seasons, with wins and losses influencing a player's rank.
Change in to new nickname in rocket league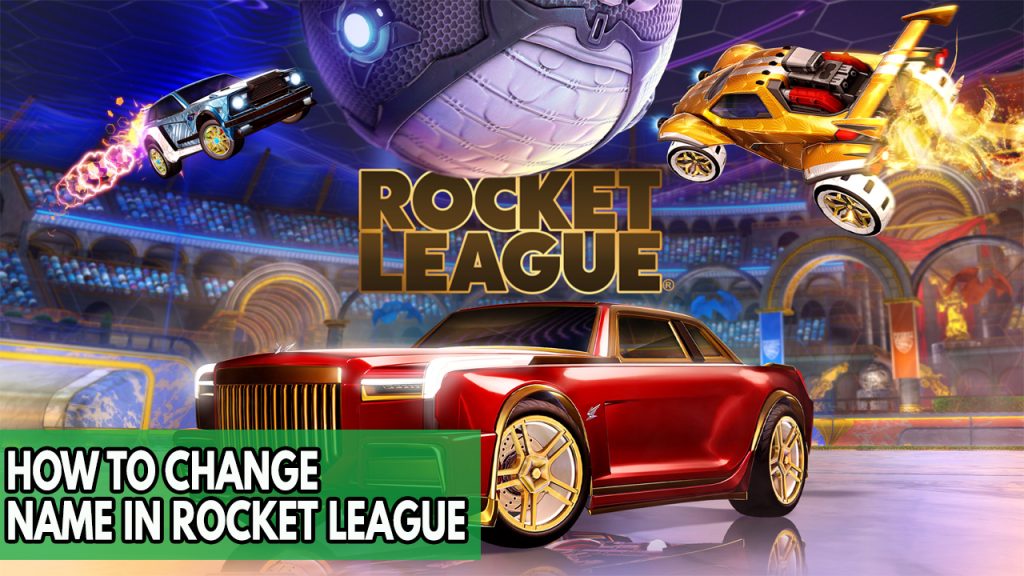 You can change your display name on Rocket League for a number of reasons, such as the need to use a nickname that your friends call you or the simple need to change your current username. Other reasons include the need to change your display name to something more respectable.
Change Rocket League PC version display name on Epic Games Account
When playing Rocket League, your username is displayed as same as your Epic Games display name. The name that appears when you are playing the game will change if your Epic Store username is changed, just like it does with consoles.
Changing epic games display name on rocket league
Step 1: Go to your Epic Account Info page.
Step 2: Find the Display Name box.
Step 3: Click on the Pencil icon.
Step 4: Type in your new Display Name.
Step 5: Click the Confirm button.
Step 6: Scroll to the bottom of the page.
Step 7: Click the Save Changes button.
Change Rocket League display name on Nintendo Switch
Rocket League uses the nickname associated with your Nintendo Account, therefore you must alter that in order for the game to show a different username when you're playing in game.
Changing name
Step 1: Go to the Nintendo Account website.
Step 2: Sign in to your Nintendo Account.
Step 3: Find the Profile box.
Step 4: Click the Edit button.
Step 5: Type in your new Nickname.
Step 6: Click the Save button.
Change Rocket League name on PlayStation
Changing your PlayStation Online ID is the only option to alter the name that appears in Rocket League on your PlayStation console; changing your PSN name is free the first time you do it, but it costs money the second time and onward. If you don't have PS Plus, each adjustment will cost you $9.99/£7.99. For name changes, PS Plus subscribers receive a 50% discount. Your name will change in all other online games as well, and this will also be the name you must give to others if they want to add you.
Changing name
Step 1: Go to the Account Management page.
Step 2: Sign in with your PlayStation Account.
Step 3: Select your PSN Profile.
Step 4: Click the Edit button next to your current online ID.
Step 5: Type in your new Online ID.
Step 6: Follow the on-screen instructions.
Change in game name in Rocket League for Xbox
Your Gamertag will be shown when you play Rocket League on Xbox. Players will therefore need to modify their Gamertag in order to use a different name when using this console.
Changing name
Step 1: Go to the Choose Your New Gamertag.
Step 2: Sign in to your account.
Step 3: Enter the new Gamertag.
Step 4: Click the Check Availability button.
Step 5: Click the Claim it button.
Frequently Asked Questions
Is Rocket league shutting down?

No it is not shutting down and Epic Games just bought the studio behind Rocket League.

Is Rocket League free on PC?

Yes it is free to play on PC, you can download it on the Epic Games Store.

Is Rocket League still popular?

Yes it is still popular across platforms.

What is the rarest wheels in rocket League?

Goldstones wheels is the rarest wheels in rocket league.

Who is #1 rocket league player?

Tshaka Taylor is the number 1 player in rocket league.