Are you experiencing the Hulu keeps crashing issue? There are several factors that cna cause this problem such as a poor internet connection speed, bugs in the Hulu app, corrupted cache and data, or even issues with the Hulu servers. To fix this problem you will need to perform several troubleshooting steps.
Hulu is a popular internet streaming content service that offers a vast library of films and TV shows from several networks such as ABC, NBC, FX Networks. It also has its own content named Hulu Original programing. In order to access this service you need to download the Hulu app on your Android device, Apple device, or Smart TV. The app itself is free to download however in order to access the service you will need to subscribe to a plan.
Hulu keeps Crashing or Shutting Down or Taking Me to Home Screen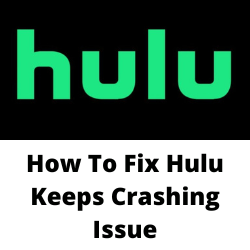 One of the issues that you might encounter when using the Hulu app is the crashing issue. This might occur on your Android device, Samsung Smart TV, Fire Stick, or even your Apple device. When this happens you won' be able to watch any shows.
Here's what you need to do to fix the Hulu keeps crashing issue.
Solution 1: Completely restart Hulu
One of the main reasons why Hulu keeps crashing is because of a glitch in the Hulu app itself. Restarting Hulu will fix this problem as it will eliminate any corrupted temporary data that's causing the crashing issue.
The best way to completely restart Hulu is by turning off the device you are using. Leave it off for at least a minute then turn it back on again and launch the Hulu app.
Try checking if the Hulu crashing issue still occurs.
Solution 2: Power cycle your streaming device
One of the first things that you need to do when experiencing the Hulu crashing issue is to perform a power cycle on your device. Power cycling will not only refresh the device operating system but refresh the Hulu app as well.
Power cycling the streaming device
Unplug your router from the socket.
Unplug your tv or streaming device from the power source.
Wait for 3-5 minutes, and after that plug in your router and let it boot up completely.
Plug in your tv or streaming device and start it.
When your tv or streaming device is completely booted up connect your tv to wifi.
Launch the Hulu app and check if this fix hulu kicking you to home screen issue.
Solution 3: Hulu's servers might have an outage
One of the reasons why you won't be able to use Hulu is because of a server outage. While this is not a common occurence it can happen and when it does you won't be able to access your service. Yuo can use some of the popular third party websites such as downdetector to check if the servers of Hulu are down. If they are then you will need to wait for this to be resolved.
Solution 4: Check your internet connection
There's a possibility that the Hulu app is crashing because of a poor internet connection. you need to make sure to have the following speed in order to have a better viewing experience.
3 Mbps for streaming Hulu content
8 Mbps for live streams
16 Mbps for 4k hdr contents
You can check the status of your internet speed with the help of online speed checkers such as speedtest.net.
Checking your internet speed
Take note of the ping, download, and upload results. These results will determine if your connection is good.
If you have an unstable internet connection then you can check if it is caused by your networking equipment by following these steps.
Turn off your mobile device.
Unplug your Modem and Router from the power source.
Wait for a minute then plug your modem and router back into the power source.
Wait until the lights turn back on.
Turn on your mobile device.
Reconnect your Android device to the internet.
Here are some tips to get a stable internet connection.
Try to disconnect other devices connected to the Wi-Fi router.This will allow your device to use the maximum internet bandwidth.
Move closer to the router. This will allow the device to get a much stronger Wi-Fi signal.
If you have a dual band router try to connect to the 5Ghz band instead of the 2.4 GHz band.
Solution 5: Log out all devices connected to your Hulu account
One factor that can cause the Hulu app to shut down is because the maximum number devices has already been reached. Normally, only two devices can log in to your Hulu account and if you need additional devices to be added you will need to pay extra for this.
Logging out of all devices
Using a web browser visit the Hulu website.
Log in using your credentials.
Click on your user icon and select Account.
In the Your Account section, open Manage Devices and click on the Remove button in front of every device.
Solution 5: Clear Hulu app cache
If the Hulu app has some corrupted cached data then it's very likely that this is what's causing the crashing issue. You will need to delete this cached data stored by the app to fix this problem.
Clear cache of Hulu app
On your remote, press the home button.
Activate the settings.
Navigate to the applications section.
Go to System Apps.
Select Hulu.
To confirm, select the clean cache option and press OK.
Solution 6: Reinstall Hulu app
One of the reasons why the Hulu app will crash is because it has bugs. To fix this you will need to uninstall Hulu then install Hulu again.
Reinstall Hulu on Android device
Open the app drawer and locate Hulu.
Press and hold the app icon until the options screen shows.
Tap on Uninstall.
Open the Google Play Store then Reinstall Hulu.
Reinstalling Hulu on iOS device
Open the home screen.
Go to the Hulu app.
Tap and hold the app icon to access the options.
Click remove app to uninstall Hulu.
Open the App Store and reinstall Hulu
Fix Hulu Keeps Crashing on Samsung Smart TV
If Hulu is crashing on your Samsung TV then here are the recommended troubleshooting steps.
Cold boot your Samsung TV
Press and hold the power button on your Samsung TV remote until you see the Samsung logo.
When the TV starts, try checking if the Hulu app is working.
Clear the Hulu app cache
Press the home button on your remote.
Open settings.
Go to apps.
Go to system apps.
Look for Hulu and select it.
Select the clear cache option and press ok to confirm.
Fix Hulu Keeps Crashing on Fire TV
If Hulu is crashing on your Fire Stick then here's what you need to do.
Update Fire TV software
Go to the settings menu.
Choose my Fire TV from the list of alternatives.
Select About from the drop-down menu.
Select Check for Updates from the drop-down menu. Download and install any updates that are available.ok to confirm.
Restart your Fire TV stick
Press and hold the select and play/pause buttons on your remote for 10 seconds.
After restarting, open the Hulu app and check if Hulu is still crashing.
Frequently Asked Questions
Why does Hulu keep crashing on my Smart TV?

It's likely that your Smart TV does not have the latest software version installed. It could also be due to an outdated Hulu app.

Why does Hulu app keep on restarting?

Try to check if the auto turn-off feature of the app is enabled.
Open Hulu on your device and navigate to the settings.
Locate "Stop Live TV when Inactive" and turn it off.

I'm getting the loading error on Hulu app

To fix this you need to clear cache and data of the app. You should also try removing you device from the account page and adding it again.

Is Hulu available on the Xbox Series X?

Yes, Hulu is available on the Xbox Series X platform.

How many users can access Hulu at the same time?

By default only two people at the most can have access to a Hulu account at the same time on two different device.