Welcome to our focused troubleshooting series that deals with Wi-Fi, network, and mobile data related problems on the Samsung Galaxy S3. In this installment of the series we will tackle problems such as the phone not connecting to a Wi-Fi, not having a mobile data, or not having any network signal at all. We will tackle some real world problems that our readers are facing by providing the necessary troubleshooting steps to take which would lead to a resolution.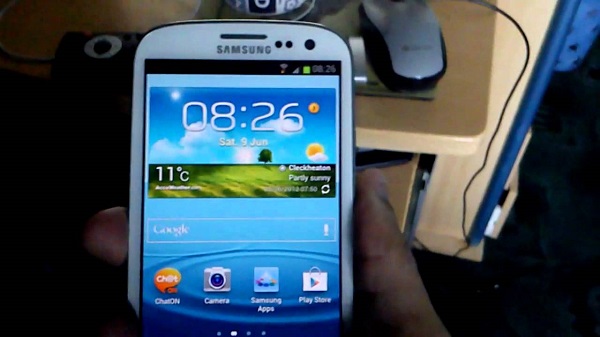 S3 Weak Wi-Fi
Problem: Hello my name is michael. I have a samsung galaxy S3 and my wifi doesn't work like i think it should. Its real weak. Any help would be appreciated.  Thank you. model number SPH-L710. build number KOT49H.L710UPUDNJ2. android version 4.4.2. baseband version L710VPUDNJ2
Solution: Try to restart your phone and the wireless router first to reset the connection. Before connecting to the wireless network make sure that there are no obstacles between both devices such as walls. Turn on the Wi-Fi of your phone then long press on the Wi-Fi network and forget it. Connect to it again. You may need to enter the network password to connect again.
If you are still noticing a weak connection then try connecting your phone to a different Wi-Fi source.
S3 Authentication Error When Connecting To Wi-Fi
Problem: Hello. Recently I am facing Wi-Fi authentication error on my Samsung Galaxy S3. I have been using this device since 2013 and never found this type of error. I can not connect to any Wi-Fi access point and when trying it shows authentication error. I tried everything like changing the router password, forget password in my device and re-enter password, rebooting my device. After that I upgrading my device from android 4.3 to 4.4 and also done factory reset. Still no luck. One thing that I can connect to another Wi-Fi hot-spot (from another mobile device) which has no password (open Wi-FI). Later I found in one article that some apps location permission deny can cause this type of problem and as far I remember, I have done some location permission denying on some apps. But I forget where I have done this changes. Please help me to solve this problem. Thanks.
Solution: If you suspect that an app may be causing this issue then you should start your phone in Safe Mode.
Turn the device off.
Press and hold the Power key.
When 'Samsung Galaxy S III' appears on the screen, release the Power key Immediately after releasing the Power key, press and hold the Volume down key.
Continue to hold the Volume down key until the device finishes restarting.
'Safe mode' will display in the bottom left corner of the screen. Release the Volume down key when you see 'Safe Mode.'
Try connecting to your wireless network and see if the error message still pops up. If it doesn't then the issue is most likely caused by an app installed in your phone. You will need to find out what app this is and uninstall it.
If however this issue is not caused by an app then proceed with the troubleshooting steps listed below.
Try to determine first if the problem is not caused by your router by connecting another device to it. If the authentication error appears on the other device then the issue may be with your router.
If the problem is not with the router then reboot your phone and the router.
Once your phone has fully booted turn on the Wi-Fi then tap on your Wi-Fi connection from the list and forget it.
Search for the wireless network again then connect to it.
If you still can't connect then you may need to change the encryption type used by your router. There have been reports of this model having difficulty connecting to a network that uses the WPA2 encryption.
S3 No Network Signal
Problem: Hi there. I was given a new/unused factory unlocked S3.  It was originally a Bell Mobility phone.  When I insert my working Bell SIM card,  the phone detects that the SIM is inserted but I get no mobile network signal (represented by a circle instead of the number of bars at the top of the display).  It has been upgraded to the latest version 4.4.2 for that phone using Wifi and I verified that the IMEI is valid and not blacklisted.  I also tried a wipe and factory reset. Some other observations: when I do NOT have a SIM card inserted, the phone indicates no SIM card inserted, but I get random cycling of mobile signal from none->1 bar->2 bars, etc.  As soon as I insert a valid SIM, the mobile signal is forever set to none. Do you have any suggestions?  I am wondering if it is a mobile antenna problem?
Solution: Try inserting another SIM in your phone (preferably from a different network) and see if the problem still occurs. You should also try a Bell Mobility SIM to verify if the phone is getting a signal and has been successfully unlocked. If your phone can read the Bell SIM but not the SIM of other networks then there may have been an issue with the unlock process.
If your phone cannot get any signal at all with different SIM cards then back up your phone data and do a factory reset.
Turn off the device.
Press and hold the following three buttons at the same time: Volume Up key, Home key, Power key.
When the phone vibrates, release the Power key but continue to press and hold the Volume Up key and the Home key.
When the Android System Recovery screen appears, release the Volume Up and Home keys.
Press the Volume down key to highlight 'wipe data / factory reset.'
Press Power button to select.
Press the Volume down key to highlight 'delete all user data.'
Press Power button to select and start the master reset. When the master reset is complete, 'Reboot system now' is highlighted.
Press the Power key to turn the restart the device
If the problem still persists after this then it may already be caused by a faulty hardware, possibly the antenna. Bring your phone to an authorized service center and have it checked.
S3 No Network Service
Problem: Hi, I'm having problems with my phone (Samsung S3). it was functioning properly and I happened to connect to a wifi network after I have disconnected, it says there is no service. Now what I understand is that the problem is not the Sim card cause I've changed the Sim cards and on another phone it functions perfectly but the Samsung still says no Service. According to my research the problem is caused by some sort of radio signal which I can only access and switch off in Service mode of the Samsung. My problem is that I have tried codes to access the Service Mode but it appears none of them work
> *#*#4636#*#*
>*#*#7262626#*#*
The above codes are some of those I tried using. another website says on new devices the codes have been disabled. I was hoping you could share some knowledge on what I should do to fix my phone. Hopefully Thanks.
Solution: The best thing you can do right now is to backup your phone data and do a factory reset. This reverts your phone back to its original condition and hopefully will resolve this issue.
Turn off the device.
Press and hold the following three buttons at the same time: Volume Up key, Home key, Power key.
When the phone vibrates, release the Power key but continue to press and hold the Volume Up key and the Home key.
When the Android System Recovery screen appears, release the Volume Up and Home keys.
Press the Volume down key to highlight 'wipe data / factory reset.'
Press Power button to select.
Press the Volume down key to highlight 'delete all user data.'
Press Power button to select and start the master reset. When the master reset is complete, 'Reboot system now' is highlighted.
Press the Power key to turn the restart the device