Using your mobile data subscription can sometimes be expensive which is why Asus has come up with a way for you to control your ROG Phone 3 data usage. You can access this tool from the Mobile data usage section of your phone settings.
The Asus ROG Phone 3 is the best gaming phone that you can get in the market today. It is a third generation model that has several outstanding features that allows it to run any game smoothly. Under the hood you will find the Snapdragon 865+ chip, 16 GB of RAM, 512 GB of storage, and a 6000 mAh battery just to name a few. If you are into mobile gaming, then you should consider getting this device.
Managing the mobile data usage of your Asus ROG Phone
Your phone can connect to the internet using a Wi-Fi network or with your mobile data subscription either through a 4G or 5GB network. When using a Wi-Fi connection you won't generally be concerned about the data your phone consumes however this is not the case when using a mobile data connection. If your phone uses a 4G or 5G data connection then it will consume your allocated subscription which is usually limited. It's therefore a good idea to know how much data you are using and how to manage this.
Accessing the mobile data usage warning and limit on your ROG Phone 3
Here's how you can access the data warning and limit section of your phone.
Time needed: 2 minutes.
Mobile data warning & limit setting
Tap on Settings.

You can do this by swiping up from the Home screen then tapping on the Settings icon.

Tap on Network & internet

This is where you will be able to access your phone Wi-Fi, mobile, data usage, and SIM settings.

Tap on Mobile network.

This where you can access your carrier's mobile data settings.

Tap on App data usage.

This is where you can get the detailed data consumption per app.

Tap on Menu.

This is the three vertical dots on the upper right side of the screen.

Tap on Data warning & limit.

This is where you can manage the mobile data consumption of your phone.
How can I control my internet data usage on ROG Phone 3?
When you are already in the data warning & limit section of your phone here's what you can do.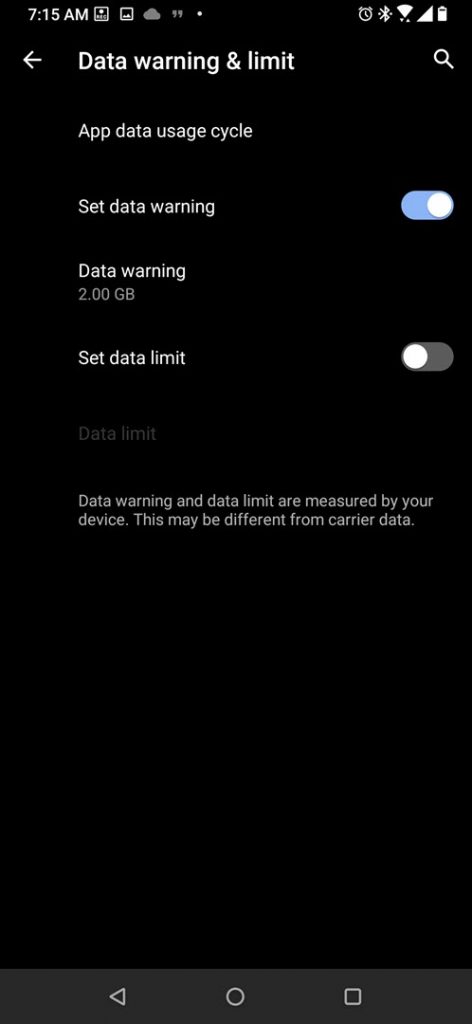 App data usage cycle: You can set the date of each month when your usage cycle will reset.
Set data warning on or off: You can set your phone to warn you if you have consumed a certain amount of data.
Data warning: The amount of data in MB of GB which when met will trigger the data warning.
Set data limit: When turned on your mobile data will turn off once your phone reaches the data limit.
Data limit: You can set the data usage limit from here.
After performing the steps listed above you will successfully control your ROG Phone 3 data usage.
Visit our TheDroidGuy Youtube Channel for more troubleshooting videos.
Also Read: