Are you experiencing a blurry TV screen on your new TV? There are several factors that can cause your Hisense TV display from from getting a blurry picture such as a low resolution content from streaming source, software issue, or even a issue with the HDMI link. To fix this, you will need to perform a series of troubleshooting steps.
Hisense is one of the world's largest manufacturers of television sets. The company focuses on the budget market offering high quality yet affordable Smart TV models with features such as ULED displays and variable refresh rate support.There are several Hisense TV models available ranging from Google TV, Hisense Roku TV, Fire TV, Vidaa TV, Xclass TV, and Hisense Android TV.
How do I improve the picture quality of my Hisense TV?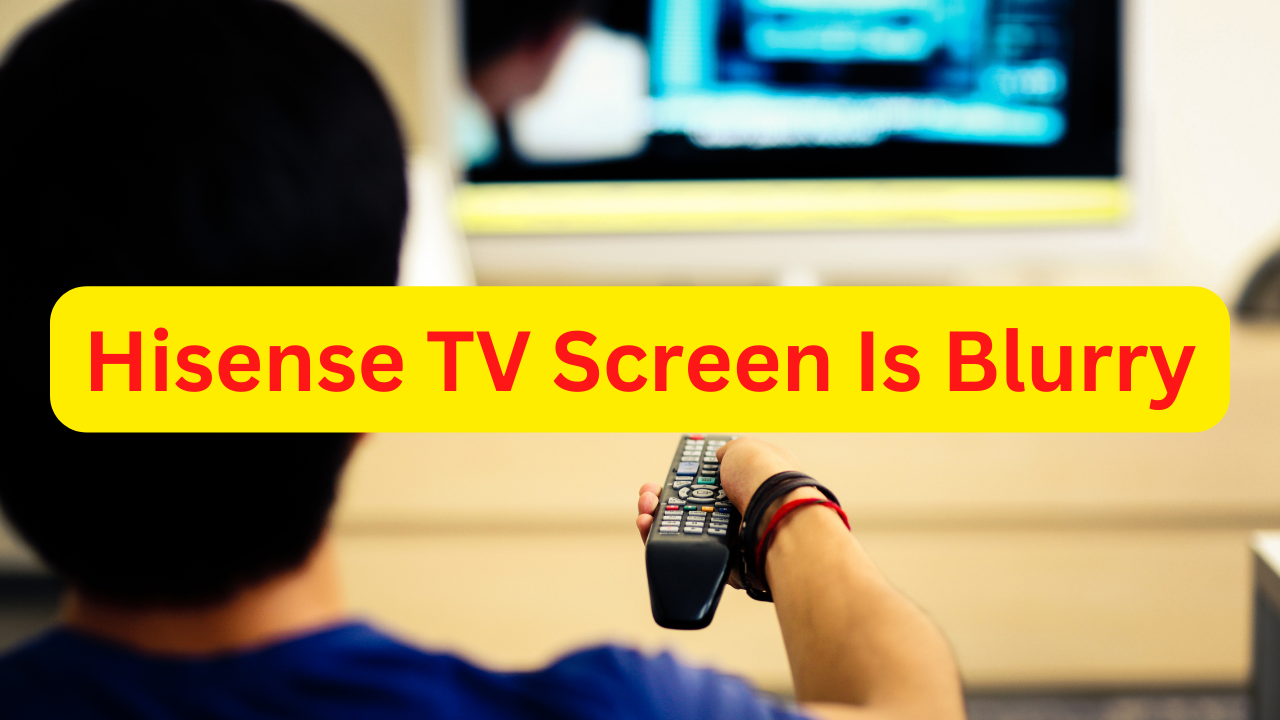 One of the issues that you might experience with your Hisense TV is a blurry picture. This usually happens when watching a show and can be an annoying experience.
Here's what you need to do to fix the Hisense TV blurry image issue.
Solution 1: Power cycle your Hisense TV
The first thing you need to do when not getting a good picture quality on your Hisense Smart TV is a power cycle. This will refresh the TV software and get rid of any software glitches that could be causing the issue.
Power cycle Hisense TV
Turn off the Hisense TV using the remote control.
Unplug the power cable from the power outlet.
Wait for at least 5 minutes.
Plug the power cable into the power source and then turn on the Hisense TV.
After the power cycling process has completed try checking if you are getting a better picture quality on your Hisense TV.
Solution 2: Check Your HDMI Cables
One of the factors that can cause the Hisense Smart TV fuzzy image issue is because of loosely connected HDMI cables. Remove the HDMI cable then plug it back in making sure that it is connected tightly,
You can also try cleaning the HDMI port can cable by following this step.
Remove the HDMI cable connected to the back of your TV.
Clean the contacts both of the cable and in the connector on the TV by blowing gently on them.
Firmly push the cables back into their slots on the TV.
Switch your TV back on again.
Sometimes the problem can already be caused by a defective HDMI cable. If this is what's causing the problem then you will need to use a new cable.
Solution 3: Check the internet connection speed of your Hisense Smart TV
If you are getting a lower resolution on the show you are watching on your favorite streaming app such as Netflix then the problem could be caused by a slow internet connection. You need to make sure that your Hisense TV has access to a reliable internet connection so that it does not default to a lower resolution when watching streaming content.
You can check the internet speed using some of the popular online speed checker tools.
Checking your internet speed
Open a browser on your Hisense Smart TV.
Go to speedtest.net. This is an online speed test tool that is free to use.
Click on Go. This will start the speed test.
If you are experiencing internet connection issues then try checking if this is caused by your networking equipment.
Turn off your TV.
Unplug your Modem and Router from the power source.
Wait for a minute then plug your modem and router back into the power source.
Wait until the lights turn back on.
Turn on the TV.
Reconnect your TV to the internet.
Here's what you can do to get a stable Wi-Fi internet connection.
Try to disconnect other devices connected to the Wi-Fi router while you use Hisense TV. This will allow the TV to use the maximum internet bandwidth.
Move the TV closer to the router . This will allow the device to get a much stronger Wi-Fi signal.
If you have a dual band router try to connect to the 5Ghz band instead of the 2.4.
Solution 4: Reset picture settings on your Hisense TV
There are instances when the blurry image issue occurs after you made changes to the picture settings on your Hisense Smart TV. You should try to reset the picture settings of your Hisense TV and check if this fixes the problem.
Resetting the picture settings
Turn your Hisense TV on by pressing the Power button on the remote.
Press the Settings button on the remote.
Select Picture and press the OK button to enter.
Scroll down and select Restore Default Picture Settings and press the OK button on the remote.
Select Reset/Yes/OK and press OK to confirm.
Try checking if this fixes the display issues of your Hisense TV.
Solution 5: Update the Hisense TV software to the latest version
It's important to get the latest software update for your Hisense TV as this will have several enhancements as well as bug fixes that could fix Hisense TV problems such as the blurry image issue you are experiencing.
Updating Hisense TV
Make sure that your Hisense TV is connected to the internet.
Open Settings home screen.
Find and select Device Preferences.
Go to About.
Scroll down to System Update.
Your TV will now look for any available updates
If there's an update available, select Update Now to install it.
Updating Hisense Roku TV
Access the Home screen of your Hisense TV by pressing the Home button on the TV Remote.
Select the Settings option.
Scroll down and select the System option.
Find and select System Update.
Select the 'Check Now' option so the TV can check for updates.
Select Update so that your TV will be updated to the latest firmware.
Try to check if the Hisense TV screen issue still occurs.
Solution 6: Factory Reset Hisense TV
If the Hisense TV blurry picture issue persists then consider doing a factory reset. This will bring back the TV to its default factory settings and usually fix any problems caused by a corrupted Hisense TV software.
Performing factory reset on Hisense TV
Press MENU on your Hisense Smart TV remote
Select Support and confirm your selection by clicking Enter, OK, or Select.
Click Self Diagnosis and confirm by pressing Enter.
Select the last option, which is Reset.
Enter your security PIN, usually 0000, to confirm your request.
Reset your Hisense Smart TV to factory settings
After the factory reset has completed try checking if the Hisense TV resolution quality issue still occurs.
Frequently Asked Questions
How do I set my Hisense TV to 4K?

Turn on your Hisense Android TV and access the settings menu.
Choose "TV Settings."
Press "HDMI" or "External Inputs," depending on your TV model.
Select "HDMI format" and press "Enhanced format."

Why is the picture quality poor on my TV?

You will usually get a fuzzy or blurry picture quality when watching standard cable channels or standard over-the-air (OTA) channels because of a mismatch between the resolution capability of your TV and the resolution of the analog signal transmitted by your cable company or OTA broadcaster.

How can I tell if my Hisense TV is 4K?

You can check the TV manual for its supported resolution. If the manual says its 2160p or UHD or 4K, then your television is 4K.

How do I keep my Hisense TV from automatically dimming?

Press the Settings or Menu button on the remote control.
Select the Picture option.
Change the setting to mild.

Why does my Hisense TV have no picture?

This problem is usually caused by a loose HDMI connection, wrong source selected, or a software glitch. Try to check all the cables connected to the TV and make sure to select the correct source. You should also try to restart your TV to fix this problem.