If you are experiencing Gotham Knights crashing on PC then this article will be able to help you resolve the issue. Several factors can cause this issue such as corrupted game files, your computer does not meet system requirements, or outdated drivers. To fix Gotham Knights crashing issue, you will need to perform several troubleshooting steps.
Gotham Knights is an open-world, action RPG that was developed and published by Warner Bros. Game. It is available for the PC on Steam and Epic Games. In the Gotham Knights game, Batman is dead. A new criminal organization has swept the streets of Gotham City. It is now up to the Batman Family – Batgirl, Nightwing, Red Hood, and Robin – to protect Gotham from these criminals. The game is set in the interactive and most dynamic Gotham City. The Batman family will have to solve mysteries that connect the city's history to defeating villains. Play the game solo or in co-op and drop in on criminal activity wherever you find it.
Fix WB Games Gotham Knights Crashing on PC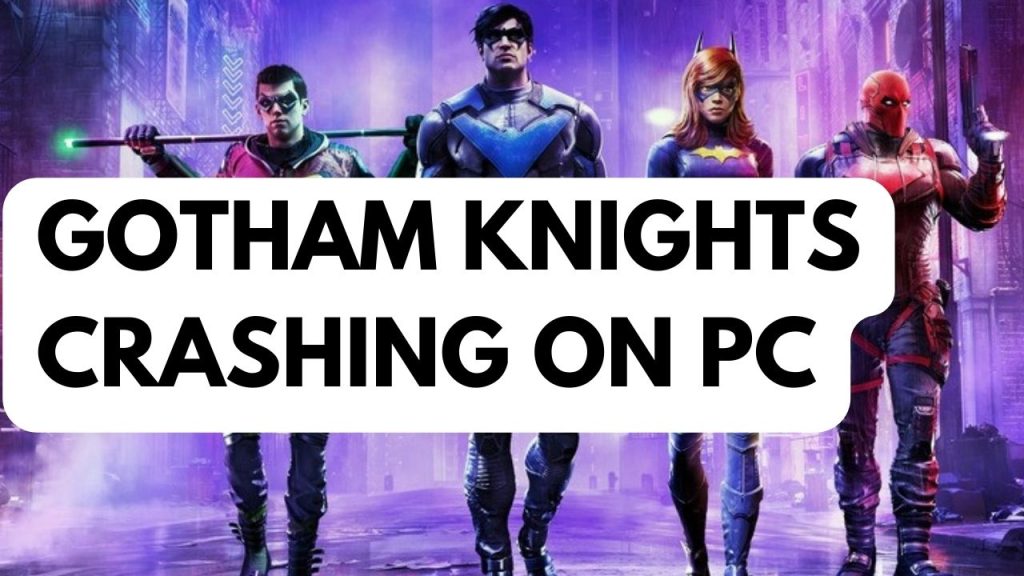 One of the issues that you will encounter with this game is the game crashing issues. This can be a frustrating experience especially if you are in the middle of the game and the game crashes.
Here's how to fix Gotham Knights crashing issue.
Fix #1 Check Minimum Requirements
The first thing you need to do if you are experiencing crashing problem with Gotham Knights is to check if your computer can handle the game. If your computer does not meet the minimum requirements or the recommended system requirements then you will have a crashing issue and a performance issues.
Minimum Requirements
OS: Windows 10 64-bit
Processor: Intel Core i5-9600K (3.7 GHz) OR AMD Ryzen 5 3600 (3.60 GHz)
Memory: 8 GB RAM
Graphics: NVIDIA GeForce GTX 1660 Ti OR AMD Radeon RX 590
DirectX: Version 12
Storage: 45 GB available space
Additional Notes: 1080p / 60fps / Low Quality Settings
Recommended System Requirements
OS: Windows 10 64-bit
Processor: Intel Core i7-10700K (3.8 GHz) or AMD Ryzen 5 5600X (3.7 GHz)
Memory: 16 GB RAM
Graphics: NVIDIA GeForce RTX 2070 or AMD Radeon RX 5700 XT
DirectX: Version 12
Storage: 45 GB available space
Additional Notes: 1080p / 60fps / High Quality Settings
Fix #2 Update GPU Drivers
Gotham Knights has just been recently released, you will experience crashes if your computer is using an outdated GPU drivers. It is recommended that you update to the latest version of graphics drivers for your GPU since it will contain optimizations for the game. Aside from the optimizations of the updated drivers, the latest version of drivers also include performance improvements, graphical issues fixes and bug fixes for PC users.
Updating graphics driver
Step 1: Simply type Device Manager in the search bar on your desktop and then click the Device Manager icon that appears in the results. This will open the device manager.
Step 2: Click the Display adapters icon. The list of display adapters will be expanded.
Step 3: Right-click the dedicated graphics card you are using to play the game and then select Update driver. This will allow you to update your driver.
Step 4: Choose Search automatically for drivers. This will search online for any new drivers and install it on your computer.
Try to play Gotham Knights after you have updated GPU drivers.
You should also make sure that the dedicated GPU is your preferred graphic processor when playing the game. Users of NVIDIA can change to their preferred GPU through NVIDIA control panel.
Changing preferred graphic processor
Open the NVIDIA panel.
Navigate to 3D settings > Manage 3D settings.
Open the Program settings tab and select your game from the dropdown menu.
Select Preferred graphics processor for this program from the second dropdown menu. Your NVIDIA GPU should appear as "High-performance NVIDIA processor"
Save your changes.
After you have save changes try to check for performance issues.
Fix #3 Close Background Programs
Background programs that are running in the background of your PC while you play Gotham Knights can be the cause of the crashes if there are too many resources that are being use by different programs which leaves the game little system resources to use. Close the other programs that you don't need when playing the game if you want to have more additional resources, such as RAM and CPUs.
Closing background processes in the task manager
Step 1: Right click on the Start menu then click on Task Manager.
Step 2: Click on More details found at the bottom left part.
Step 3: Click on the Processes tab.
Step 4: Right click on the apps running and select End task on task manager.
Fix #4 Temporarily Disable Antivirus Software
Another reason for the crashes with Gotham Knights is because of an antivirus program that is scanning the game folder for viruses then making it as potential threats and blocking Gotham Knights. To check out if that is cause for making the game crashes, try playing the game while the antivirus program is disable. If Gotham Knights does not crash while you play then add it to your antivirus's exclusion list. Don't forget to turn your antivirus program back on.
Turning off antivirus software
Step 1: Press Windows Start menu key.
Step 2: Click Windows Settings.
Step 3: Click update & security.
Step 4: Click Windows Security.
Step 5: Click Virus and Threat protection.
Step 6: Click Manage settings.
Step 7: Turn off real-time protection.
Adding the game to the antivirus exclusion list
Step 1: Press the Windows key.
Step 2: Click Settings.
Step 3: Click Update & Security.
Step 4: Click Windows Security.
Step 5: Click Virus & threat protection.
Step 6: Click Manage setting.
Step 7: Click Add or remove exclusions.
Step 8: Click Add an exclusion.
Step 9: Click Folder.
Step 10: Locate and select the game folder.
Try to check if the performance issues has been fixed.
Fix #5 Choose High Performance Power Plan
Try to check for the power options that your computer is using if it is in balanced mode, power saver mode or high performance power plan. If it is not set to high performance plan then you must choose it in order to not get the crashes on PC.
Choosing High Performance mode
Step 1: On the search bar on your desktop, type Power & Sleep Settings and click it from the search result.
Step 2: Click Additional Power Setting.
Step 3: Choose High Performance.
Fix #6 Windows Update
The next thing to do is to update your Windows to the latest version. These updates will usually have improvements, security patches, DirectX updates, and bug fixes that will fix WB Games Gotham Knights crashing issues.
Updating Windows OS
Step 1: Right click the Start button.
Step 2: Select Settings.
Step 3: Select Update & Security found on the bottom left menu of the new window that appears.
Step 4: Select Check for updates to update to the latest version.
After you have done the Windows update, try to see if it fixes the issue.
Fix #7 Disable Steam Overlay
Overlay apps sometimes may cause performance issues such as fps drops with Gotham Knights if your computer does not have resources to run it with the overlay software at the same time. The performance issue might be resolved by disabling Steam overlays, Xbox game bar and the NVIDIA overlay.
Disable Steam Overlay
Step 1: Open the Steam client.
Step 2: Click on Steam found on the upper left side of the client.
Step 3: Click Settings.
Step 4: Click In-Game.
Step 5: Uncheck Enable the Steam Overlay while in-game box.
Fix #8 Graphics settings
If you are still getting crashes with Gotham Knight, then the next thing you have to do is to adjust the game graphical settings to low or medium settings. Your computer may not be able to run it in normal settings so you need to adjust it.
Nvidia Users
Right-click on desktop
Click Nvidia control panel
Click Manage 3D Settings
Click Program Settings
Find "Gotham Knights", you can manually add the games if it's not in the list, then make the following changes.
Monitor Tech: G-Sync (If available)
Maximum Pre-rendered frames: 2
Threaded optimization: On
Power Management: Prefer Maximum Performance
Texture Filtering – Quality: Performance
Low Latency Mode: Low
AMD Users
Open the AMD Software then make the following graphics changes.
Anti-Aliasing Mode: Use Application settings
Anti-aliasing Method: Multisampling
Morphological Filtering: Off
Anisotropic Filtering Mode: Use application settings
Texture Filtering Quality: Performance
Surface Format Optimization: On
Wait for V-sync: Off
OpenGL Triple Buffering: Off
Shader Cache: AMD optimized
Tessellation Mode: Override application settings
Maximum Tessellation Level: Off
GPU Workload: Graphics
Chill: Off
Frame Rate Target Control: Disabled
After you have change the graphical settings try to check if the issue is fixed.
Fix #9 Verify Integrity of Game Files in the Local Files Tab
If any one of the Gotham Knights files in the installation folder is corrupted. You can use the repair tool from the Steam client to verify game file and see if any files need to be fixed. Steam will immediately download, install, and replace the corrupted and missing files found in the game. If your game is from the Epic Games Store then you can also repair it using the launcher.
Verifying Files Using Steam
Step 1: Open Steam client.
Step 2: In your Steam launcher, click Game Library.
Step 3: Find the game then right-click and select Properties.
Step 4: Choose the Local Files tab.
Step 5: In Local Files , click Verify integrity of game files.
After you have checked the game files in the local files tab, try to check if the issue is fixed.
Verify Integrity of Game Using Epic Games Launcher
Step 1: Open the Epic Games Launcher.
Step 2: Click on Library.
Step 3: Find Gotham Knights then click the three dots.
Step 4: Click Manage then click verify files.
In the rare instances that the earlier steps does not work, you can reinstall WB Games Gotham Knights to fix the issue. By doing this you can have a fresh install of the game.