Having trouble deciding between getting a Google Pixelbook or the Acer R13? Well, you've come to the right place, as we'll help you decide in no time. It really can be a difficult choice. After all, you have the Google Pixelbook with an Intel Core i5 or i7 (seriously, what Chromebook out there offers that much power?), with options up to 16GB of RAM. Not only that, but you can get it with a whopping 512GB of flash storage — that's an insane amount for a Chromebook.
---
At A Glance:

Google Pixelbook Vs Acer R13 Best Chromebook 2020
---
* If you buy through links on our site, we may earn an affiliate commission. For more details, please visit our Privacy policy page.
On the other hand, you have the Acer R13, which is still pretty cool. It has a slower processing package but still runs through tasks just fine. You get a ton less storage in comparison to the Google Pixelbook, too. Still, the Acer R13 is a formidable competitor, especially at the budget-level price point.
Either way, let's get right into it! Hopefully, after comparing the two, we can help you make a much more informed purchasing decision between the two. Follow along!
Google Pixelbook Vs Acer R13 Best Chromebook Comparison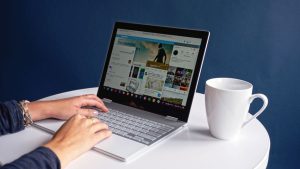 First, we have Google Pixelbook. Google retired the Pixelbook line a couple of years ago but recently came out with an independent successor. They've entirely rethought the Pixel Chromebook brand and launched the Google Pixelbook. This is a gorgeous laptop with a super sleek design. You could compare it to either Apple's MacBook line or Microsoft's Surface Book in terms of design. This is Google hardware right here, and it looks great.
Besides, you get a premium hardware package. There are not many Chromebooks out there that give you the option for an Intel Core i5 or Intel Core i7 processor. On top of that, you can choose to get up to 16GB of RAM. Besides, you have options for plenty of storage — up to 512GB, an amount you'd typically find in a laptop.
Finally, the screen/media package is phenomenal. You get a 12.3-inch display that sits on a 360-degree hinge. The display looks great — perfect for watching movies, TV shows, and regular video. It also has a 10-hour battery, and has some sweet fast charging technology — just 15 minutes on the wire can get you an additional two hours of use.
Overall, the Google Pixelbook is a phenomenal package. Its a little pricey, but it's well worth the price when you consider all that you're getting, not even to mention the remarkable customer service that comes with it.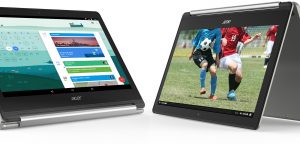 And then, you have the Acer R13. The R13 isn't anything special to talk about design-wise. It's a silver computer that has similar tones to the MacBook Pro, although it's more of a cheap-looking knock-off in that way.
As far as the hardware package goes, you get a MediaTek MT8173 quad-core processor, just 4GB of RAM, and 32GB of internal flash storage. It's considerably slower than the Google Pixelbook and certainly less spacious. Still, because it's an Internet-only device, it'll be able to handle any of the tasks you run it through — regular Internet browsing, apps, and even the most demanding apps!
The screen is relatively impressive. It's a little larger than the Google Pixelbook, coming in at 13.3-inches on the IPS panel. However, it does have a lower resolution at 1,920 x 1,080. That means you won't get as much detail in your movies and TV shows, but at only a third of the price of a Pixelbook, it's hard to complain.
Considering all of that, the Acer R13 is a great Chromebook. The Google Pixelbook does blow it out of the water as far as the hardware and media package goes, but one thing the Pixelbook has against it is the high price tag. You can get a slightly lesser version of the Pixelbook in the form of the Acer R13.
Google Pixelbook Vs Acer R13 Best Chromebook Comparison Verdict
So, which one should you buy? If you want the best of the best, the Google Pixelbook is, without a doubt, the way to go. For what it offers, the steep price tag is well worth it — you won't be able to find a better Chromebook out there right now. But, if you don't have that much cash to spend, or don't want to drop that much on a Chromebook, the Acer R13 is a formidable competitor. It'll still operate through all of the tasks you put it through without a hitch, including some of the most demanding Android apps out there. At the current price, you can't go wrong with it. The choice is up to you, but we'd recommend the Google Pixelbook if you want the best here.

* If you buy through links on our site, we may earn an affiliate commission. For more details, please visit our Privacy policy page.