Besides the obvious 400Wh to 500Wh capacity difference, the Goal Zero Yeti 400 comes with two AC outlets with surge protection, while the Jackery Explorer 500 has one. However, Jackery makes up for this by offering three USB-A ports on the Explorer 500 as compared to the two USB ports on the Yeti 400.
| Product | Brand | Name | Price |
| --- | --- | --- | --- |
| | Goal Zero | Goal Zero Yeti 400 Portable Power Station, 400Wh Battery Powered Generator | Check Price on Amazon |
| | Jackery | Jackery Portable Power Station Explorer 500, 518Wh Outdoor Solar Generator | Check Price on Amazon |
| | URMIIM | Goal Zero Yeti 1000 Lithium Portable Power Station | Check Price on Amazon |
| | EF ECOFLOW | EF ECOFLOW Portable Power Station DELTA, UPS Power Supply 1260Wh Battery Pack | Check Price on Amazon |
| | ROCKPALS | Rockpals 250-Watt Portable Generator Rechargeable Lithium Battery Pack Solar Generator | Check Price on Amazon |
* If you buy through links on our site, we may earn an affiliate commission. For more details, please visit our Privacy policy page.
Goal Zero Yeti 400 vs Jackery 500 review
Portable power stations can be crucial if you're planning to go camping or spend days away from the power grid or the comfort of your home. Additionally, portable power stations can also be used to power up home appliances depending on its power output.
When it comes to portable batteries or power stations, the options are available in abundance. However, two brand names currently stand out in this regard – Goal Zero and Jackery.
Jackery's Explorer 500 has won several praises, while the Goal Zero Yeti 400 has a fan following of its own. Naturally, both portable power stations are quite different with regard to performance as well as charging capacity.
Keeping this in mind, we've decided to take a closer look at the two portable batteries to help you better understand which model fits your criteria.
Goal Zero Yeti 400 vs Jackery 500 Best Portable Power Station
One of the first things we need to mention about the Goal Yeti 400 is that it's quite a neatly designed power station. It has a large enough screen on the front to provide all relevant data including voltage, output, and so on.
This is also a pure sine-wave inverter, allowing for continuous 300W output and surge protection of up to 600W. In terms of ports, the Yeti 400 comes with two full-sized USB slots, 12V port (cigarette plug), and two standard AC ports for your laptops and other small appliances.
The company mentions that it can be recharged over a solar panel, which can be very handy during camping trips. The Yeti 400 makes little to no noise, which is something that we can rarely expect from portable power stations.
Buy it now on Amazon
---
There are some key additions with the Explorer 500 that make it a worthwhile product. In terms of design and appearance, this power station is pretty similar to the Yeti 400, though the color scheme is different. There's a slightly better looking display/screen on the front, while there are multiple ports available for use as well.
This includes three full-sized USB ports, though there's only one AC outlet available on this power station. Jackery mentions that the AC outlet also acts as a sine-wave inverter, allowing surge protection for your appliances.
There's a standard DC port available here as well, though the fact that this only comes with one AC outlet is disappointing, particularly when compared to the Yeti 400's AC outlets.
Much like the Yeti 400, this one also supports recharging via solar panels and the company mentions that a compatible 100W solar panel can recharge this portable power station within 9 and a half hours assuming the sun is out.
Buy it now on Amazon
---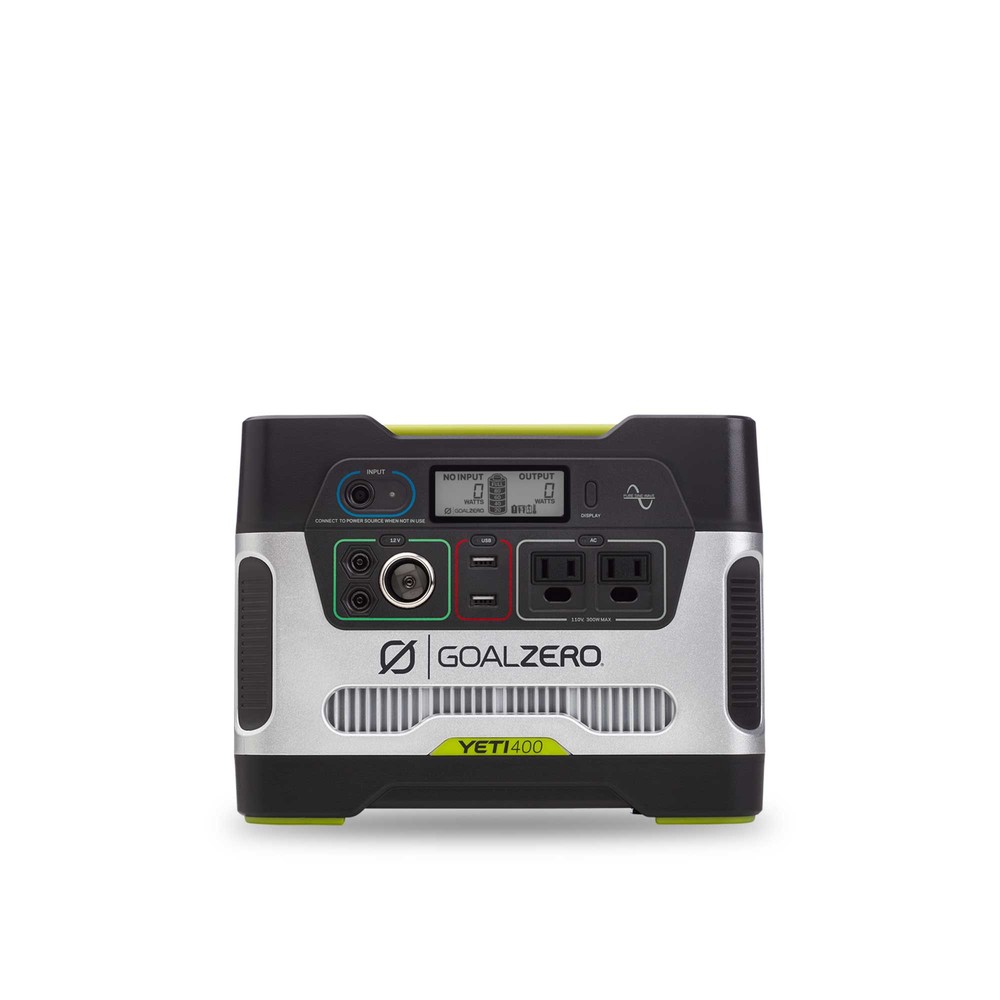 Main differences between the Goal Zero Yeti 400 and the Jackery Explorer 500
One of the primary differences between the Goal Zero Yeti 400 and the Jackery Explorer 500 is that the former comes with a lead-acid battery while the Explorer 500 uses a lithium battery. But what does this mean?
To put it simply, lithium is lightweight, and has the ability to recharge and discharge pretty quickly. It carries an obvious advantage for something like a portable power station, though it's not without its faults.
For instance, data has revealed that lead acid batteries tend to function better at lower temperatures, or even when it's freezing out. Power stations with lithium batteries, on the other hand, are not recommended for freezing temperatures. Given that snowing is common in most parts of the world, this may be a crucial factor in your decision making.
Goal Zero Yeti vs Jackery Battery
Though the battery types are entirely different from each other, the Jackery Explorer 500 has an advantage in terms of actual capacity. The Yeti 400 comes with a 396Wh battery while the Explorer 500 has a bigger 512Wh battery underneath.
How different are the batteries?
While the difference may not seem like much, this means the Yeti 400 battery is almost 27% smaller than the Jackery Explorer 500. This can make a huge difference depending on the appliances you're using.
Roughly speaking, a 100W appliance can run for approximately 5 hours on a 500Wh battery, thus giving the Explorer 500 an obvious advantage. In terms of real-world usage, this could effectively allow for a few more hours of charging your laptop if you have the Jackery Explorer 500.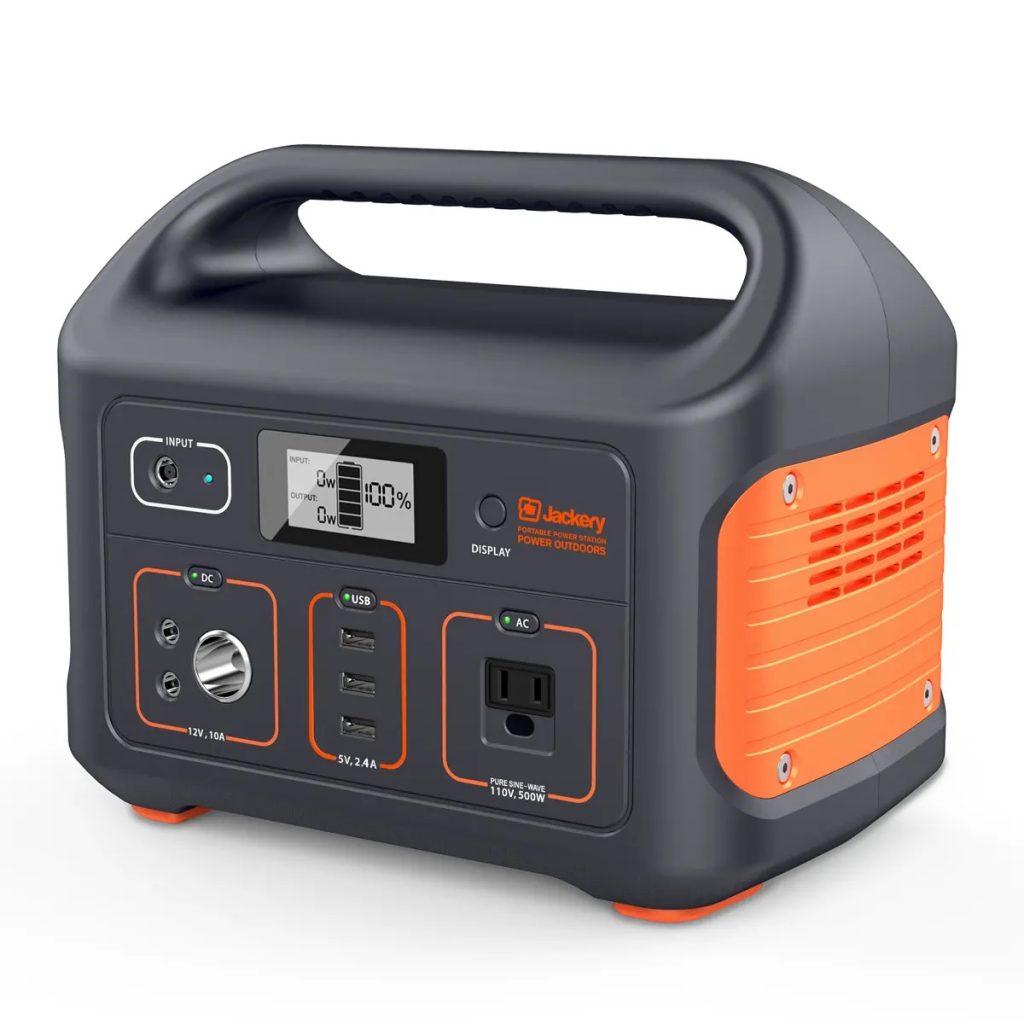 What are the input and output differences between the two?
As we've detailed above, there are a variety of ports available on both offerings, though it feels like the Yeti 400 has the obvious advantage given that it comes with two AC ports to power up your appliances. However, Goal Zero has only included two USB ports, while the Jackery Explorer 500 has three USB ports.
The Explorer 500 is the only product among the two to come with 12V output on the cigarette plug while the Yeti 400 comes with input only. Having a 12V output plug allows users to run small appliances like mini-refrigerators and others that are voltage sensitive.
Do They Come With USB-C Ports?
Unfortunately, neither of these offerings come with a USB-C port at this time, though it is highly expected to feature in the next iteration of these portable batteries.
It's worth pointing out that Jackery also provides a proprietary car charger to juice up the Explorer 500 when you're traveling, though it can take up to 16 hours to fully recharge.
Charging time
Given the obvious difference in battery capacity, it goes without saying that the Explorer 500 will take significantly longer to recharge. Company estimates suggest that it can take up to 8 hours to fully charge from 0-100%.
The Yeti 400, however, with its smaller battery, can fully recharge within 5 hours. Both manufacturers provide a standard wall-adapter and charging accessory with the portable power stations.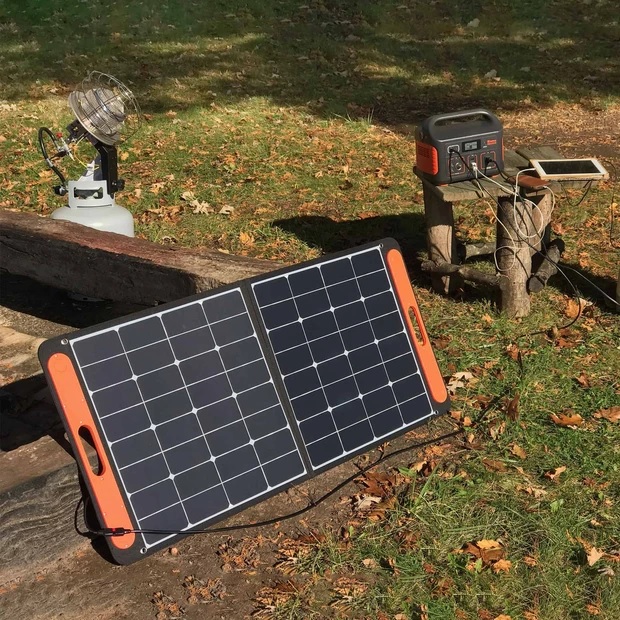 Do these portable batteries support solar charging?
Both models support solar charging by default and use the PWM charge controller. While this is what is found on most portable battery packs available today, PWM controllers are known to be hard to upgrade, which is a downside shared by both products.
The Yeti 400 can provide max input of 120W with solar charging support at 29V. Meanwhile, the Explorer 500 comes with 100W input, and depending on the quantum of sunlight available on a given day, should take around 10-12 hours to fully recharge on a 100W solar panel, though the company mentions it only takes 8 hours with peak solar power generation of 60-70W.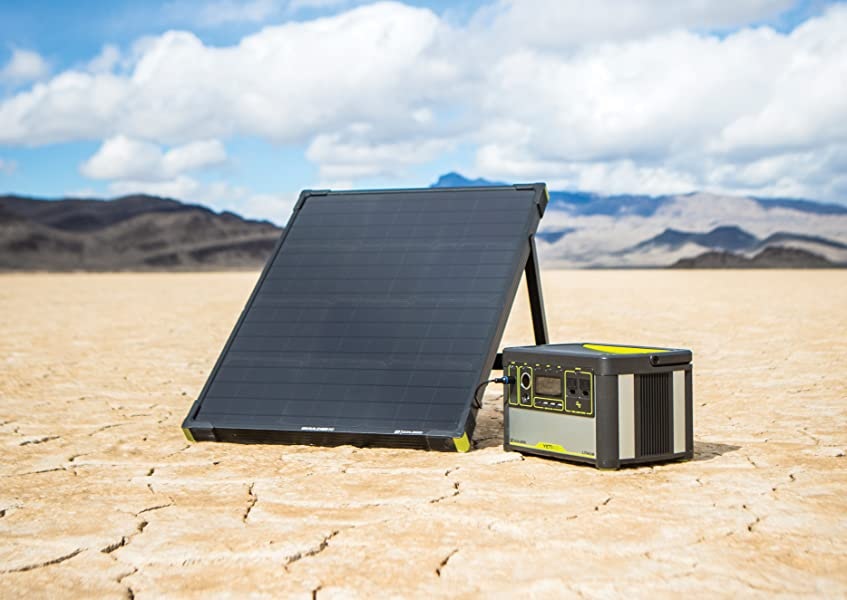 How different are the inverters?
As we mentioned above, the capacity of the Jacker Explorer 500 is somewhat higher which gives it a significant advantage against its primary rival. Thanks to continuous 500W support, the Explorer 500 can comfortably handle more appliances than the Goal Zero Yeti 400, and this is a huge advantage to have.
However, despite the higher inverter capacity, Jackery only offers one AC port on its offering. Though users can power up to five devices with this offering provided they have a power strip to connect multiple devices or appliances. While the Yeti 400 will likely struggle to run something beyond 400W, the Explorer 500 can comfortably handle 500W without a hitch.
One of the first things to remember here is that both portable power stations come with sine-wave inverters onboard. This basically means you are safe to use them with sensitive appliances like laptops, smartphones, and so on.
Though as a general rule, it is important to remember that inverters, at best, are only 90% efficient when converting from 12V to 120V. So if you're predominantly looking to charge your mobile devices, it is highly recommended to use the USB plugs for better efficiency.
Do these batteries support pass-through charging?
This is an essential feature for most users, though not commonly available on portable power stations. Fortunately, both Goal Zero and Jackery provide pass-through charging i.e. the ability to power your devices/appliances while the portable battery is being charged.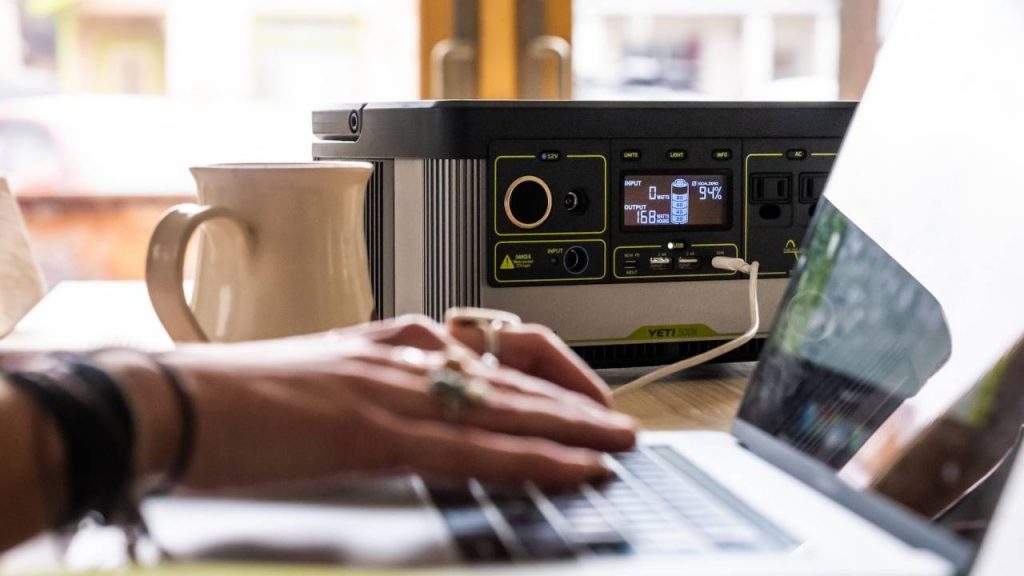 What appliances can the Jackery Explorer 500 and the Goal Zero Yeti 400 run?
This is a question that naturally arises in our minds when we're looking to get a powerful portable power station. While both devices should comfortably handle a television or a small freezer/fridge, handling something like a coffee maker may not be feasible with the Goal Zero Yeti 400. For something like this, the Explorer 500 is certainly your best bet assuming the appliance is within the 500W limit.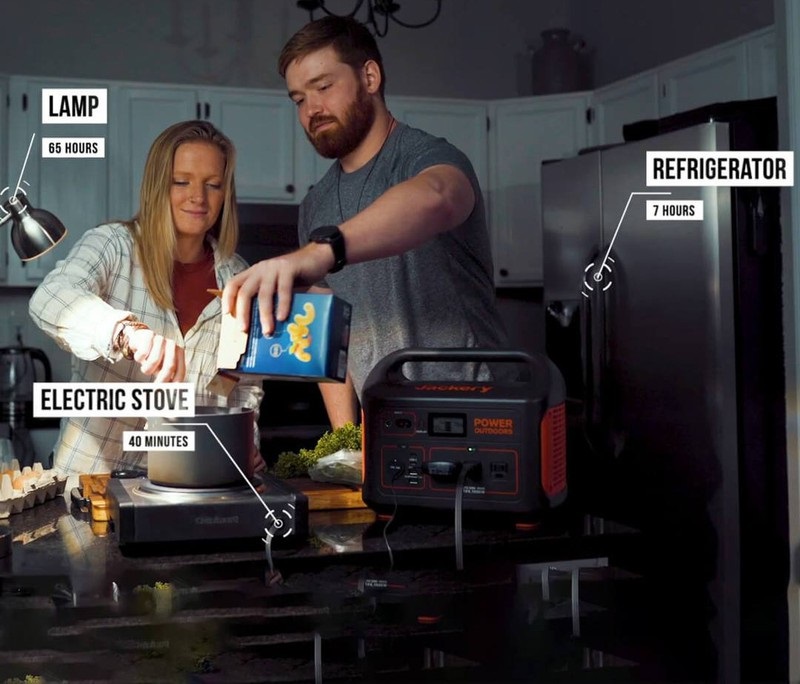 Gaming consoles and other minor appliances can also work with your Yeti 400 and Explorer 500, which should not be a problem if you're using this solely for that purpose. This may also be an excellent time to invest in solar panels for your home in order to continue gaming even when there are power outages.
The best way to ascertain what device can and cannot work with your portable power station is to ascertain the appliance's power capacity. This can usually be found on the adapter that comes with your appliance or in the user manual.
Knowing the actual power capacity of your appliance can be quite tricky as the actual power it draws can be lesser than the maximum power mentioned on the appliance. This is why we suggest getting a dedicated electricity usage monitor that can help you get accurate readings for your appliances before you plug them into your portable power station.
It also helps greatly to know your device's limitations as well. Given the lower battery capacity on the Yeti 400, it seems like an obvious choice to go with the Explorer 500 if you're looking to power devices up to 500W. Despite charging limitations, both charging stations can juice up your laptops, smartphones, as well as tablets with relative ease.
Other features
Size and Weight
Though both portable power stations are easy to carry around, the Yeti 400 is the heaviest of the two at 29 lbs. The Jackery Explorer 500, thanks to its lithium battery, is significantly lighter at 13.3 lbs. So in terms of frequent camping use, users will find that the Explorer 500 is way more portable than the Goal Zero Yeti 400.
The official dimensions for the Goal Zero Yeti 400 are 8 x 10.25 x 8 inches while the Jackery Explorer 500 has dimensions of 11.8 x 7.6 x 9.2 inches. This indicates that the Jackery offering is slightly bigger, perhaps due to the bigger battery.
Though these portable charging stations are lightweight and can be carried in one hand, they're not quite backpack-friendly.
Travel-related restrictions
Unfortunately, both the Jackery and Goal Zero portable power stations are not airplane friendly. Though you may have to contact the airline to have this tucked with your checked-in luggage.
Given that these charging stations are meant to be used mostly in camping situations or with your RV, minivan, and other vehicles, the inability to carry this freely on a flight should not be a major concern for prospective buyers.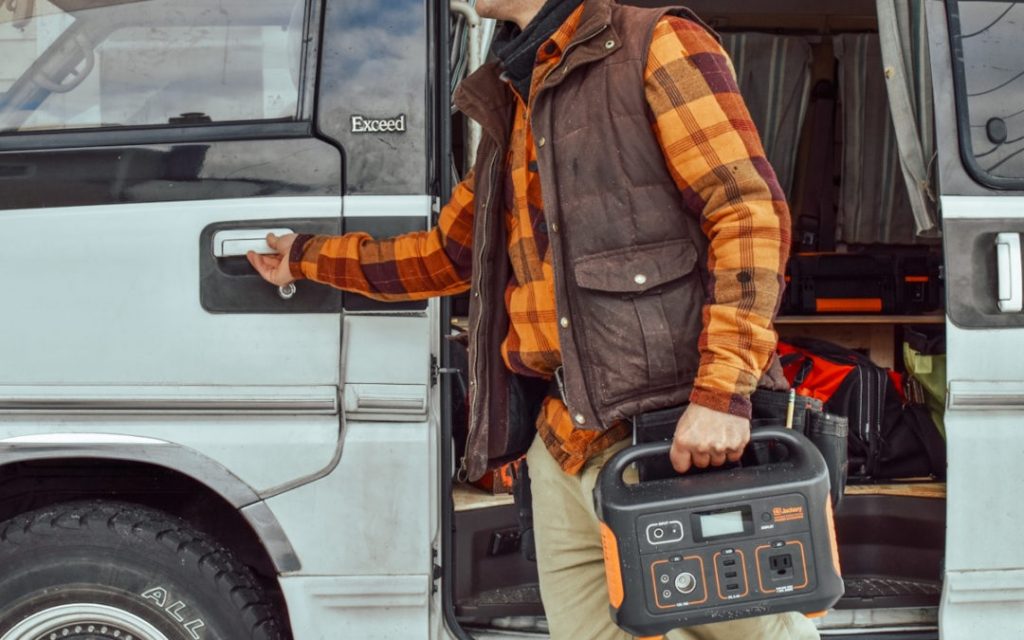 Use with minivans, RVs, trailer, fifth-wheel, etc
If you travel a lot in your portable home, you may have considered either of these portable battery options. However, both don't work the same way with vehicles. If your trailer or RV has appliances, the Goal Zero's sub-400W power likely may not be enough to keep it running for long.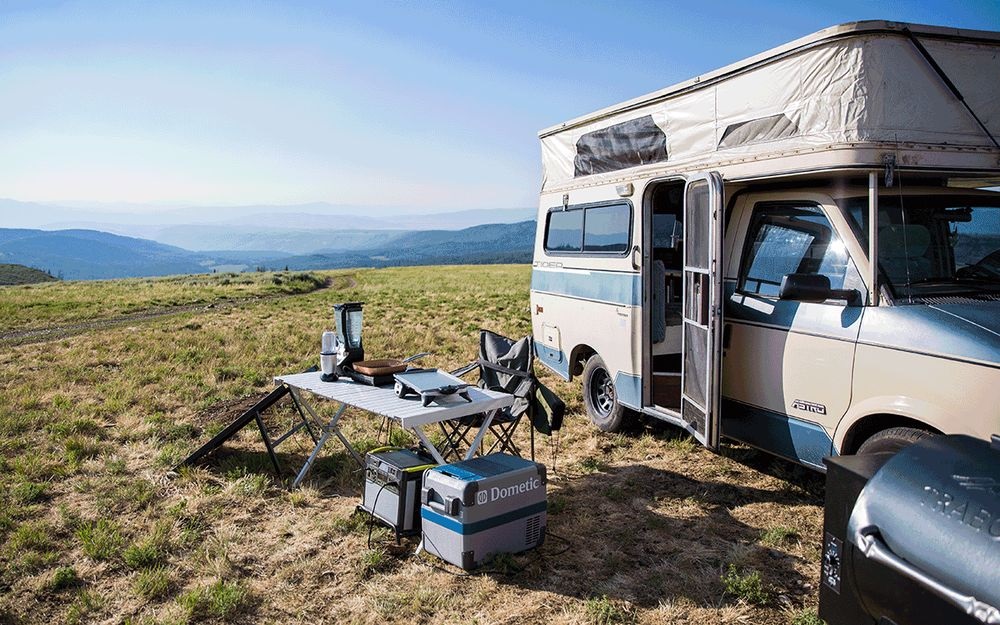 In this scenario, we would highly recommend the Jackery Explorer 500 considering the fact that it comes can power-up 500W appliances with relative ease. However, powerful appliances will still struggle to work even on the Explorer 500. To avoid any complications, users are advised to check how much power your trailer or RV is drawing before deciding to plug any of the appliances or devices onto the portable charging station. You can do this by getting an electricity usage monitor that we mentioned above.
If you have a standard refrigerator or a heater on your trailer, it makes sense to use them solely on gas as both these portable battery stations will not be able to power them up for prolonged intervals.
In-box accessories
Manufacturers are never expected to provide additional accessories with portable power stations, so it's always good to know when they do end up offering something.
The Jackery Explorer 500 comes with a car charging adapter, which is a nice addition, while it also has the standard wall-charging adapter and cable.
The Yeti 400 comes with the basic charging adapter, though it doesn't have any additional accessories. So if you're looking to charge up the charging station via your vehicle, you will need to buy one separately.
It's quite disappointing, however, that neither product comes with an MC4 to 8MM adapter
Goal Zero vs Jackery Verdict
Though both devices have their pros and cons, it's clear that there can only be one winner in this segment. Comparing the features of both devices, one can easily ascertain that the Jackery Explorer 500 is the better option given the higher capacity and also the significantly lighter structure.
However, if you're planning to use your portable charging stations predominantly in the winters, it's better to go with the Goal Zero Yeti 400 as it comes with a lead-acid battery, which as we briefly mentioned above, can sustain lower temperatures more comfortably as compared to lithium batteries like the one used on the Jackery Explorer 500.
If you're mostly going to use this portable power station during the summers and within your home during power outages, the Explorer 500 is the simpler choice to make.
Goal Zero Yeti and Jackery Alternatives Worth Considering
Goal Zero has multiple portable power stations under its name, and one of the best to come from the company is the Yeti 1000. As the name indicates, this is a higher capacity battery allowing you to power more appliances than with a 500W battery, for example.
It also comes with a stellar display panel that can provide all the voltage and output related details you need. The power generated by this battery allows it to power pretty much everything including microwaves and even fans. This device also comes with 4 USB ports, which is adequate to charge multiple phones and tablets at the same time. Thanks to the inclusion of a lithium-based battery, the Yeti 1000 is also fairly light to carry.
Buy it now on Amazon
---
If you're concerned with the solar connectivity limitations on the Yeti 400 and the Explorer 500, this is perhaps the best option to pick. We say this because this 500W portable power station comes with an MC4 cable included with the packaging.
It can power most small appliances as long as the limit doesn't exceed 500W. This power station also comes with an LED flashlight on the front, making it ideally suited for camping environments. It also comes with USB-C ports, giving it a major advantage over the competition available in the market right now.
Buy it now on Amazon
---
This is the smallest of any power station that we've discussed today, which makes it somewhat limited if you're looking to power up bigger appliances. However, at a capacity of 250W, it can comfortably charge your smartphones, tablets, or even laptops.
What makes this stand out is the inclusion of two AC ports with surge protection, which is surprising given the size. There are two full-sized USB ports on board here as well. The supplied wall outlet can charge this power station within 8 hours, while the manufacturer claims that this device can also charge over 60W or 100W solar panels.
Buy it now on Amazon
---
Can I plug in a 100W solar panel onto the portable power station?

Yes. As a matter of fact, 100W solar panels are highly recommended for both products. Though you can choose any third-party solar panel you want, be sure to check for compatibility beforehand.

How long can a portable power station last?

Portable battery stations can last up to 8-10 hours, though this greatly depends on the capacity you choose. This is why it's crucial to know what appliances or devices you're planning to run before getting a power station.

Can a Yeti 400 power a TV?

As per real-world estimates, the Goal Zero Yeti 400 can run a standard 32-inch LCD TV for about 10 hours.
| Product | Brand | Name | Price |
| --- | --- | --- | --- |
| | Goal Zero | Goal Zero Yeti 400 Portable Power Station, 400Wh Battery Powered Generator | Check Price on Amazon |
| | Jackery | Jackery Portable Power Station Explorer 500, 518Wh Outdoor Solar Generator | Check Price on Amazon |
| | URMIIM | Goal Zero Yeti 1000 Lithium Portable Power Station | Check Price on Amazon |
| | EF ECOFLOW | EF ECOFLOW Portable Power Station DELTA, UPS Power Supply 1260Wh Battery Pack | Check Price on Amazon |
| | ROCKPALS | Rockpals 250-Watt Portable Generator Rechargeable Lithium Battery Pack Solar Generator | Check Price on Amazon |
* If you buy through links on our site, we may earn an affiliate commission. For more details, please visit our Privacy policy page.