The Samsung Galaxy Note series is arguably one of the best phone series on the market, offering power users a solution that they haven't otherwise had. The Galaxy Note series provides users with a larger screen than Samsung's "Plus" smartphones, and then there's also a stylus included in it, which adds a whole host of other features to the smartphone. Galaxy Note devices even have something that they call "multi-wind0w" support, which allows you to have two apps open at the same time, as well as allowing you to quickly and easily operate through both.
The Samsung Galaxy Note 9 pretty much had all of these things; however, being the best and most critically acclaimed phone on the market, the rumor mill is already in full circulation — folks are extremely looking forward to the successor, what is rumored to be the Samsung Galaxy Note 10.
So if you're wondering what this next big smartphone is going to be all about, read on and find out!
Galaxy Note 10 Design & Display
The Samsung Galaxy Note 9 didn't launch too long ago, so rumors surrounding the Galaxy Note 10 are fairly slim; however, we do have some generally ideas about its design and display functionality. However, there are still at least a couple of rumors to go off of.
The latest rumor actually comes by way of the Korean website ET News. The website actually has some pretty bold claims in their latest rumor — Samsung could actually be looking to remove all physical buttons off of the phone — the physical power, volume, and Bixby buttons. Instead, the rumors claims that they would use pressure-sensitive capacitive buttons instead.
We're not exactly sure what the plan is here from Samsung, but they might be looking at adopting something like the Pixel 2's squeeze gestures. That said, take this rumor with a grain of salt, but this would be a fairly huge move with a big mainstream manufacturer doing something as daring as this.
There are some other rumors circulating around the Samsung Galaxy Note 10's screen size specifically. Some news coming from iGeekphone.com indicates that the Galaxy Note 10 will have an even larger display than the Galaxy Note 9 — this next phone is actually supposed to feature a behemoth of a 6.66-inch display.
Despite that coming across as a pretty large screen, the phone shouldn't be too much bigger than it already is. With an edge-to-edge design, there should be no bezels whatsoever. That said, the phone should remain the same size, but you'll just have more screen space instead of bezels taking up that space. It's also worth noting that, in comparison, it's really not much bigger than the iPhone XS Max and its 6.5-inch display, though it's a huge upgrade over the Galaxy Note 9's 6.4-inch screen.
One thing's for certain: this display is going to look absolutely beautiful. Since there are no bezels anymore, the Galaxy Note 10 should look extremely immersive, making it the perfect choice for watching movies and videos.
What's really going to be interesting is how Samsung will handle the other functions of the phone. With an all-screen design, it's certainly going to make the phone a little more fragile, and it's also going to be intriguing to figure out how buttons are going to be handled in this flagship. On top of that, Samsung's R&D department has been hard at work on how to put things like the fingerprint sensor, camera, and other functions under the display itself.
We don't know if we'll see that in this iteration, but with an all-screen design this time around, it's certainly an interesting possibility that could very well happen. We'll likely know more as we get closer to the launch date.
Galaxy Note 10 Hardware
Samsung's Galaxy Note 10, as per the norm, will likely have the latest and greatest hardware. The Galaxy Note 9 features either Samsung's own chipset or runs on the Qualcomm Snapdragon 845. That said, since Qualcomm announced the successor to the 845 in December — the 855 — we wouldn't be surprised to see the Galaxy Note 10 offered in at least two models — one with Samsung's new Exynos line up, as well as one with the Snapdragon 855.
We're expecting the Samsung Galaxy Note 10 to be offered in at least two RAM types as well — either 6GB or 8GB. Storage sizes should be pretty much the same as well — the Samsung Galaxy Note 10 should be available in options of 64GB, 128GB, 256GB and possibly even in 512GB, just like the iPhone XS Max.
We haven't heard details on a battery yet, but we'll likely see something even larger than what's in the Galaxy Note 9. The Galaxy Note 10 should have an all-screen design, better camera (more on this later), and more demanding hardware, and as such, we should see a larger battery to accommodate that extra drain. Additionally, Samsung might be putting a little more in to get users even longer battery life.
And naturally, there should be Qi wireless charging with it. We're not sure if Samsung plans to launch another wireless Fast Charge pad this time around, though.
Galaxy Note 10 Camera
We're still in the early stages of rumors, but there's a lot we're expecting to see out of the Samsung Galaxy Note 10's camera. The Samsung Galaxy S10 5G comes equipped with four camera lenses, so we're expecting the Galaxy Note 10 to essentially follow that same path.
We're not quite sure what a quad camera lens setup would look like, or even what that would mean for camera and video quality, but as you can imagine, it'd probably be pretty amazing. Unfortunately, outside of a number, we don't know a whole lot else about what the camera will entail.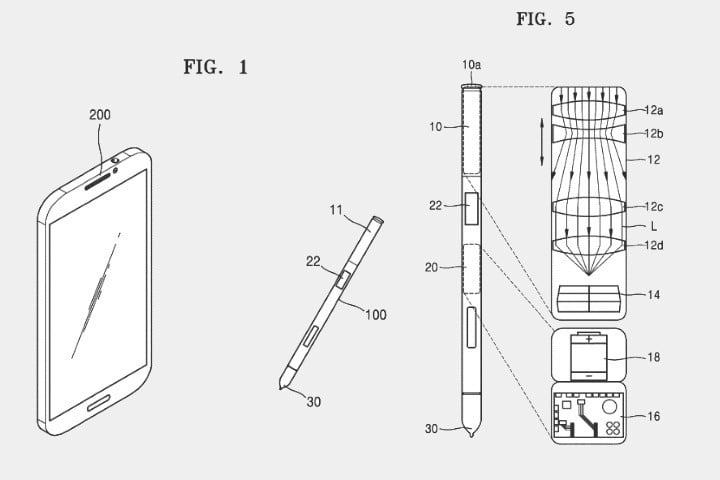 However, as far as the front-facing selfie camera goes, Samsung might get rid of that altogether. A recent patent filing is actually showing that Samsung wants to remove its selfie camera off of the front of the display. The patent actually shows that Samsung would instead place it inside of the S-Pen. Insane, right?
Well, it gets even crazier. Samsung actually wants to fit an optical zoom inside of the S-Pen. Optical zoom needs physical room to operate, and it looks like Samsung would be able to make that possible with the S-Pen and S-Pen slot. While this might sound crazy, if you think about it, this kind of goes along with the rumors of Samsung trying to work out an all-screen design, and without any things like camera blemishes.
After all "the S Pen is the signature feature of the Note series – it's how users have made their mark, and how Samsung has expanded the notion of what a smartphone can do. What began as a tool for writing and drawing is now putting more power and control in their hands," Samsung says. Expanding that functionality like this would put more "power and control" in the users' hands, and could potentially make it easier to take things like selfies.
Of course, remember that these are all just rumors — Samsung and other big companies file for patents all of the time, and don't necessarily act upon them. The idea can be quickly thrown out, depending on what Samsung's development team says, and what happens within Research & Development.
Galaxy Note 10 Release Date
There aren't any specific rumors on a release date for the smartphone, but Samsung tends to stick with what they've done for past launches. For example, the Galaxy S series almost always launches at Mobile World Congress in February, and the Note series has always launched at the end of summer.
That said, it's not too far-fetched to think that we could see the Samsung Galaxy Note 10 around September or even October time of this year. Samsung doesn't usually announce the Galaxy Note 10 at a big conference, but instead hosts its own "Unpacked" event somewhere like New York City. After the initial announcement, Samsung has always launched the phone around two to three weeks after, giving folks time to get their pre-orders in and to measure demand.
That said, an announcement will likely happen in either September or October, but expect an official launch near the end of either of those months. Or, if Samsung is to follow along with the Galaxy Note 9, we could see a launch as early as August, which would get the phone into more hands quicker!
Expect to see some sweet pre-order deals for the Galaxy Note 10, though. We haven't seen product deal rumors yet, but Samsung is planning to watch its Galaxy Watch 2 alongside the Galaxy Note 10, which could not only bring you some sweet connectivity between the two devices, but possibly even get you a Galaxy Watch 2 at a discounted rate, if you buy a Note 10.
Galaxy Note 10 Price
Price is going to be pretty interesting. While we haven't seen any official rumors regarding it, we wouldn't be surprised to see a huge price increase this year if the all-screen rumors end up being true. The Galaxy Note 9's launch price was $1000, and the upgraded version of it — with 6GB of RAM — started at $1249.
That said, with the screen size increase that we're hearing about, as well as that all-screen design, we could very well see a price increase that's more around the iPhone XS Max — $1100 for a base model, $1249 for a mid-range model, and $1500 for the topped out hardware.
We're just speculating here, but we don't think we're too far off there, at least as far as the staggering phone prices are going.
Will it have 5G?
All of the major network carriers are hard at work on moving their 4G LTE networks to 5G networks, giving their customers faster speeds, more reliable connectivity, and better connectivity while indoors and in big, concrete buildings. That said, the question everyone is asking this year is if this or that phone will have 5G connectivity.
So, will the Galaxy Note 5 have 5G connectivity? Early rumors indicate that the phone is going to be equipped with a 5G-enabled chipset or SoC. In fact, XDA Developers obtained a document that showed that the Galaxy Note 10 has a configuration settings for 5G technology.
However, what we're not sure is whether Samsung will launch a couple of Galaxy Note 10 models — one with the standard 4G LTE connectivity, and another with 5G connectivity. After all, that's exactly what Samsung is doing with the Galaxy S10.
5G connectivity is still kind of a mixed bear though. Carriers aren't yet ready to release their 5G networks, as many of them are running into obstacles, simply because they just can't roll them out nearly as fast as they want to. That said, while 5G phones will be here like the Galaxy Note 10, folks might not be getting actual 5G network speeds for at least a year or two now.
And even with many carriers saying they're working on 5G networks, they're only working on them for certain blocks and areas, whereas, say, T-Mobile is working on a 5G rollout for everyone. All of that to say, 5G is a little ways out from now, and because of the lack of carrier support, we may not even see Samsung turn on 5G in their Galaxy Note 10.
Virtual Reality
One of Samsung's hallmark devices has been the Gear VR. The Gear VR allows you to put your phone into the headset, and then you can enter the world of virtual reality, watching all sorts of 360-degree videos, playing VR-based games, and more. Samsung seems to have put its VR on the back burner for the past couple of years, but there are rumors circulating that it could make a comeback this time around.
There's very few rumors talking about it, but we might actually see a wireless Gear VR headset, similar to, say, the Mirage Solo. The Mirage Solo is nice because you don't have to insert your phone inside — you just connect it up via an app, put the headset on, and are instantly thrown into the world of virtual reality. That said, we might see Samsung do something with this next!
Verdict
As you can see, even in the early stages, there's a lot of different rumors based around the Galaxy Note 10. It's going to be one of the hottest phones of the year, right up there with other mainstream devices we're looking forward to from companies like LG, HTC, and even Google.
Are you looking forward to the Samsung Galaxy Note 10? Sound off in the comments section below — we'd love to hear from you and see what you'd like to see in Samsung's next biggest phone.