When you insert a new Micro SD card on your Steam Deck you will need to format SD Card so that you can install games on your Steam Deck. If you don't know how to format an SD card on your Steam Deck then this article can guide you on the format process.
The Steam Deck is a portable gaming hardware developed by Valve Corporation. Similar to the Nintendo Switch, the recently released Steam Deck will allow for handheld gaming or connection to a monitor. Each and every game in the Steam library, including Windows PC games, may be played on this device. This is made possible by the Linux-based Proton compatibility layer. The system is an open platform, so users can install the right software, such fresh games or operating systems.
Steam Deck Technical Specifications
Processor:
AMD APU
CPU: Zen 2 4c/8t, 2.4-3.5GHz (up to 448 GFlops FP32)
GPU: 8 RDNA 2 CUs, 1.0-1.6GHz (up to 1.6 TFlops FP32)
APU power: 4-15W
RAM: 16 GB LPDDR5 on-board RAM (5500 MT/s quad 32-bit channels)
Storage:
64 GB eMMC (PCIe Gen 2 x1)
256 GB NVMe SSD (PCIe Gen 3 x4 or PCIe Gen 3 x2*)
512 GB high-speed NVMe SSD (PCIe Gen 3 x4 or PCIe Gen 3 x2*)
Resolution: 1280 x 800px (16:10 aspect ratio)
Display size: 7″ diagonal
Brightness: 400 nits typical
Refresh rate: 60Hz
Touch enabled: Yes
Sensors: Ambient light sensor
Bluetooth: Bluetooth 5.0 (support for controllers, accessories and audio)
Wi-Fi: Dual-band Wi-Fi radio, 2.4GHz and 5GHz, 2 x 2 MIMO, IEEE 802.11a/b/g/n/ac
Channels: Stereo with embedded DSP for an immersive listening experience
Microphones: Dual microphone array
Headphone / mic jack: 3.5mm stereo headphone / headset jack
Digital: Multichannel audio via DisplayPort over USB-C, standard USB-C, or Bluetooth 5.0
Input: 45W USB Type-C PD3.0 power supply
Battery: 40Whr battery. 2 – 8 hours of gameplay
microSD: UHS-I supports SD, SDXC and SDHC
External connectivity for controllers & displays: USB-C with DisplayPort 1.4 Alt-mode support; up to 8K @60Hz or 4K @120Hz, USB 3.2 Gen 2
Format SD Card on your Steam Deck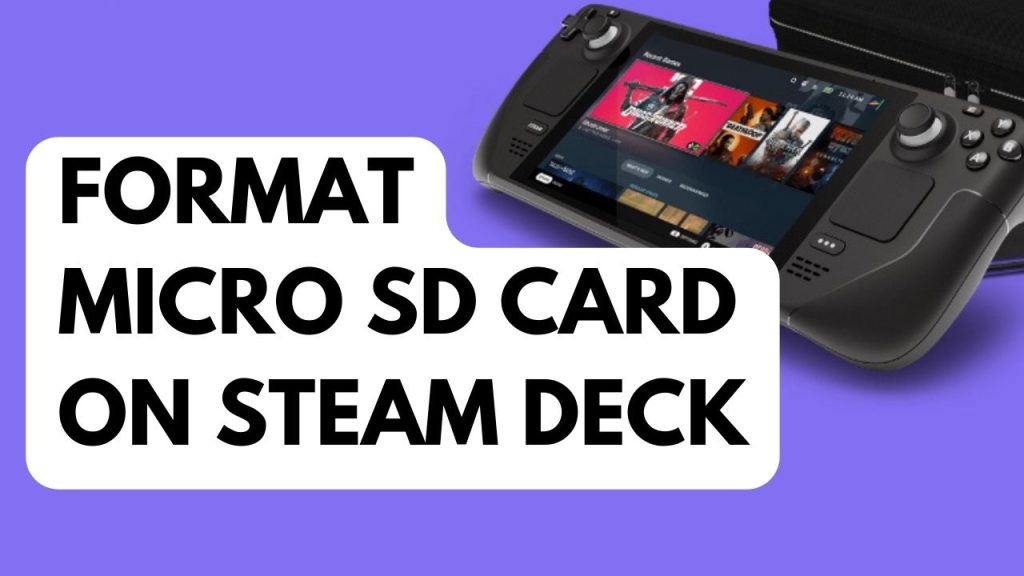 You'll probably need to learn how to format an SD card on the Steam Deck after purchasing a new SD card for the Steam Deck. You might buy a MicroSD card because you have an internal SSD for the Steam Deck that has low internal storage. However, you can't just use any microSD card. You'll require an SD card that is appropriate for mobile devices and has quick read/write speeds. The SD card must then be formatted so that you can download and install games on your Steam Deck.
Format SD Cards
As was already mentioned, the Steam Deck requires a specific kind of microSD card. One that satisfies the UHS-1 speed requirement, specifically the SanDisk Extreme and Samsung Evo Plus are two fantastic choices.
Formatting Process for MicroSD cards
Step 1: Insert your memory card on your Steam Deck.
Step 2: Press the Steam Button.
Step 3: Select Settings.
Step 4: Go to System Menu.
Step 5: Scroll down to Format SD Card.
Step 6: Press Format.
As the Steam Deck prepares your card to the ext4 file system, the selection will be replaced by a progress bar. The length of time it takes will depend on the capacity of your microSD card.
If you have issues with formatting the MicroSD card then you can use a Windows Computer and try to change partition type to Fat32.
Fix for not formatting SD card on Steam Deck
If there are issues with formatting your SD card then the next thing to do is to update your Steam Deck. You may be experiencing this issue because you have an outdated Steam Deck firmware version. You can try to update to the latest version of Steam OS and see if it fixes the issue with format an SD Card.
Updating Steam Deck
Step 1: On your Steam Deck, press the Steam Button.
Step 2: Go to Settings.
Step 3: Go to System.
Step 4: Check for any Software Update.
Step 5: Restart Steam Deck.