Do you want to know how to delete a saved Bluetooth connection on your Samsung Galaxy Z Flip4? You will usually do this when experiencing connection related issues between your phone and the Bluetooth device. In this tutorial, we will be showing you how this is done.
The Samsung Galaxy Z Flip 4 is a premium Android smartphone that's best known for its use of a foldable display technology. It's an improvement over the Galaxy Z Flip3 with better camera, battery life, charging speed, and a powerful Snapdragon 8+ Gen 1 chip. Its foldable design allows it to easily fit in a pocket when not in use making it extremely portable.
Deleting Bluetooth accessories from your Samsung Galaxy Z Flip4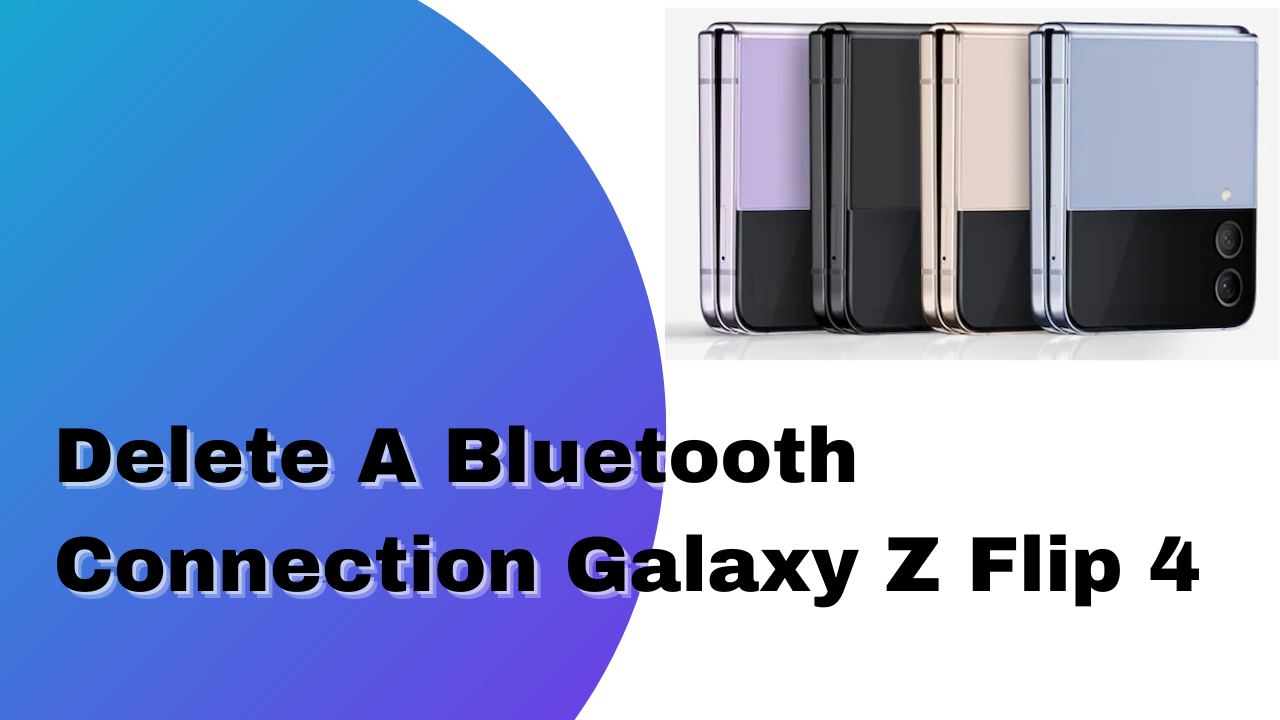 One of the best ways to fix Bluetooth issues on your Galaxy Z Flip4 is to delete the Bluetooth connection. Your phone will basically forget the connection it has made with the external Bluetooth device allowing you re-pair with it again.
How to delete the Bluetooth connection of your Flip series phone.
Delete Paired Bluetooth Connection on Samsung Galaxy Z Flip4
Take note that the Bluetooth switch of your phone should be turned on in order to perform this step. If it isn't on yet, then you can turn Bluetooth on by swiping down from the Notification bar then select the Bluetooth icon to turn it on.
Swipe down from the Notification bar, then select the Settings icon.
Select Connections.
Tap Bluetooth.
Tap the Settings icon to the right of the Bluetooth paired device name.
Tap 'Forget' or 'Unpair'.
After performing this step, the Bluetooth device pairing status will now be deleted from your phone.
Pair Bluetooth device to your Samsung Galaxy Z Flip4
Take note that before performing this step the Bluetooth device you will be connecting to should be in pairing mode.
Swipe down from the Notification bar, then select the Settings icon.
Select Connections.
Tap Bluetooth.
Your device will automatically scan for devices. Select the desired device. Select OK when prompted to request a pairing.
Fix Bluetooth issue on Samsung Galaxy Z Flip4
If you are having ang issue with a particular Bluetooth device, then here the troubleshooting steps you can do.
Solution 1: Restart the Galaxy Z Flip 4
If your Samsung phone is experiencing a Bluetooth issue, then the first thing to do is a soft reset. A soft reset or restart will basically close all running apps and processes. Your device RAM will also be cleared of temporary data allowing the phone to run smoothly. This procedure will reboot the operating system of the phone and reload all of its services. Your personal data, files, and apps will remain unchanged
Turn off the phone by pressing and holding the Bixby button and the volume down button on the side of the device.
Choose Power off.
Choose Power off again. The phone will turn off.
Wait for a few seconds.
Press and hold the Bixby button on the side of the device to turn on the Samsung phone.
Solution 2: Toggle the Bluetooth switch
Sometimes a software glitch can occur causing the Bluetooth feature to fail to work even if the Bluetooth switch is on. What you need to do is to toggle the switch to refresh the Bluetooth signal of your phone.
Swipe down the Notification Panel.
Locate the Bluetooth icon on the Quick Settings section and long-press on it to access it.
Turn OFF the Bluetooth switch then wait for a few seconds then turn it on again.
Solution 3: Clear Bluetooth cache
Sometimes a corrupted cache data of the Bluetooth app can cause connection issues to occur. You will need to clear Bluetooth cache to remove any corrupted data.
Open the Settings app
Tap Apps.
Click on the Sort icon and select "Show system apps."
Find Bluetooth then tap on it, and proceed to the Storage section.
Locate "Clear Data" and tap on it. Confirm by hitting the "OK" button.
Try pairing with other devices and see if the issue still occurs.
Solution 4: Toggle airplane mode
Enabling Airplane mode will disable all network signals on your phon. This usually fixes any connection related issues on your device.
Open the notification panel by swing down from the home screen.
Tap on the Airplane Mode icon to enable it.
Wait for a few moments then tap on it again to disable it.
Solution 5: Perform a software update
One of the reasons why you will experience Bluetooth issues is because your phone is not running on the latest software update. Your old phone software might have some bugs that's causing the problem.
You need to manually check for any new software updates available for your Samsung device and apply it immediately. It's best to manually check for major Android updates regularly as sometimes the automatic update feature is delayed.
Manual software update
Go to your phone Settings.
Scroll down and tap Software update.
Tap Download and install.
Solution 6: Reset network settings on Samsung Galaxy Z Flip4
This is usually performed when you are experiencing connectivity issues on your phone.
Open Settings app on your phone.
Scroll down and tap General management.
Tap Reset to view the reset options.
Tap Reset network settings.
Tap Reset settings and if prompted, enter your security lock.
Tap Reset to proceed with the network settings reset.
Solution 7: Perform a Factory reset
If you are still experiencing Bluetooth issues after performing the troubleshooting steps we have listed above then the best thing you can do right now is a factory reset.
Before proceeding it is recommended that you backup your phone data.
Turn off your Samsung Galaxy device.
Simultaneously press and hold the Volume up and side buttons until the device vibrates and the Android Recovery screen appears then release all buttons. Allow up to 30 seconds for the recovery screen to appear.
From the Android Recovery screen, select Wipe data/factory reset. You can use the volume buttons to cycle through the available options and the side key to select.
Select Factory data reset. Allow several seconds for the factory data reset to complete.
Select Reboot system now. Allow several minutes for the reboot process to complete.
Set up your Android device.
Frequently Asked Questions
Why can't my phone connect to a Bluetooth device?

You need to make sure that the Bluetooth switch of your phone is enabled, and the other device is in pairing mode. If a connection has previously been made on your phone, then you should delete this connection before pairing to the device.

What happens when I reset network settings of my phone?

Resetting the network settings deletes previously associated Wi-Fi networks, security passcodes, Bluetooth devices and cellular network data settings.

How do I clear app cache data in Z Flip 4?

Open your Settings and tap Apps.
From the list of Apps that appears, tap on the app that is causing the issue.
Tap Storage > Clear data or Clear cache.

Will the factory data reset also delete my downloaded applications?

The factory data reset will bring your phone back to its default condition deleting all the data stored in it and removing any downloaded apps.

How do I force stop an app in Z Flip 4?

You can perform this procedure by going to Settings > Apps > Select the App > Force Stop at the bottom > OK.