Do you want to delete a particular Wi-Fi connection from your Samsung Galaxy Z Fold 4? You will usually do this when experiencing internet connection issues on your device. In this tutorial, we will be showing you how this is done.
The Samsung Galaxy Z Fold 4 is one of the latest premium Android devices available in the market that uses aa foldable display technology. It can be used as a smartphone or even as a small tablet making it quite versatile. Some of its best features include its use of a Snapdragon 8 Plus Gen 1 chip, 4400 mAh battery, and has a storage of up to 1TB.
Delete Saved Wi-Fi Networks on Samsung Galaxy Z Fold 4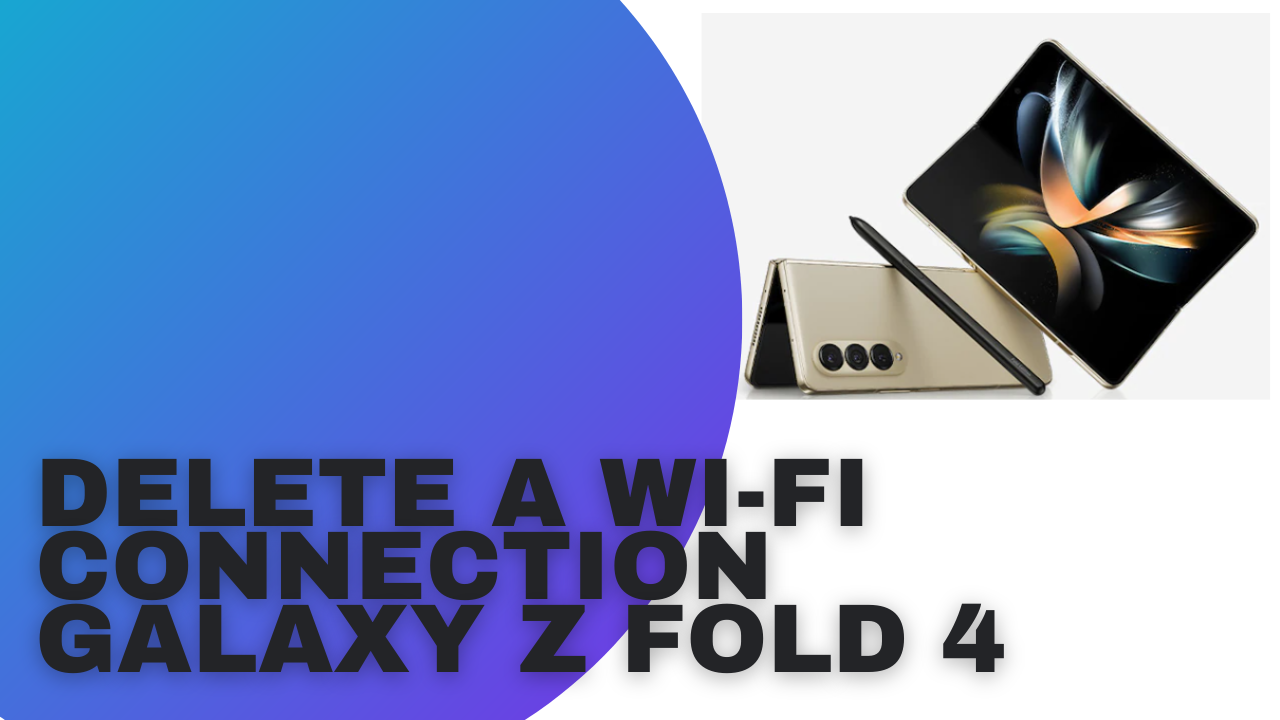 Sometimes you will experience internet connection issues when your Samsung phone is connected to a Wi-Fi network. One of the best ways to fix this problem is by deleting or forgetting the Wi-Fi network then adding it again.
If you don't want your phone to automatically connect to a particular Wi-Fi network, then you can remove or erase the network from the network directory.
Forget Wi-Fi network on Samsung Galaxy Z Fold 4
Open the Settings app.
Tap Connections.
Tap Wi-Fi to continue.
To forget the Wi-Fi network that your phone is currently connected to, tap the Gear icon next to the name of the Wi-Fi network under the Current network section.
Tap Forget.
Forgetting unused Wi-Fi networks on Samsung Galaxy Z Fold 4
When your phone has a long list of Wi-Fi networks that it's not using anymore then it's time to forget them to prevent any unexpected issues from occuring.
Open the Settings app.
Tap Connections.
Tap Wi-Fi to continue.
Tap on the three dots located on the top-right corner.
Tap Advanced Settings from the side menu options.
Tap Manage networks.
To delete any of the saved Wi-Fi networks, simply tap to select the network then tap forget or delete at the bottom.
Fix Samsung Galaxy Z Fold 4 WiFi connectivity issues
Here are the troubleshooting steps you need to perform if you are experiencing WiFi connection issues on your Samsung Galaxy Z Fold 4.
Solution 1: Soft reset your Samsung Galaxy Z Fold 4
One of the most common causes of a Samsung phone experiencing WiFi network issues is a software glitch. To fix this, you just need to do a soft reset. This refreshes your phone's operating system and will remove any corrupted data that could be causing the problem.
Simultaneously press and hold the Power key and Volume down button on the right edge for approximately 15 seconds.
Release the buttons when the Samsung logo appears.
Solution 2: Toggle the Airplane Mode switch
Try to refresh your phone connection to router as well as the cellular network by turning on airplane mode then turning it back off.
From a Home screen, swipe up to access the apps screen.
Tap Settings.
Tap Connections.
Tap Airplane Mode switch to turn on.
Wait for a minute then tap Airplane Mode switch again to turn off.
Try checking if the WiFi connection works.
Solution 3: Check for the latest software updates
One of the reasons why your Samsung Galaxy Z Fold 4 will experience issues with WiFi networks is because of a bug in its current software version.
You need to manually check for any new system updates available for your Samsung Z device and apply them immediately. It's best to manually check for the latest version regularly as sometimes the automatic update feature is delayed.
Go to your phone Settings.
Scroll down and tap on Software update.
Tap Download and install.
The Samsung Galaxy Z Fold 4 will search for any new software updates available. It will automatically be downloaded, and the previous version will be replaced.
Solution 4: Reset network settings
This procedure will reset the cellular, Bluetooth and WiFi network settings of your Samsung Galaxy Z Fold 4 which will then be restored to their default values.
Resetting network settings
Open the Settings app on your Galaxy Z Fold 4.
Scroll down to and tap General management.
Tap Reset to view the reset options.
Tap Reset network settings.
Tap Reset settings and if prompted, enter your security lock.
Tap Reset to proceed with the network settings reset.
Solution 5: Perform a factory reset
If the issue persists, then you should consider doing a factory reset on your Galaxy Z Fold 4. The factory reset will erase your phone data and bring it back to its default factory settings. Any corrupted data stored in the system which could be causing this problem will be completely removed. Before proceeding with this step, you need to back up your phone files.
Turn off your Samsung Galaxy device.
Simultaneously press and hold the Volume up and side buttons until the device vibrates and the Android Recovery screen appears then release all buttons. Allow up to 30 seconds for the recovery screen to appear.
From the Android Recovery screen, select Wipe data/factory reset. You can use the volume buttons to cycle through the available options and the side key to select.
Select Factory data reset. Allow several seconds for the factory data reset to complete.
Select Reboot system now. Allow several minutes for the reboot process to complete.
Set up your Android phone.
Frequently Asked Questions
What happens when I reset network settings on my phone?

All your saved Bluetooth as well as Wi-Fi connections will be deleted from your phone. This is usually performed when experiencing a WiFi connectivity issue. Take note that you will have to connect to the WiFi network again after performing this step.

How to enable power saving mode on Galaxy Z Fold 4?

Open Settings.
Tap on Battery and device care.
Tap on Battery.
Tap on Power saving mode and toggle it On.

How do I start Z Fold 4 in Safe Mode?

Press and hold the Power button and Volume down button (right edge) until the 'Power off' prompt appears on the screen then release.
Touch and hold Power off until the 'Safe mode' prompt appears then release.
To confirm, tap Safe mode.

Why does my Z Fold 4 lose network signal?

This can be due to several factors such as a weak network signal in your area, a software glitch, or even a hardware problem.

Why does my Z Fold 4 only connect to Wi-Fi network and not mobile data network?

You need to make sure that the mobile data switch of the phone is turned on. You can do this by accessing the quick settings app then making sure mobile data is on.