Do you want to know the best chrome extensions to identify fonts used in a live web page? You might want to know the font of a certain web page that is being used and you don't know what the font is. In this article we will be showing you the best chrome extensions to identify fonts in 2023.
Small software modules called browser extensions are used to personalize web browsers. Many extensions are commonly used and supported by browsers, including those that change the user interface, control cookies, block ads, and add custom scripting and design to web pages. You can download these chrome extensions using the chrome web store.
Chrome extensions to identify fonts in 2023
If you want to know what are the best chrome extensions that can identify fonts on a web page then you have come to the right place. Below are our compiled list for chrome extensions that can identify fonts used on web pages. All of these font identifier extensions are downloadable on the chrome web store.
Font finder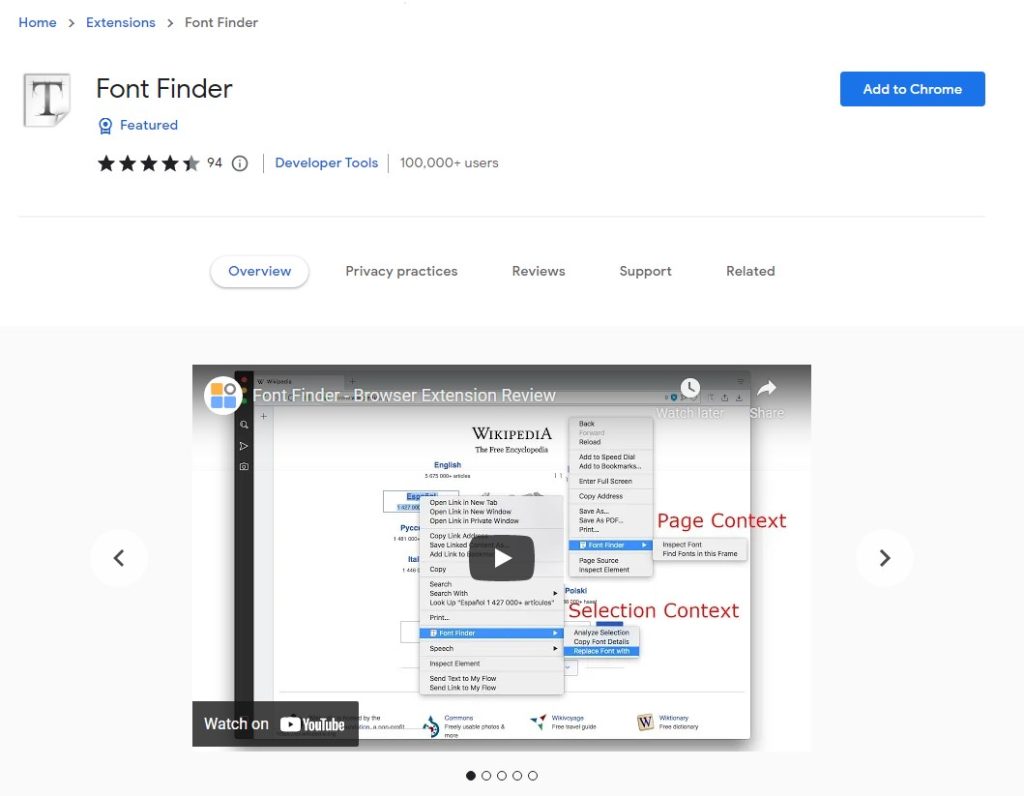 A simple font inspector that displays the CSS styles for the chosen element and quickly identify fonts.
Web Designer, programmers, and typographers are the target audience for Font Finder. It enables users to examine the font data and identify fonts of any element and transfer any relevant data to the clipboard. To determine the font used to show this specific character, Font Finder looks at each of the characters that have been chosen.
There are three essential features of Font Finder:
Look at any typeface on the current page.
Copy any information from the element to the clipboard.
Any active element's settings for the font (such as color, size, or family) can be changed inline.
Font Scanner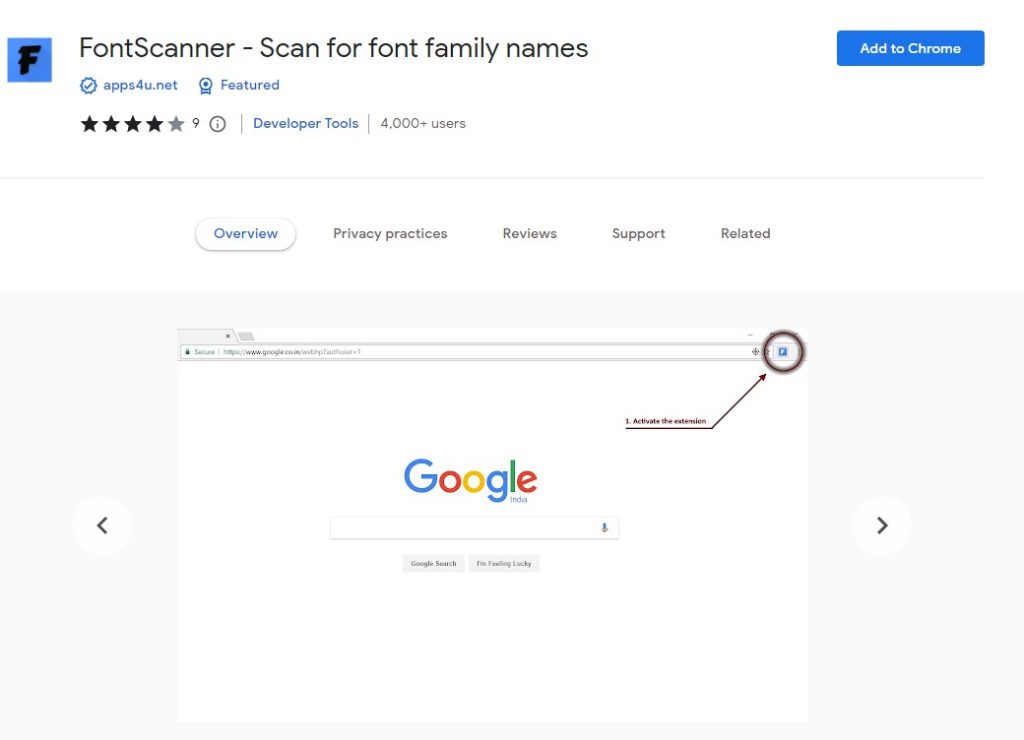 Searches the website for font names to show the different font names that have been used on the page. Based on the attributes selected for each individual element on the page, Font Scanner assists in identifying the distinct font family names for the entire document. This will make it easier for web designers and testers to locate elements that are configured with undesirable or incorrect font family names.
Font Scanner may also display the items connected to a particular font name from the results of a page scan. This aids in locating the particular element that uses the unwanted font name.
Font Picker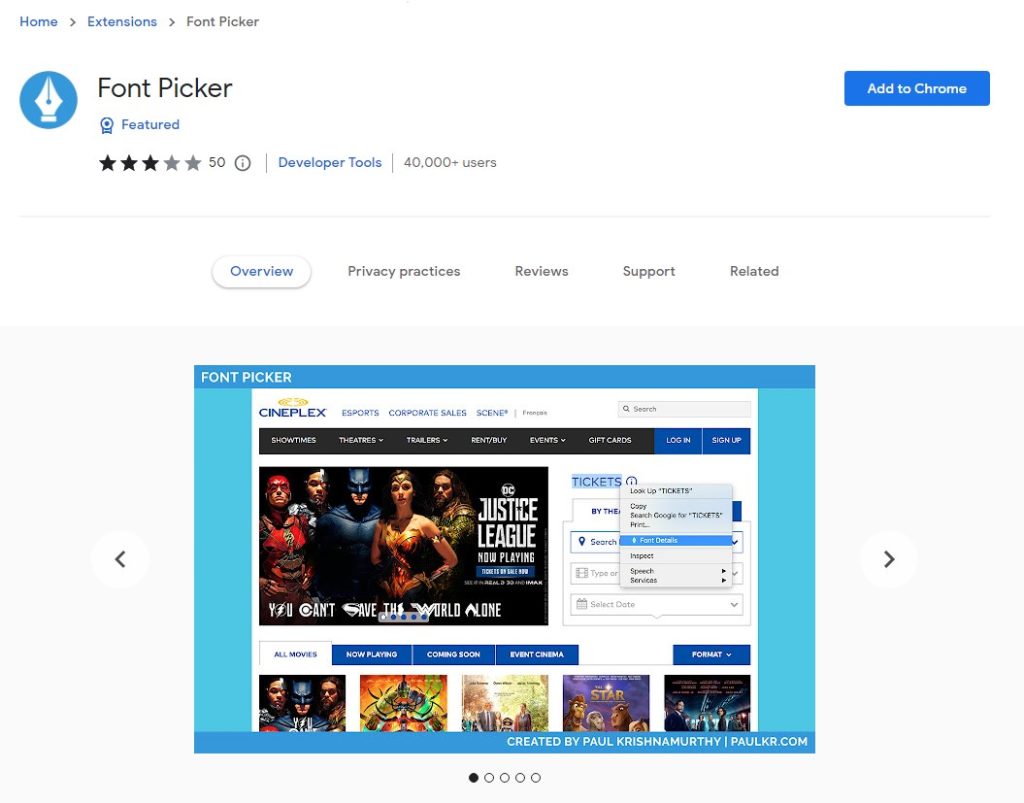 Font Picker is an intuitive and straightforward tool for locating fonts and their specifics on any website.
Once you've installed the Font Picker extension, you may right-click on any text to see the font details. A pop-up window with all the details you require about that font will appear when you select the "Font Details" option. Compared to going to the source code directly, this approach is significantly quicker and friendlier.
Font Identifier by WhatFontIs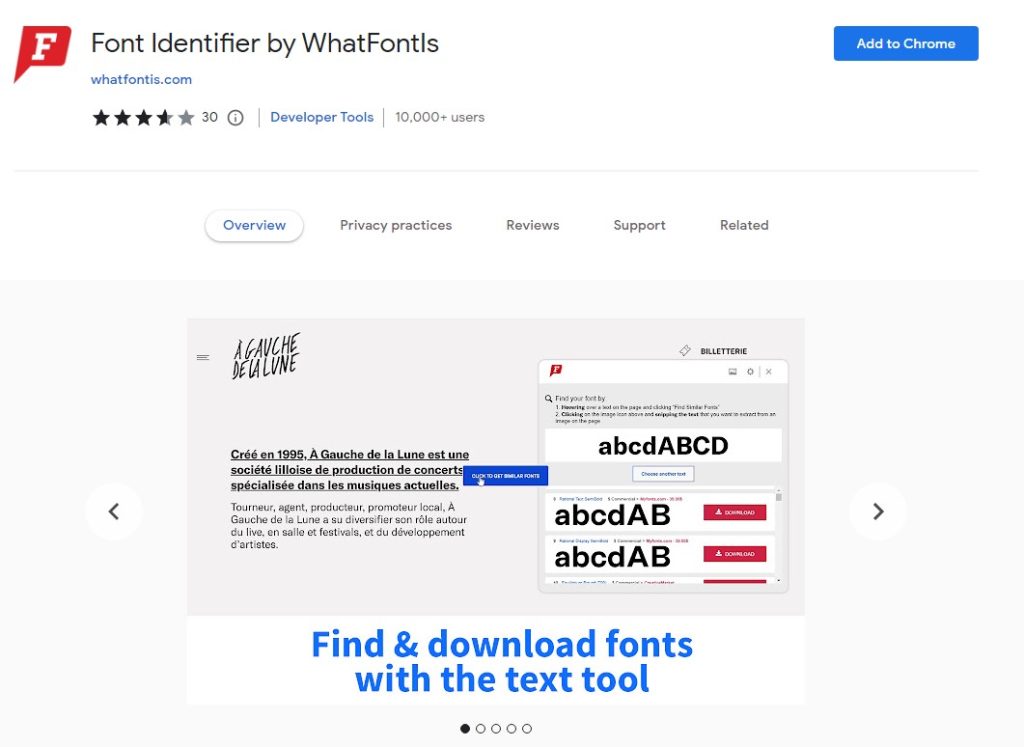 Find any Web font on any website, whether it is free or commercial. You can explore fonts easily with this extension.
They assist all designers, whether well-known or not, in locating any webfont or font on any website. They can do so by utilizing the enormous WhatFontIs database, which has 600K+ indexed typefaces, both free and paid, from practically any foundry.
Following font identification, the application will recommend more than 60 typefaces that are strikingly similar to the one you are looking for. One of the best font identifiers on the chrome web store. You just need to select the whatfont icon and click the word and the font information will be displayed.
FontFace Ninja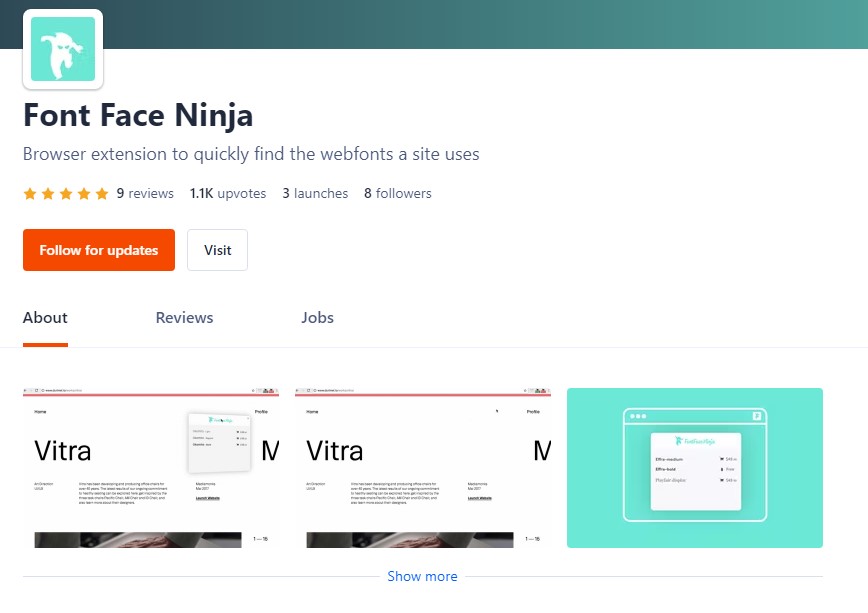 When compared to WhatFont, Fontface Ninja is a far more effective extension that you may use to quickly identify fonts on websites. To generate a list of all the fonts on a page, simply click the Fontface Ninja extension icon.
The ability of Fontface Ninja to locate typefaces inside of photos sets it apart, and it typically performs a great job of doing so. You can generate the results by clicking on an image after selecting the Fontface Ninja extension icon and waiting a short while.
Fonts Infos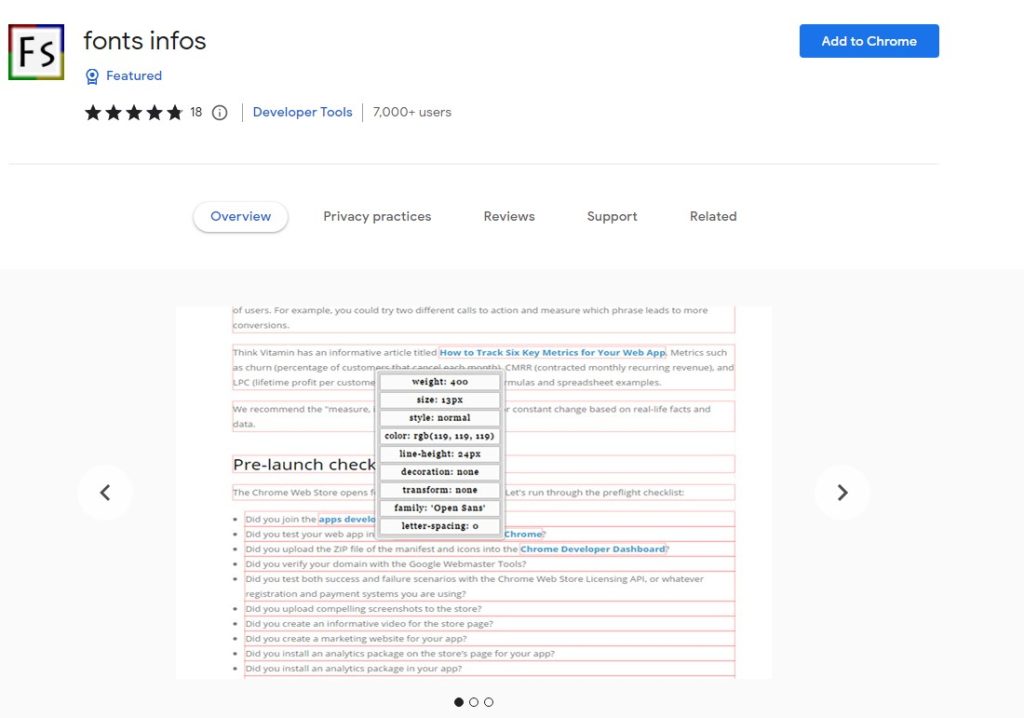 A chrome extension called Fonts Infos enables you to examine and evaluate the fonts used on websites. The extension can detect the primary family, font style, font color, font size, font weight, etc. even though it is less well-known than some of the other options on the list.
You must pick the text and choose fonts infos from the context menu in order to use fonts infos to identify any font. You may view all of the font's specifications thanks to the addon.
Fontanello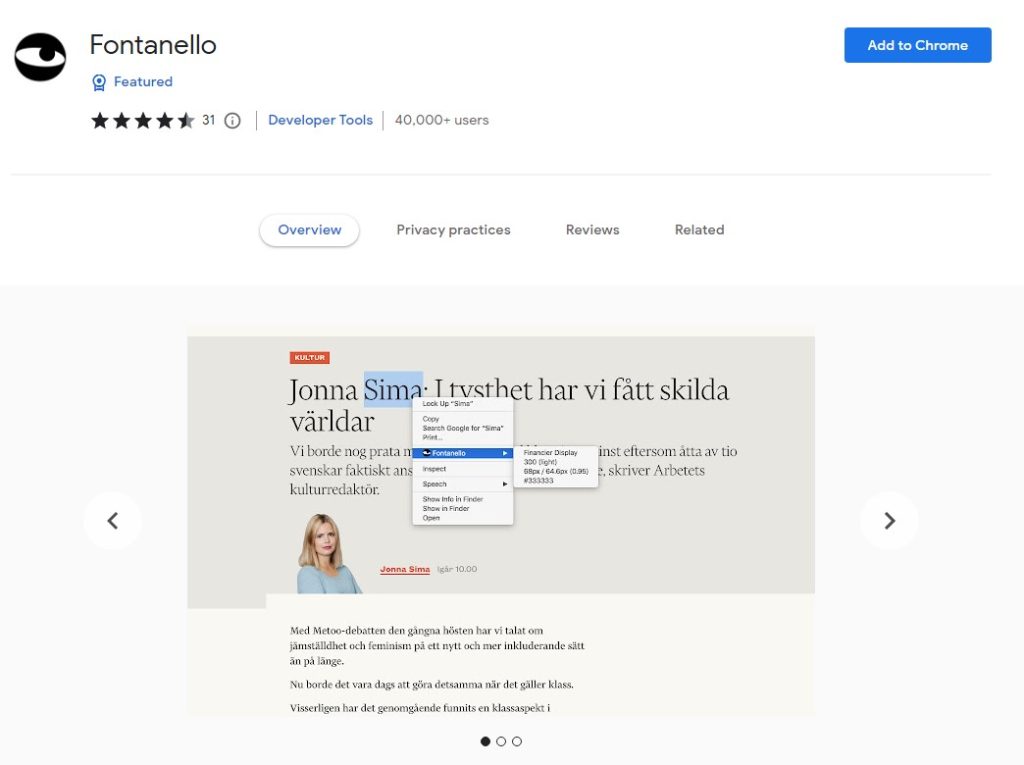 A browser extension that enables you to right-click a text and see the text's fundamental typographic styles and details.
Fontanello makes it incredibly simple to examine the font on a website. You will see details on the typeface, weight, size, color, and a few other uncommon CSS parameters. For the selected text, information about contrast is also displayed.
WhatRuns
Learn what runs a website. WordPress plugins, frameworks, analytics tools, and fonts. You can easily find the technologies utilized on each website you visit by using the WhatRuns addon. They identify even the newest and most innovative tools and services, ranging from WordPress Plugins and Themes to Developer Tools and Ad Networks.
Not only that, but you can follow websites to get alerted when they implement fresh technology or do away with an older one.
Compared to other identifying fonts extensions, WhatRuns is lighter on your browser, has a greater detection accuracy, and can even identify the newest plugins and technologies. They also discover typefaces, WordPress plugins, and website themes that are currently not done by anyone else.