Motorola has just introduced the Blush Gold version of the 2019 Razr foldable.
The phone is still an exclusive via Verizon and will set you back by $1,499.99.
Interested customers can get the new color variant via Motorola or Verizon's online stores.
The $1,500 Moto Razr hasn't actually won over a lot of fans. But Verizon and Motorola are trying to change that today with the announcement of a new Blush Gold variant of the dual-screen flip phone. Part of the reason why the Moto Razr 2019 gets a lot of flak is that tests conducted after its release revealed that the phone had a tendency to break well before completing 30,000 folds, something that's considered a very short period for flip phones.
As for this new Blush Gold version of the Razr, it will remain an exclusive on Verizon while retaining the same $1,500 price tag. Interested customers can get the Blush Gold Razr from Motorola or Verizon's online store. Stocks appear to be ready in Motorola and Verizon's inventories, with reports suggesting that Verizon may also offer same-day delivery in some parts of the U.S.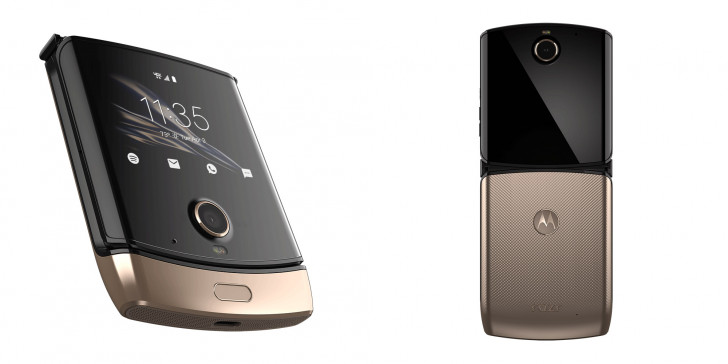 For those unaware, here's a refresher of the hardware on the Moto Razr:
6.2-inch foldable P-OLED screen (2142 x 876)
2.7-inch G-OLED secondary screen (800 x 600)
Octa-core Snapdragon 710 SoC (10nm)
128GB internal storage (no card slot), 6GB of RAM
16MP + TOF 3D dual rear cameras
5MP front camera
Android 9.0 Pie
2,510 mAh battery with 15W fast charging
Front-mounted fingerprint scanner
As you can see, the 2019 Razr barely has the hardware to compete with the likes of the Samsung Galaxy S20 or even the iPhone 11 Pro Max. Although this phone is marketed as a rival to the equally expensive Samsung Galaxy Fold, it's safe to say that the market is simply not ready for dual-screen phones, not with the current technology anyway.
What do you make of the Moto Razr?
Source: Verizon, Motorola
Via: Android Police