MOBA games or Multiplayer Online Battle arena games are popular with mobile gamers on Android devices. With a sizable fanbase as their PC counterpart, with the most popular PC MOBA game DOTA 2. The genre is so popular and competitive that several tournaments are being organized in which players compete for monetary rewards.
The game's mechanics are simple: a team of five players competes against another team to destroy the opponent's base. Players must work together to obtain items and invade enemy territory by using different heroes, each with their own set of classes, strengths, and weaknesses.
MOBA Android Games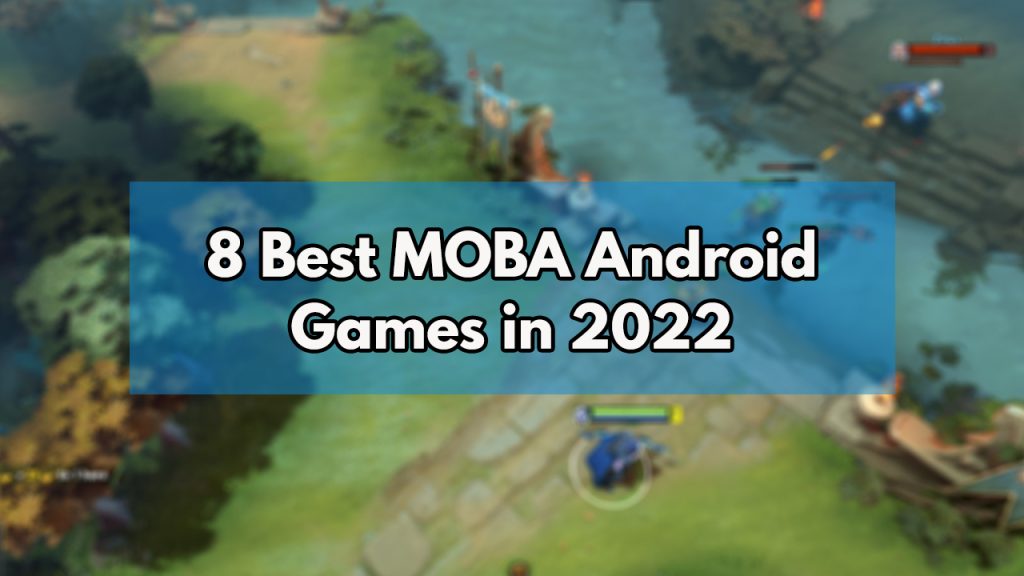 In this article, we will show you the best MOBA genre games available for your Android devices in 2023.
1.) Mobile Legends: Bang Bang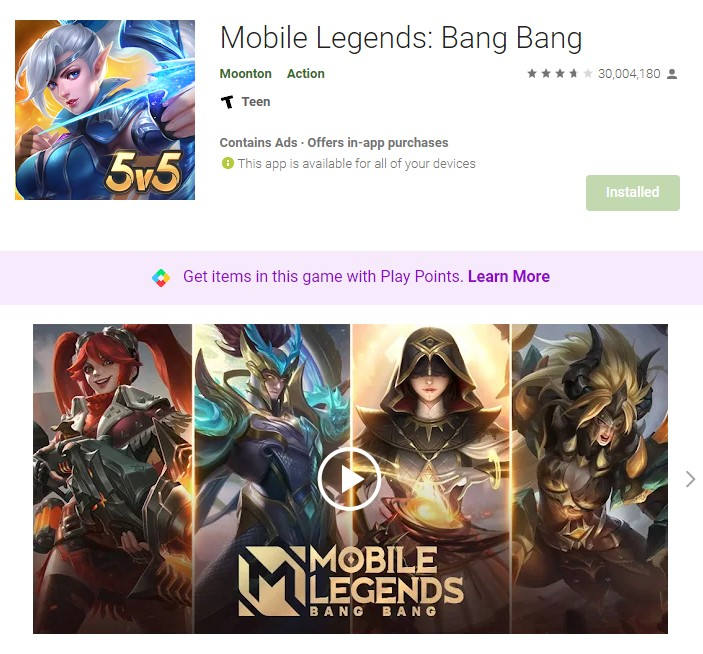 Mobile Legends: Bang Bang is one of the oldest MOBAs, most popular, and the best MOBA game on mobile. In terms of sheer download numbers on the Google Play Store, it's also the most downloaded MOBA Game. Mobile Legends: Bang Bang is a free game to download and play, however, some game items like hero skins may be purchased with real money and you can unlock a lot of heroes if you buy it real money.
Game Features:
5v5 Battle rank game with different game modes & Classic MOBA Maps
5v5 matches against actual gamers in real-time. Everything a conventional MOBA has is here: 3 lanes, 4 jungle zones, 2 bosses, 18 defense towers, and infinite clashes!
Win with Strategy & Teamwork
Block damage, keep the opponent under control, and heal teammates! Choose from Tanks, Mages, Marksmen, Assassins, and Supports, among others, to anchor your team and be the match MVP! New heroes are continuously appearing!
Carry Your Team to Victory in Fair Fights
There is no hero training or buying for stats, just like in classic MOBAs. To win the hard battle on this fair and balanced platform, all you need is skill and strategy. Play to win rather than pay to win.
Controls are simple and easy to learn
Two fingers are all you need to become a master, with a virtual joystick on the left and skill buttons on the right. You can last hit until your heart's content thanks to auto-lock and target switching. Never, ever miss! In addition, a convenient tap-to-equip system allows you to acquire equipment anywhere on the map, allowing you to focus more on the excitement of a battle!
Smart Offline AI Assistance
A dropped connection could leave your team hanging in an intense match, but with Mobile Legends: Bang Bang's strong reconnection technology, AFK players can be back in the fight in seconds if you get dropped. To avoid a 4-on-5 situation while you're offline, our AI system will momentarily take control of your character.
2.) Heroes Arena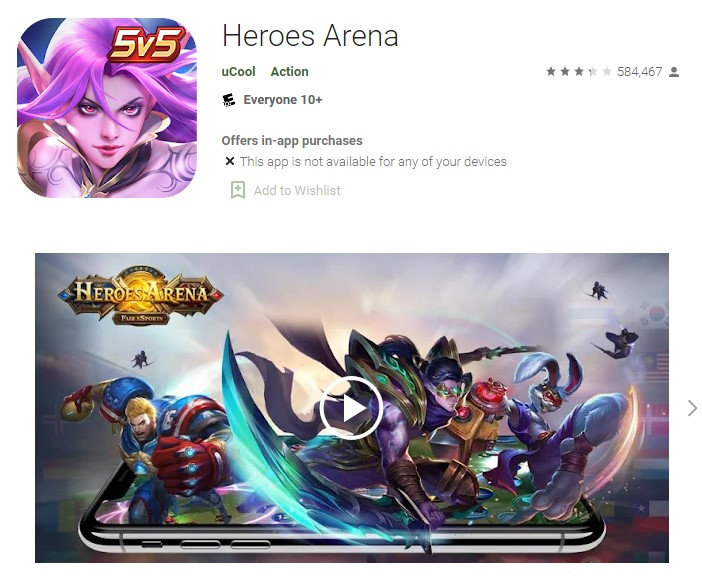 Heroes Arena is a less well-known but one of the best MOBA games available for Android. A Lag Free Global 5v5 mobile game, you can choose between different game modes of 1v1, 3v3, and 5v5 settings to customize the length of your matches.
The game aims for a faster gameplay style by allowing players to do things like buy equipment mid-battle without having to return to base when they play Heroes Arena.
Game Features:
ESPORT game that is fast and fair
Lightning-fast matchmaking, short queue times, and balanced gameplay with a focus on fast-paced entertainment. It's never a good idea to pay to win; it's all about Play to Win!
Classic MOBA for mobile
Traditional MOBA gameplay with worldwide multiplayer, with players from your region joining your team immediately. Easy-to-use controls and a user interface bring more MOBA game battle action to your screen while giving you complete control over your hero. Advanced controls, such as setting your Fast Buy equipment before matches, Leader Abilities, Runes, and more, will offer your hero a competitive advantage over the opposing side.
All New Heroes
Heroes Arena comes with 20 beautifully designed, one-of-a-kind heroes, each with spectacular special and ultimate ability animations. Play as an Assassin, Mage, Marksman, Support, Tank, or Warrior among six different hero classes!
3.) League of Legends: Wild Rift
League of Legends: Wild Rift is a 5v5 MOBA game developed by Riot Games specifically for mobile platforms, It is the mobile version of the PC version of League of Legends but the game is not cross-play compatible with its PC counterpart. In League of Legends Wild Rift the game is intended to be fast pace with a minimum of ten minute matches.
Game Features:
Battle online with friends
In 5v5 games, teamwork is essential to making the dream come true. Invite your friends to play the MOBA by inviting them through various social media sites. Start or join a guild to take on the Rift's battle arena and gain rewards together!
Wild Rift Champions
Enter the arena with a champion who is a good fit for your style of play. Use a gigantic sword to dominate the battleground, an icy arrow from across the map to stop adversaries in their tracks, or a hypnotic charm to draw opponents to their deaths. There's a ninja assassin, a solar warrior, an actual mountain, and more. There's a champion for anything you want your legend to be.
Experience a premium League of Legends: Wild Rift mobile MOBA
With crisp images, gorgeous graphics, and vivid characters, the arena battles are intense. There are numerous game types, heroes, and skins to choose from, all of which are updated on a regular basis. A mobile battle experience that enhances PC League of Legends' epic 5v5 battle arena gameplay.
4.) Battle Bay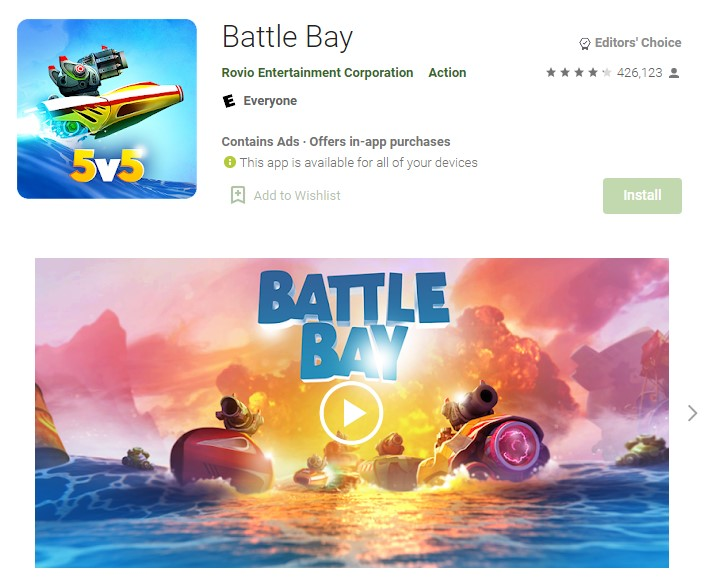 Battle Bay is a third-person naval action game with a team-based structure, positional tactics. Developed by Rovio Entertainment Corporation, it is different from most MOBA games because you can customize your battleship and equipment in this game. The weapons can be upgraded and obtained through the matches you play. Whatever vessel and equipment you select, the end goal is to be the unstoppable team.
This game is similar to World of Warships, but with significantly tone-down graphics and a mobile focus.
Game Features:
Battle Bay Ship Type
Shooter has a diverse arsenal of weaponry, Speeder is quick and fierce, Enforcer is agile and adaptable, Defender is a floating tank, and Fixer keeps friendly friends afloat. Increase the power and hit points of your ships by leveling them up!
Collect weapons
To increase your firepower, collect, improve, and evolve your weapons. Choose from a wide range of destructive, defensive, and utility items. Acquire special bonuses to boost the potency of your gear. Whatever suits your playing style and keeps your squad afloat!
Create your own battles
In Battle Bay custom battles, you can host a battle with your friends and guildmates. Make a lobby and invite up to 10 players divided into two teams, as well as up to 5 spectators. Play with different Battle Royale mode, with 5v5 tournaments, or show off your abilities in 1v1 duels.
Participate in a Guild
Join or create a guild with your friends to team up. Guild leaderboards put your crew against other groups of daring captains.
Seek quests and achievements
Complete tasks to gain gold and sugar or participate in a guild quest marathon for a chance to win fantastic prizes. Earn pearls and powerful equipment by completing achievements. Compete in ranked two-week tournaments for special rewards.
5.) Brawl Stars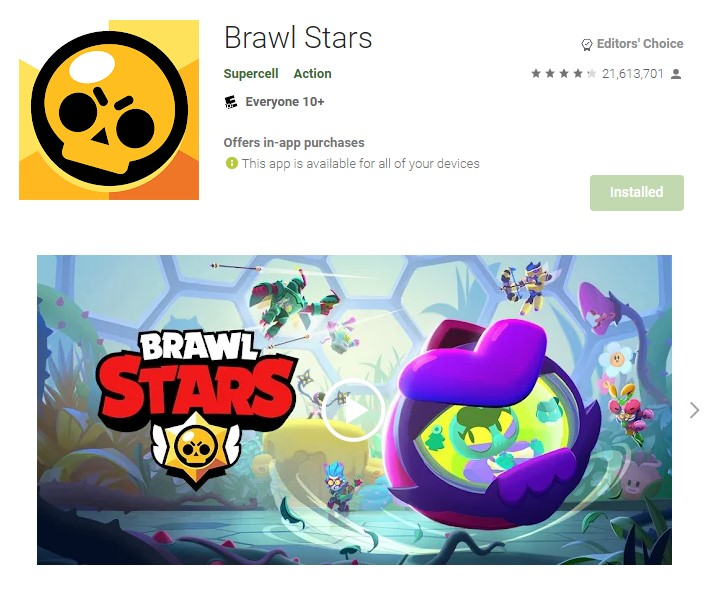 Brawl Stars is a fast-paced 3v3 multiplayer game with Battle Royale elements designed for mobile by Supercell, the same company that brought you Clash of Clans.
In under three minutes you can team up with other players across the world in a number of game styles. Complete objectives by unlocking Brawl Boxes, and earning Gems, pins, and a unique Brawl Pass skin are all part of the game! Every season brings new content.
Game Features:
Brawl Stars different game modes
Gem Grab (3vs3):Form a team of three and outsmart the opposition. To win, collect and hold 10 gems, but don't get fragged or your gems will be lost.
Showdown (Solo/Duo): A survival game in the style of a Battle Royale. Amp up your Brawler by collecting power-ups. Be the last Brawler standing in the rowdiest Battle Royale, whether with a companion or alone.
Brawl Ball (3vs3): This is an entirely new Brawl game! Score two goals before the opposing team to show off your soccer/football talents. There aren't any red cards in this game.
Bounty (3vs3): Kill opponents to win stars, but don't get killed yourself. The match is won by the team with the most stars!
Upgrade and unlock brawlers
Collect and upgrade a wide range of Brawlers with superpowers, star powers, and gadgets! Level up your characters and get distinctive skins.
6.) Marvel Super War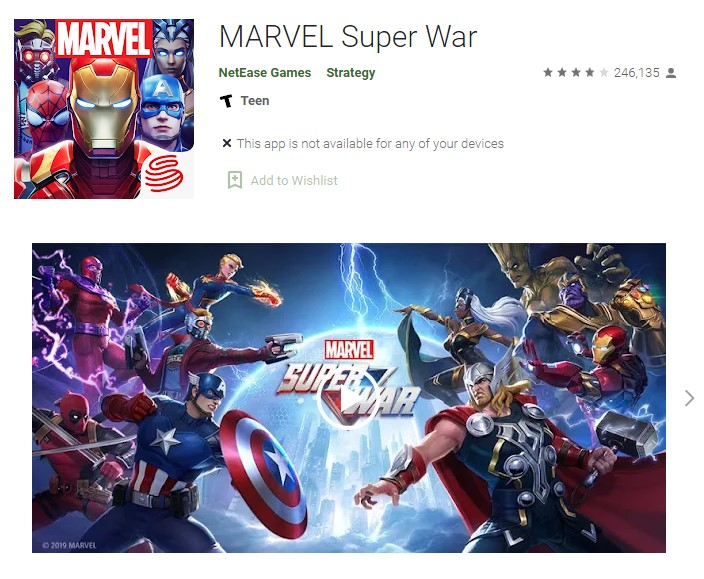 Marvel Super War is Marvel's first mobile MOBA game, Developed by NetEase Games. MARVEL and NetEase's MOBA Super War contains actual Marvel Super Heroes from all throughout the Marvel universe, selecting from a large cast of Heroes and Villains, each with their own unique style and skills. Marvel Super War is the same as the other MOBA games, it is a 5vs5 on a map and the main goal is to destroy your opponent's base.
Game Feature:
Combat that is both fair and balanced
Balanced heroes mean balanced fighting. Reputation and accomplishments must be acquired through skill and dedication. Enjoy the pleasure of defeating your opponents in completely fair fights.
There are over 50 different Super Heroes and Villains to choose from
MARVEL Super War contains actual Marvel Super Heroes from all throughout the Marvel universe. Join the ultimate all-star combat by selecting from a large cast of Heroes and Villains, each with their own unique style and skills.
7.) Onmyoji Arena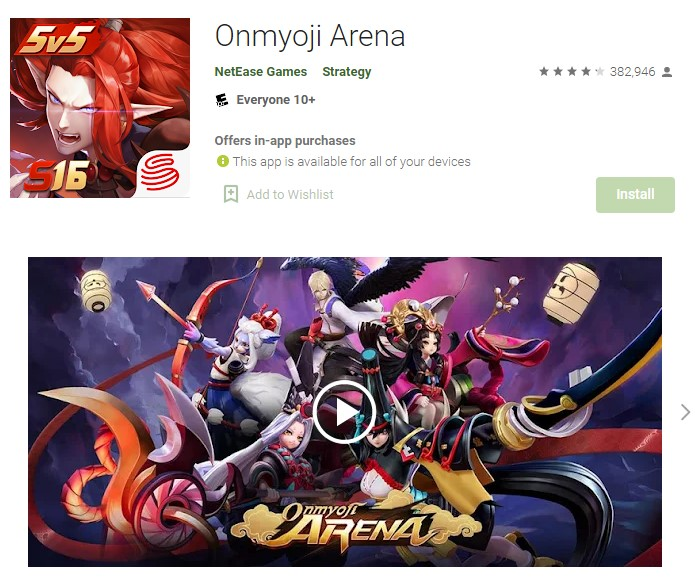 Onmyoji Arena is the next installment from the Onmyoji series of NetEase Games. and it stays true to the original characters while offering players a fresh new MOBA experience. Allows players to fully enjoy fair 5v5 battles by replacing the traditional paid rune system. Onmyoji Arena has broadened its aesthetic style by adding character skins that appeal to a wider audience. Mahjong chess, Shikigami Defense, and 3v3v3 Royal Battle have also been included.
Game Feature:
Beautiful Shikigami with an original vocal cast to perfectly recreate the Heian world.
Battle Royale with an Innovative 3vs3 showdown.
Balanced heroes mean balanced battles. . Take pleasure in defeating your opponents in completely fair fights.
8.) Arena of Valor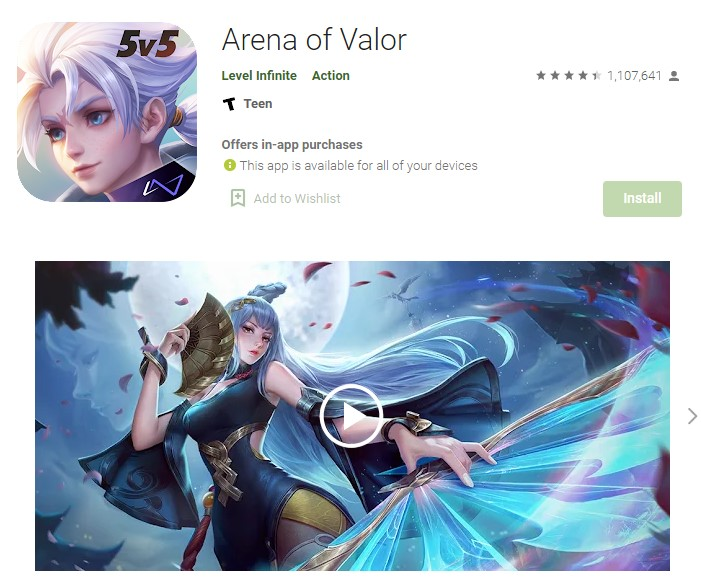 Arena of Valor is a mobile MOBA game developed by Level Infinite. It features different game modes: 5vs5, 3vs3, and 1vs1. With ten-minute match lengths and a hero pool of over a hundred heroes with different classes, one of the best MOBA games available for android and Arena of Valor overall gameplay is quite similar to League of Legends.
Game Feature:
Season Updates
Fast pace match
New Season, New Ranking, New Battle.
Feel free to visit our YouTube channel for additional troubleshooting guides and support on various devices.