It takes a lot for your voice to be heard when live streaming on services like Twitch and YouTube. For starters, you need a good microphone because your potential listeners and followers are used to a certain standard of quality, and it's very unlikely that they would listen to someone whose voice sounds like a mid-century radio.
* If you buy through links on our site, we may earn an affiliate commission. For more details, please visit our Privacy policy page.
If you've never dabbled in audio production, microphones and the myriad of technical terms around them probably seem confusing to you. But we have good news for you: there's no need to spend a few evenings figuring out the differences between the various sub-categories of microphones (although it doesn't hurt to know at least the basics, which are explained in the last section of this article).
All you really need to select a great microphone is our list of the top 10 best microphones for streaming in 2023. Each microphone featured below has been used and endorsed by countless successful streamers and audio producers, so you can be sure that your voice will be heard loud and clear.
Best Microphone for Streaming
The Blue Yeti immediately attracts with its unusual retro design and an integrated desktop stand that looks like a person holding the microphone up in the air for you. When we encounter products that heavily focus on design, we tend to be rather skeptical, thinking they might be all show and no go. However, that's not the case with the Blue Yeti.
The Blue Yeti is more than capable of delivering professional results thanks to its proprietary tri-capsule technology, which gives it its signature studio-quality sound and makes it suitable for everything from streaming to music recording to podcasts to interviews. There are four distinct pickup patterns to choose from: cardioid, omnidirectional, bidirectional, and stereo. The first three pickup patterns are the same as the pickup patterns on the Samson G-Track Pro, but the addition of the stereo pickup pattern allows you to capture a wide, realistic sound image, which may come in handy when recording ASMR.
Even though the Blue Yeti is a relatively simple microphone, it has all the features and controls a microphone should have to be suitable for streaming, including controls for headphone volume, pattern selection, instant mute, and microphone gain. If you prefer to use a microphone boom arm instead of the included stand, you can easily detach the Blue Yeti from its base and insert it into any compatible microphone shock mount.
Not that it matters too much, but you may be happy to learn that the Blue Yeti is available in a plethora of different colors, including red, black, grey, silver, platinum, copper, blue, and teal. You can get the microphone in a bundle with Hindenburg Journalist, which is an innovative audio workstation designed specifically for podcasters.
Buy it now: here
We wanted to end this article with something different from all other previous microphones, and the V-MODA BoomPro was an easy choice. This detachable, professional-grade boom microphone can be easily connected to any headset with a 3.5 mm audio jack, and it delivers very respectable audio quality and completely removes any echo.
At the current fair price, the V-MODA BoomPro is the most affordable microphone featured in this article, which is hardly a surprise considering how radically different it is from the rest. But despite its price, the V-MODA BoomPro is built to last, and we can wholeheartedly recommend it to all streamers who own a headset with a 3.5 mm audio jack.
Buy it now: here
When you research microphones for streaming, you're almost guaranteed to come across the Audio-Technica AT2020USB. This modestly priced microphone delivers much better performance than you might expect considering its price, and it works right out-of-the-box with all modern operating systems—no additional drivers required.
What really sets apart the Audio-Technica AT2020USB from other microphones in its price range is its ability to effortlessly capture even the smallest details and reproduce them without changing their sound. Unlike most similarly priced microphones, the Audio-Technica AT2020USB is very kind to female vocals, only adding a slight hint of warmth to the lower mids.
There are two volume knobs on the microphone. One is for changing the volume of the built-in headphone jack, and the other one allows you to blend your microphone signal and pre-recorded audio. Included with the Audio-Technica AT2020USB are pivoting stand mount, 5/8″-27 to 3/8″-16 threaded adapter, soft protective pouch, tripod desk stand, and USB cable.
If you own a pair of Audio-Technica headphones and are wondering if you can use them with the Audio-Technica AT2020USB, the answer is yes. You can, of course, use just about any other headphones because the integrated high-output internal headphone amplifier doesn't have a problem even with high-impedance headphones.
To get the most out of the Audio-Technica AT2020USB, we highly recommend you replace the included stand with a boom microphone floor stand and get a high-quality pop filter. You may also want to consider isolating your room a little bit because the Audio-Technica AT2020USB doesn't have noise cancellation, and it tends to pick up everything from cars passing by to your neighbor's dog barking.
Buy it now: here
The Rode-NT-USB is a very likable all-in-one microphone that doesn't require any extra accessories to satisfy your recording needs. Included with the microphone are a pop shield, tripod desk stand, ring mount, storage pouch, a USB cable that measures whopping 20 feet. The microphone works with both Windows and macOS without any additional drivers, and it's also compatible with the Apple iPad. All popular recording applications, such as GarageBand, LMMS, and Audacity, are supported and work flawlessly.
The Rode-NT-USB is equipped with a 3.5mm stereo headphone jack for zero-latency monitoring, and you can directly mix mic input and source output just by turning a knob on the microphone. The pop shield that comes in the box with the Rode-NT-USB does a great job when it comes to eliminating plosives produced during singing or speech. Considering that a high-quality third-party pop filter is not expensive, it's easy to see why the Rode NT-USB is such an amazing deal.
But if you would like to improve the sound of this microphone beyond its stock configuration, you can purchase the SMR shock mount and the WS2 foam windshield. The former is a revolutionary double-Lyre suspension shock mount for large diaphragm condenser microphones, and it's extremely efficient at cancelling vibration. The latter is a professional windshield that provides additional protection against any wind noise or plosive sounds.
Some reviewers have criticized the quality of the built-in headphone output, saying that it distorts the sound and makes the microphone unsuitable for recording vocals or doing anything else beyond the conversational tone of voice. If you're intending on using the microphone solely for streaming, we would say that the quality of the built-in headphone output is perfectly acceptable, and you have a thing to worry about.
Buy it now: here
The MXL 990 is a condenser microphone, which means that it has a solid metal plate and a thin membrane, which moves back and forth relative to the solid backplate when it's hit by soundwaves. The advantages of condenser microphones include their effortless ability to obtain a flat frequency response and extended frequency ranges, making them ideal for recording vocals and acoustic instruments.
Condenser microphones such as the MXL 990 require DC electric power transmitted through microphone cables. This is called phantom power, and the specific power requirements of the MXL 990 are 48V (+- 4V). Most mixing consoles should be able to meet them, and you can always purchase an inexpensive phantom power supply, such as the Neewer 1-Channel 48V Phantom Power Supply.
When it comes to the tonal and acoustic characteristics of the MXL 990, we would characterize it as being very rich in tone yet precisely balanced and well-mannered. Because the microphone is very sensitive, you definitely need a pop filter to reduce the impact of plosive sounds, and it's best to record in a very quiet environment. You might be surprised by the ability of the MXL 990 to pick up background sounds that the human ear can barely perceive.
You can get the MXL 990 in two colors—Champagne and Midnight—and there's a difference of nearly ten dollars between them. We don't really understand why the MXL 990 costs a low price when you select the Midnight color but a little higher when you select the Champagne color, but it's something you should keep in mind when ordering. As far as our aesthetic sensibilities are concerned, we prefer Champagne over Midnight because it makes this otherwise very affordable microphone look premium.
Buy it now: here
You may disagree with our choice of the best microphone for streaming in 2023, but we have our reasons why we selected the Samson G-Track Pro. This multi-functional microphone is for people who want to produce professional audio but don't have an advanced degree in audio engineering nor years of industry experience. It plugs into a USB port on a computer and works straight-out-of-the-box without any messing around and trying to adjust various settings.
Because the Samson G-Track Pro records audio at 24-bit/96kHz, it successfully captures even the smallest details and never fails to deliver believable results. The microphone makes it possible two record two independent sound sources at the same time, and it has an instrument input for recording bass, guitar, keyboard, and other line-level devices. You can even add a sub-mixer to easily record additional guests, making the Samson G-Track Pro great for all podcasters and interviewers.
When streaming, you want to switch the microphone to the cardioid pickup pattern, which makes it most sensitive to sound coming from directly in front of the microphone. In addition to the cardioid pickup pattern, which is great for streaming, there are also two other pickup patterns that may come in handy when recording music or podcasting. The omnidirectional pickup pattern picks up sound equally from all directions, and the bidirectional pickup patterns picks up sound directly in front and back of the microphone.
The Samson G-Track Pro is built to last, featuring durable die-cast zinc construction with an integrated desktop base that allows you to simply place the microphone on any level surface and start recording—no need to purchase a microphone boom arm. We also like the fact that the Samson G-Track Pro is not too expensive, especially considering how versatile it is and how great it sounds.
Buy it now: here
As one of the more expensive microphones featured in this article, the Heil PR-40 has a very wide frequency range thanks to its very large (1″), low mass diaphragm, and custom magnet metals that are housed in a specially designed microphone body. Apart from its wide frequency range, another key characteristic of the Heil PR-40 is its incredibly flat response from 28 Hz all the way up to the 18k Hz.
Some might say that a microphone like this is overkill for streaming, but we say that you should go for it if you have the money because your audience deserves the best, and they will certainly notice that the audio quality of your streams is in a league of its own.
Unlike many other microphones for streaming, the Heil PR-40 connects via an XLR connector, which is an electrical connector that's primarily found on professional audio, video, and stage lighting equipment. The main benefits of the XLR connector include its ability to transfer sound signals over much longer distances without signal loss than other connectors, and also the fact that the XLR connector has a locking mechanism that ensures that pins only contact their corresponding pins and strong metal housing.
Of course, you need to have an XLR input in order to use the microphone. We recommend a mixing console like this one from Neewer, which has two XLR inputs with phantom power and several control knobs that let you adjust all important parameters on the fly.
Buy it now: here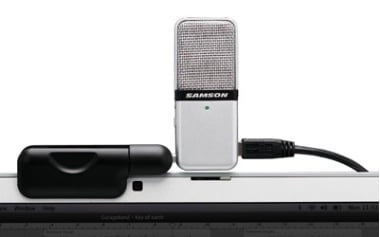 The Samson Go Mic is a perfect companion for every streamer who's frequently streaming on the go and can't or doesn't want to haul a heavy microphone with a stand and a bag full of other accessories. You can clip the Go Mic onto your laptop or place it on your desk, and all it takes to get it working is a single USB cable and either Windows or macOS.
But don't let the tiny size (the microphone actually looks larger in photos than it does in real life) deceive you into thinking that it can't compete with the likes of Samson or Yeti. With a frequency response of 20Hz–18kHz and a resolution of 16-bit, 44.1kHz, the Go Mic is capable of professional results in every way. As long as you don't expect it to have the same ability to capture small details as microphones that cost three, four, or five times as much, we think you'll be happy with your purchase.
If you're willing to spend a few more dollars, make sure to download the Samson Sound Deck Noise Cancellation Software, which provides access to Samson's proprietary noise cancellation technology to minimize recurring background noise from loud environments. The software is powered by state-of-the-art digital noise reduction algorithms, and it resides on your taskbar, ready to be invoked at any moment.
Apart from quality, streaming is also about frequency and regularity. You should supply your viewers with fresh content as often as possible, even if it means streaming on the go and sacrificing some quality. The Samson Go Mic lets you do just that, and it's priced extremely fairly for what it does.
Buy it now: here
Razer understands what streamers look for in microphones, and the Razer Seiren Elite proves it. This visually striking microphone features Razer's professional-grade single dynamic capsule that minimizes electronic interference and captures the full audio-range while optimizing your stream for smooth playback.
A built-in high-pass filter acts as a very effective noise-cancellation mechanism, eliminating vibrations and rumble, such as footsteps or the sound of an air conditioner. The Razer Seiren Elite is also equipped with a digital/analog vocal limiter to prevent annoying audio distortion and voice clipping, two frequent problems viewers never fail to mention in comments when they happen because of how distracting they can be.
As a streamer, you will be happy to know that the Razer Seiren Elite is Streamlabs-certified and, as such, is guaranteed to work flawlessly with Streamlabs OBS, the most popular open broadcasting software for live streaming. Included with the microphone are a long USB cable, desk stand, microphone windscreen, and product information guide.
Gaming-oriented products almost always come with a hefty markup, and the Razer Seiren Elite is no exception. At the current price, the microphone is far from cheap, and Razer knows it because it offers a more affordable version of the Razer Seiren Elite, called Razer Seiren X.
Buy it now: here
Turtle Beach is a manufacturer of gaming accessories, known mainly for its award-winning headsets. The company's most popular microphone, TruSpeak, is an affordable performer that was designed with the needs of streamers in mind, offering an all-in-one recording solution with universal USB plug-n-play compatibility.
The microphone is compatible with Xbox One, PS4 Pro, PS4, PC, and Mac. It comes with a built-in amplifier that allows you to hear game and chat audio through the microphone. You can use the Turtle Beach TruSpeak with most standard 5/8 inch microphone stands and booms, which is great news because the included stand is fairly limited in terms of adjustability.
To make the Turtle Beach TruSpeak truly shine, you need the Turtle Beach Audio Hub, which provides access to customizable voice presets for easy voice tuning. The software also ensures that your microphone is always up to date and running the latest and greatest firmware.
The Turtle Beach TruSpeak microphone can be yours for a fair amount, which is a great price for such as well-thought-out product. Perhaps the only thing we don't like about it is its plastic construction, which makes it seem far less durable than it.
Buy it now: here
What Should I Look for in a Streaming Microphone?
There are several things to consider when choosing a microphone for streaming, and its form factor is perhaps the most important one. Some microphones are designed to sit on your desk, while others work only when arm-mounted. Most professional streamers go with arm-mounted microphones because they allow for maximum adjustability since they can be easily moved out of the way when not in use. Another option are headsets, but their audio quality is typically average at best.
Directionality is another thing you should pay attention to when choosing a microphone for streaming. Your best bet is a cardioid (or unidirectional) microphone, which captures sounds from the front only. Such microphone won't pick up the sound of your keyboard and mouse nearly as much as a bidirectional or omnidirectional microphone would. Many microphones for streaming let you switch between cardioid, bidirectional, and omnidirectional recording modes on the fly.
Last but not least, you should get the best value for your money, which means choosing a microphone that fits within your budget and meets all your needs. As with all audio equipment, prices of microphones vary greatly. At the one end of the spectrum are budget microphones for casual users, and at the opposite end of the spectrum are studio-grade microphones that offer professional audio quality and are built to last a long time. Most streamers should aim right for the middle and buy a microphone that doesn't cost an arm and a leg but is more than capable of producing detailed and accurate recordings.
Best Microphone for Streaming Conclusion
In this article, we've introduced the top 10 best microphones for streaming in 2023, and it's up to you now to pick the one you like the most and use it to improve the quality of your streams. If you want to make money with streaming, you should always get the best microphone you can because a good microphone can last you many, many years, making it a worthy career investment.
* If you buy through links on our site, we may earn an affiliate commission. For more details, please visit our Privacy policy page.