With so many streaming services available now, it is easy to get caught up with all these subscriptions for just one show or movie. Seem like such a huge waste of money doesn't it?
It is hard to keep up with all the "must-have" ones. But don't worry, you do not need to break the bank to stay entertained. There are plenty of free streaming services out there, and we have done the research to find the best ones for you.
Although, some of these services are ad-supported, so you might have to sit through a few commercials. But hey, what's a few commercials right?
We will also point out a few of the bigger streaming services that have free trials, so technically still free!
Best Free Movie Streaming Sites With No Sign Up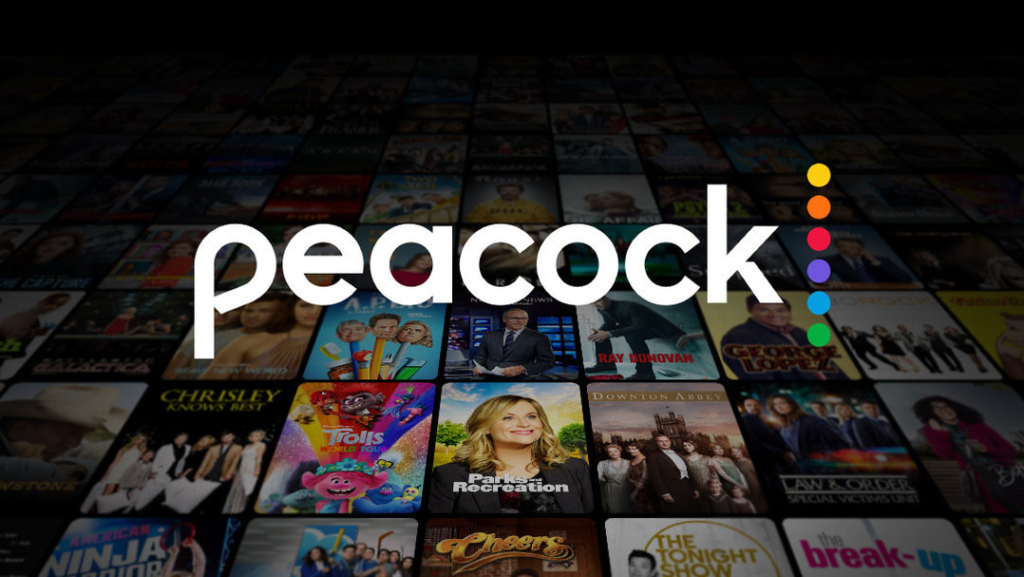 1. Peacock TV
Pros
Peacock offers a free tier with ad-supported access to some of its content.
Peacock's Premium tier costs $4.99 per month and still includes ads.
Peacock has a mix of classic and newer-release content, covering a range of genres.
Cons
Peacock has not had major hits on the scale of its larger competitors.
Peacock's search function only allows you to search by title, not by other attributes.
Peacock was Launched in July 2020 and has quickly become one of the most popular streaming services, with over 13 million subscribers. What makes Peacock so great is that it offers free, ad-supported access to some of its content.
Peacock also has a great selection of content, with shows and movies from NBCUniversal, Bravo, SyFy, Lionsgate, and Universal Pictures. You can watch classic shows like The Office, Days of Our Lives, and The Voice, as well as new releases. Plus, you can also watch live sports, including NFL's Sunday Night Football, Premier League Soccer, and WWE wrestling.
Peacock has a straightforward interface that makes it easy to use. You can search for titles, and the "Continue Watching" section makes it easy to find series that you've started. Plus, Peacock supports all major streaming devices.
We think Peacock should be at the top of your list if you are looking for free streaming service for movies and TV shows.
Start Free Trial Here: Peacock
---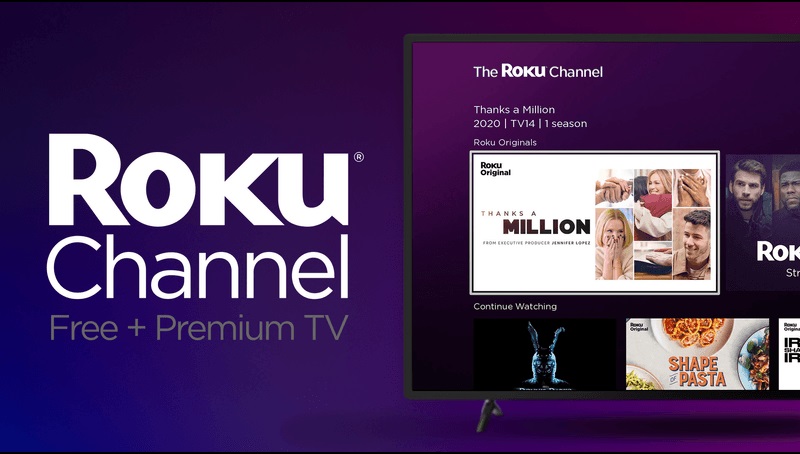 Pros
The Roku Channel has a library of over 10,000 free shows and movies.
It also offers original shows purchased from Quibi.
The Roku Channel also provides free live TV.
Cons
Other free streaming services, such as Peacock, have a more comprehensive library.
The video quality of The Roku Channel depends on the content being streamed.
With over 10,000 shows and movies, you can find something to watch no matter what you're in the mood for. From classic shows like Dennis the Menace and Miami Vice to newer originals like Punk'd and Reno 911, Roku Channel has something for everyone.
The Roku Channel even has live TV for free, with channels like ABC and NBC, as well as themed channels like Bob the Builder and Project Runway.
For a few bucks, you can get access to premium channels like AMC, BET, Starz, and Showtime.
The Roku Channel is available on all Roku devices, as well as Amazon Fire TV and select Samsung Smart TVs. But best of all, you can just fire up these free shows right on any internet browser.
Start Watching Free Here: The Roku Channel
---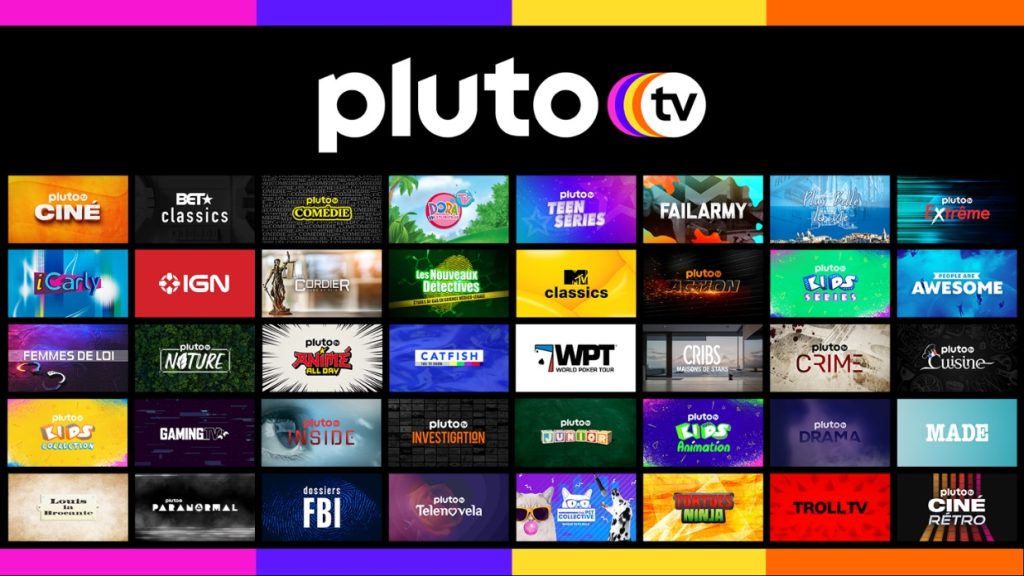 Pros
Pluto TV offers a variety of channels and content, but lacks some of the popular cable channels.
It is best thought of as a supplement to other streaming services, rather than a complete replacement for cable.
Includes sports channels like CBS Sports, Fox Sports, NFL Network, MLB chanel, PGA Channel, and a few MMA channels, although none of them are live.
Cons
Pluto TV does not offer local affiliate channels from corporate broadcast networks.
It does not offer a significant amount of live sports broadcasts.
Pluto TV offers over 250 channels, you can watch a variety of movies, news, sports, and entertainment for free, directly on the internet browser, all without a streaming device.
You get access to mainstream channels like Comedy Central, Fuse, MTV, and Paramount Movie Channel.
For something more unique, Pluto TV has themed channels like Wipeout, Dr. Who Classic, Cats 24/7, and Slow TV. So if you're looking for a great way to watch movies without spending a lot of money, Pluto TV is the perfect choice.
Pluto TV is ad supported in return for the free service, but that should be expected.
Start Watching Free Here: Pluto TV
---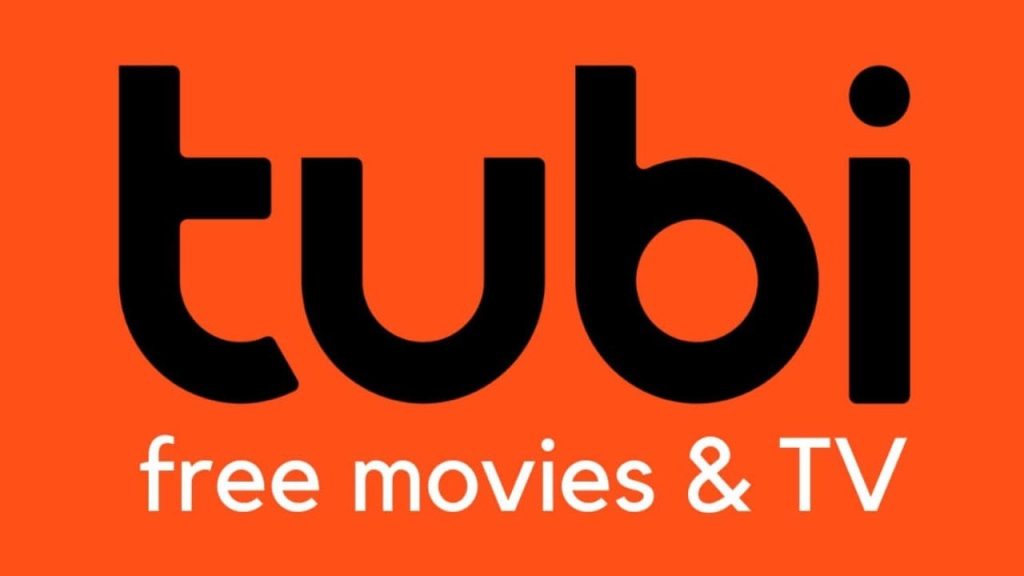 Pros
Tubi has a large selection of movies and shows from many genres and providers.
Service is free to use and doesn't require an account.
Tubi has live channels and international content, as well as some original movies.
Cons
Selection is dated and doesn't include many new releases.
Ads are abrupt and can interrupt scenes.
Video quality is limited to 720p.
With over 40,000 legally licensed movies and TV episodes, new titles being updated each month on Tubi. Over 250 content providers contribute to their library, including studios like Sony, Disney, Paramount, Warner Brothers, and MGM.
Best of all, it is completely free to use and does not require an account.
Tubi has a user-friendly interface that looks similar across all devices. You can filter content by using the Browse or Category buttons, and you can even make a free account to unlock extra features like watchlists.
For people interested in foreign content, Tubi has a library of international shows, including British TV, K-drama, and anime.
So what is the catch? How can they possibly offer so many shows for free? It runs on ads of course. But from what we have seen, the commercial breaks are not very long and the total ad time is a lot less for each show and movie than you would see on cable tv shows.
Start Watching Free Here: Tubi TV
---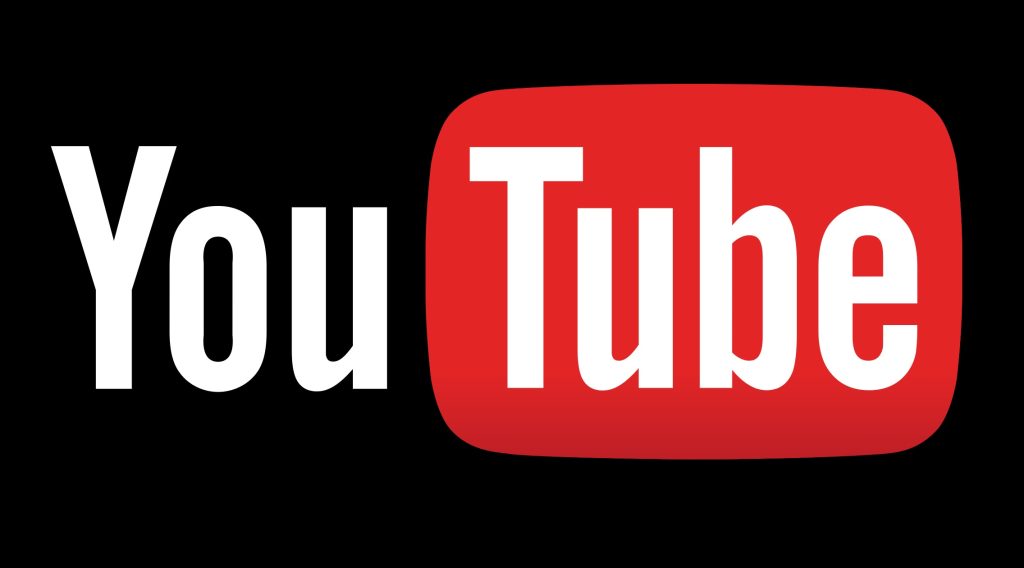 Pros
There are also a variety of free movies available on YouTube, including classics, rarities, and cult gems.
Simple interface, you can browse around Youtube movies just like you would with any other Youtube videos
Option to rent or buy most current major new movie or TV releases.
Cons
The collection of free movies on YouTube may not be impressive.
Some of the free movies may not be from major studios.
YouTube is the 800 pound gorilla when it comes to streaming videos, especially amongst the free services. It even has a wide variety of movies and shows, from new releases to classic films.
You can find free movies that are decent quality, and best of all, you do not have to worry about illegal streams. Most of the full movies and TV shows found on Youtube are classics that have entered the public domain.
For the new releases, you have the option to buy or rent the movies or TV shows. It is easy to use, with a simple menu and clear instructions on how to rent or buy movies. You can watch movies on almost any device, from your PC to your TV.
Start Watching Free Here: Youtube
---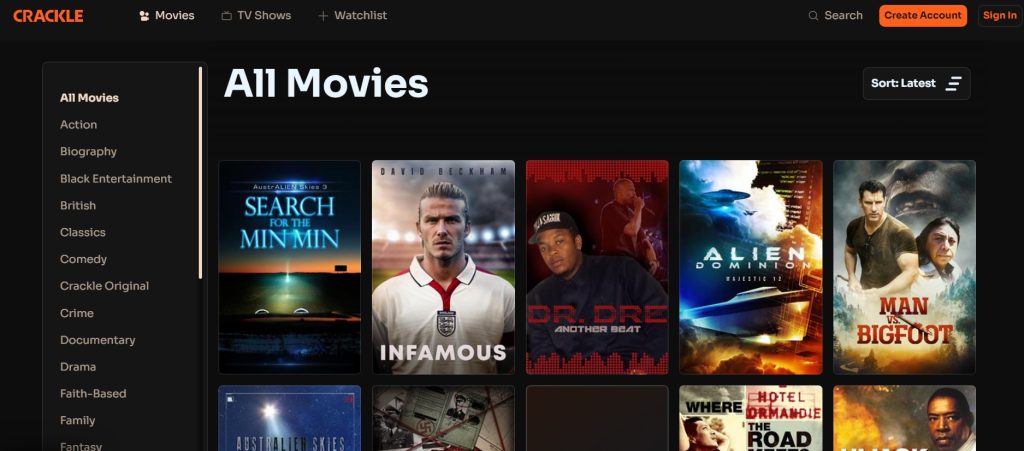 Pros
Crackle is a free streaming service that offers on-demand movies and TV series, as well as some original content.
It is available on computers, phones, tablets, streaming devices, and some smart TVs.
It has an impressive library of on-demand movies and recognizable TV series.
Cons
Crackle may not be the top free streaming option when it comes to children's programming.
Crackle is only available in the United States and its territories.
Crackle has a wide selection of classic movies and TV shows, it even has some exclusive titles. And true to this list, it is totally free to stream.
It is available on a variety of devices, including smart TVs, streaming devices, phones, tablets, and computers. Or the simplest way of all, you can start streaming direclty on your internet browser, quick and easy.
The vast library include movies starring stars like Brad Pitt, Jack Nicholson, Johnny Depp, Sandra Bullock and Arnold Schwarzenegger. You likely will be able to find recognizable titles.
The streaming service is ad support, much like the others on this list. With parental controls, captions, and the ability to save movies and shows to watch later, Crackle is the perfect streaming service for those on a budget.
Start Watching Free Here: Crackle
---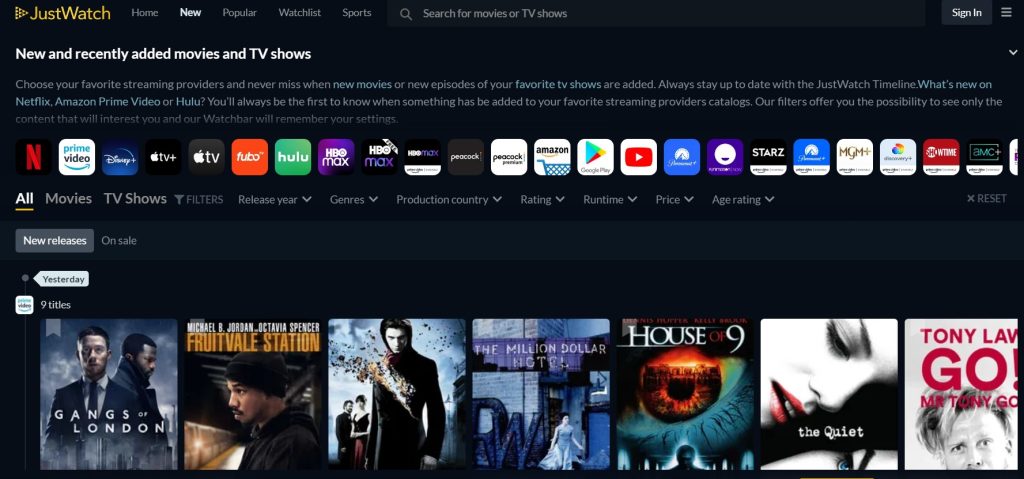 Pros
JustWatch is a free app that aggregates streaming services to help users find the best option for streaming content.
JustWatch Pro is an optional paid tier of service that offers additional features.
JustWatch is available on web browsers, phones, tablets, and streaming devices.
Cons
Does not provide episode descriptions
Does not offer search functionality for live TV streaming services.
JustWatch is not exactly a free streaming service. This service is essentially a search engine or aggregator for all the streaming sites. JustWatch makes it simple to find the perfect movie or TV show to watch. Just type in the title you're looking for and JustWatch will show you all the streaming services that offer it, as well as the cost of each option.
JustWatch offers additional features like ad-free streaming, enhanced watch list functionality, and the ability to hide seen and disliked titles. And with JustWatch Pro, you can access additional search filters, such as IMDb vote count or production company.
JustWatch is available on web browsers, phones, tablets, and streaming devices like Amazon Fire TV, Android TV, Apple TV, Roku, LG televisions, Samsung televisions, and Xbox gaming consoles.
With JustWatch, you can easily sync your watchlist, preferences, and other tools across all your devices, so you can always have access to the latest streaming information.
Start Watching Here: Just Watch
---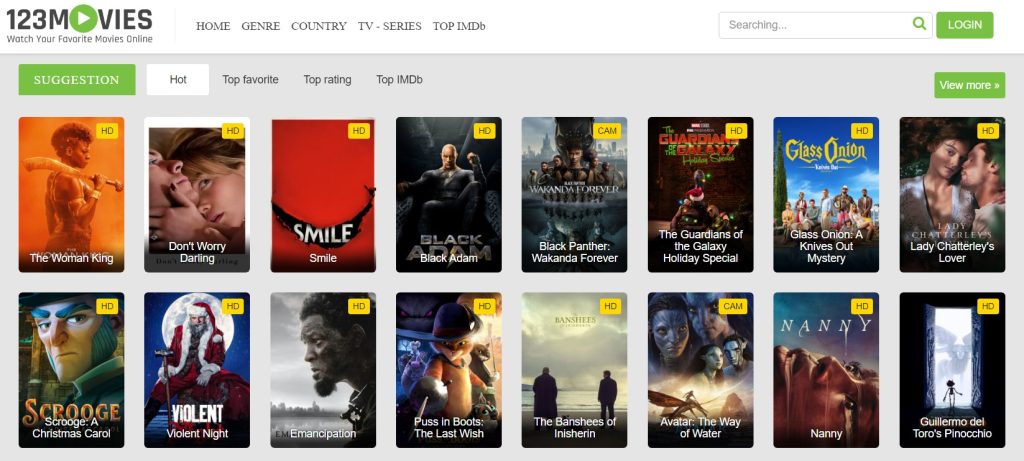 Pros
Simple interface, easy to browse the latest movies and shows
Just about any new releases and classics can be found here, all with a huge caveat (see below)
Cons
Using 123Movies could be illegal in some countries, but some allow it for personal use.
It is recommended to use a VPN and antivirus software when streaming from 123Movies.
123Movies has changed its name and domain multiple times to avoid being shut down.
There are legal alternatives to 123Movies, such as paid services like Netflix, Disney Plus, and Amazon Prime
Users may not get sued for using 123Movies, but they risk getting infected with malware.
It is hard to talk about free streaming sites without at least mentioning the torrent based streaming sites like 123Movies. There are tons of these sites out there, but 123Movies is likely the biggest.
They keep getting shut down, but all they do is change domains and keep operating. Simply because there is a huge demand for this site and a huge following by its fans.
If you do decide to use this service, we would warn you to always keep ad blocker on for your browser, and avoid clicking around too much on the site. A good way to avoid viruses is to close all new pop up windows immediately before it loads.
Without supporting this service too much, we can just mention that you can pretty much find any new releases for movies and TV shows, almost right after its release dates. No wonder it has such a cult following.
The best way to find this site is to simply search on Google. There is no point bookmarking the website since it keeps getting shut down and change domains.
Start Watching Free Here: 123Movies