Most of us could probably hardly imagine a life without GPS applications. There's no denying how convenient it is to just input the destination and know that the application will take care of the rest. Currently, two most popular navigation apps available on Android are Google Maps and Waze. Our goal in this article is to compare the two to see which is the Best Free GPS Apps for maps, navigation, and traffic on your Android phone.
Introduction
Google Maps and Waze share one hugely important similarity: they are both owned by Google. The Internet giant has bought Waze for $1.1 billion in 2013. Waze's CEO, Noam Bardin, commented, "We are excited about the prospect of working with the Google Maps team to enhance our search capabilities and to join them in their ongoing efforts to build the best map of the world."
Rather than simply swallowing Waze and discontinuing the application, Google has kept it alive and continue to support it with new features and bug fixes. That's largely because Waze and Google Maps take two considerably different approaches to navigation, even though they occasionally share data.
Best Free GPS Apps for Maps, Navigation and Traffic on Your Android Phone Comparison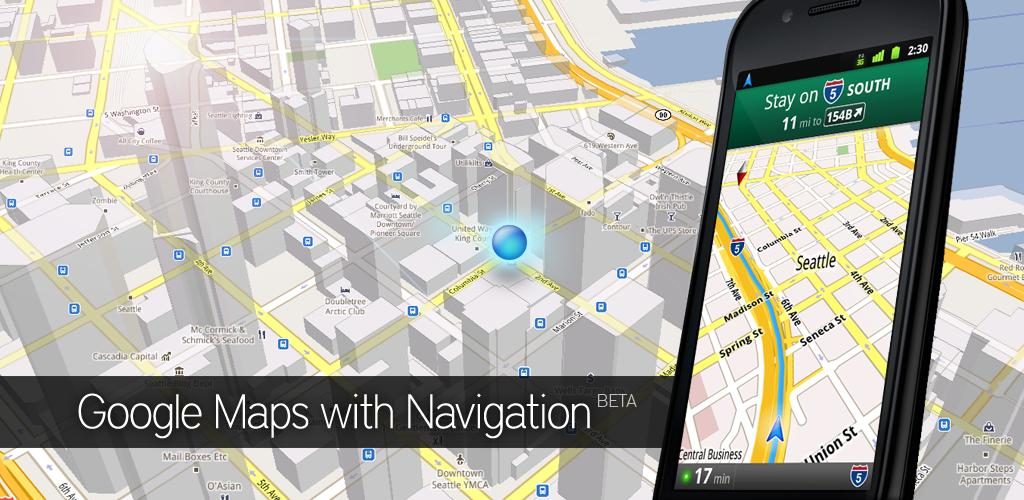 Google Maps is often compared to the traditional paper map. While it has a plethora of useful features and transportation options, it keeps them out of the way. Marc Prioleau, the managing director of Prioleau Advisors, explains how "a combination of the very high volume of data, both from Google and Waze, combined with very intelligent applications that answer the question that drivers are asking" makes Google Maps "the most sophisticated application." It's also the most convenient navigation app on Android, being pre-installed in the vast majority of smartphones.
Google Maps dates back to 2004, when it began its life as a C++ desktop program designed by Lars and Jens Eilstrup Rasmussen at Where 2 Technologies. It's most famous feature, Google Street View, was released 3 years later, providing users with an unprecedented 360° panoramic street-level views of various locations around the world. In the next section, we will be taking a closer look at the current version of Google Maps.
Download it now: here
Google Maps Interface and Usage
Google Maps deserves a lot of praise of its intuitive user interface that resembles the traditional paper map. It removes nearly all clutter and focuses your attention on one thing and one thing only: your destination. To begin your journey, you can search for a specific address, a point of interest, or a business name.
From there, you will be presented with information aggregated from a variety of sources. It includes reviews, user photos, business hours, description, a link to the appropriate website, and others. You can also use the Street View feature to look at the place from the street level and verify that it's, indeed, the correct address.
When you are ready to hit the road, you get to choose between different transportation options, including walking, public transit, biking, and, of course, driving. Depending on which option you select, you will be able to fine-tune certain settings, such as whether you would like use only toll-free roads.
Google Maps Navigation
The navigation itself happens with the camera tilted to give you a better view of the road ahead. On the top of the screen is an overlay with the following turn and lane designation, and bellow are statistics about the estimated time of arrival and others.
Google Maps tends to be conservative when it comes to its choice of routes. You will find yourself spending most of your time on major roads and only occasionally taking the side-route when the situation calls for it. Your route is not automatically updated. Instead, there is a pop-up, which needs to be manually confirmed or declined.
This, together with its excellent search functionally, makes Google Maps fantastic for neighborhood driving. Not only is it easy to locate the place that you are trying to find, but you can also seamlessly swap between different transportation options.
Google Maps Extra Features
The most significant feature that cannot be found in Waze are the navigation options for biking, walking, and public transportation. All of them are fully voiced and work just as reliably as the driving option.
The built-in search functionality in Google Maps leverages the full power of Google's search engine and POI database to deliver accurate results even with limited or misspelled search input. In case you are still not certain whether you've found the right place, you can switch to the Street View and manually verify.
Last but not least, Google Maps keep a track of your locational information and use it to improve the quality of navigation and give you personalized updates. Some users will inevitably dislike the potential threat to privacy, but most won't mind.
Google Maps Offline Support
The latest version of Google Maps allows you to save an area from Google Maps to your phone or tablet and use it when you're offline. This is useful if you're going somewhere where the Internet is slow, mobile data is expensive, or you simply can't get online.
To download an area to use offline, follow the following steps:
On your phone or tablet, open the Google Maps app.
Make sure you're connected to the Internet and signed into Google Maps.
Search for a place, like San Francisco.
At the bottom, tap the bar that has the name of the place you searched. If you search for a place like a restaurant, tap More three vertical dots.
Select Download.
It's important to note that the offline support is available only for driving. You can read more on the topic on Google's official support page.
Google Maps Pros
– Intuitive user interface
– Support for different transportation options
– Accurate navigation that sticks to main roads
– Extensive POI database
– Offline support
Google Maps Cons
– Possible privacy concerns
– Limited real-time re-routing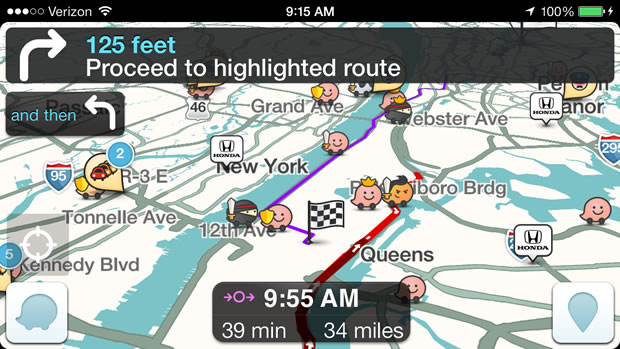 Waze is the world's largest community-based traffic and navigation app that allows drivers to share information about accidents, police officers, or road closures. Waze started as a community project called FreeMap Israel, with the goal to create a free digital database of the map of Israel. It was renamed to Waze in 2008 and, as already mentioned, acquired by Google for $1.1 billion in 2013.
Download it now: here
Waze Interface and Usage
Unlike the simplistic interface of Google Maps, Waze uses a much more colorful navigation interface that strongly resembles some early car GPS units that preceded app-based smartphone navigation of today.
Another difference is the focus on driving. Where Google Maps has no problem with different methods of transportation, Waze is meant solely for people in cars. You start by opening the search menu and inputting the desired address or business name.
After you adjust the route to fit your preferences, you will be greeted with the main navigation screen. A large banner at the top shows you your next turn, and a smaller one at the bottom displays the remaining distance, the time of arrival, and the estimated time of travel.
It's only when you actually start driving when you can appreciate Waze for what it is. As you continue on your journey, Waze will alert you about police patrols, car accidents, road closures, and other surprises that you can run into on the road.
Waze  Navigation
The main premise behind Waze is to use up-to-date information gathered from all users of the application to shave off time from your drive and help you reach your destination as fast as possible. On one hand, the application does a good job of actually getting you where you want to go fast. However, on the other hand, the navigation will often take you on weird routes that are seldom used by local residents.
All this crisscrossing across a town or city can be rather tiring and can sometimes even take longer than if you just used the main road like everyone else. Still, Waze excels at helping you avoid traffic congestions, accidents, and police patrols.
Waze Extra Features
The social network integration with live traffic reporting from other users and the ability to send regularly updating ETA information to friends and family members is something that you wouldn't be able to find in most other GPS navigation apps, including Google Maps.
Waze also automatically learns your frequent destinations, commuting hours, and preferred routes, to provide you with semi-automatic navigation experience. Some features such as the traffic jam indicator and the ability to search for the cheapest gas on a route are quite handy, but others, including a selection of celebrity voices, are definitely not.
Waze Offline Support
Currently, Waze doesn't offer a way how to save a map for an offline use. You can plan the route while on Wi-Fi to force the app to save the navigational data into cache, but you risk losing them by accident when you close the application or restart your phone.
Waze Pros
– Real-time traffic updates
– Police patrol alerts
– Seamless on-the-fly rerouting
– Social media integration
Waze Cons
– Focuses solely on driving
– Very limited offline support
– Poor route mapping with too many turns
Performance Comparison: Google Maps vs Waze
A recent report powered by True Booster, which is an advanced booster, cleaner, and all around utility to improve your phone and help you find better apps, has shed some light on the performance differences between Google Maps and Waze.
With data consumption of 115 kb/minute, Waze data usage exceeded Google Maps by 250%. Waze also consumed about 10.5% more battery power (824 mW vs 745 mW) when in active use and 285% when in the background (27 mW vs 77 mW).
Google Maps average at 18% of CPU utilization, compared to 17% in case of Waze. Memory consumption was negligible for both applications (17 MB for Google Maps and 24 MB for Waze).
Overall, we can conclude that Google Maps is better optimized and more data efficient than Waze. But we would like to point out that the difference probably won't be noticed by the vast majority of users.
Google Maps vs Waze Comparison Verdict
Google Maps ended up being the overall winner in this comparison. The application is much more versatile than Waze, comes with a solid offline support, and its minimalistic user interface takes virtually no time getting used to.
But Waze still has its place alongside Google Maps. The application becomes incredibly useful whenever you find yourself driving through the rush hour or stuck in a traffic jam. It will automatically find the fastest way around and get you to your destination in a record time.