Unlimited and without contracts – that's how we like our mobile plans. All four of the major U.S. carriers know about our preferences, offering unlimited installment plans that let customers pay for their devices over a longer period of time and allow them to switch carriers at any time. But how good are these plans when it comes to everyday use? Do they deliver on their promises of unlimited data, or do they come with some off-putting fine print that makes them less than attractive? Let's find out.
T-Mobile
A month ago, T-Mobile announced their unlimited data plan, T-Mobile One, which was supposed to include unlimited talk, text, and high-speed 4G LTE data, alongside a slew of other benefits, such as Simple Global, Mobile Without Borders, and T-Mobile Tuesdays.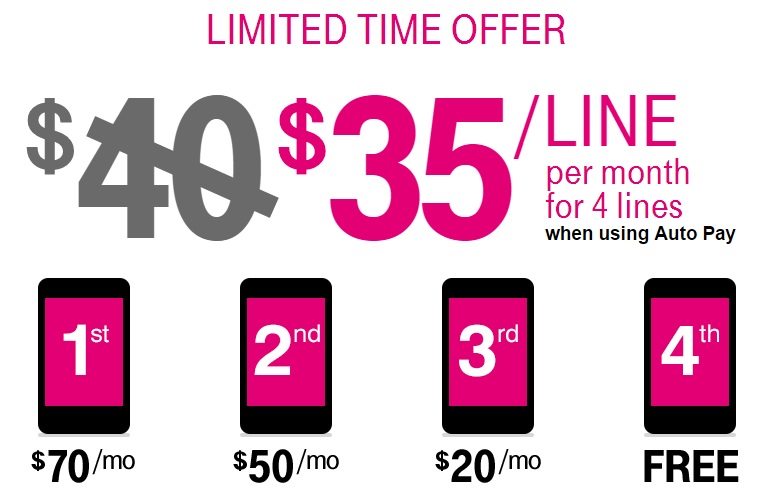 With this plan, you don't have to sign a contract, and you can pay for a new smartphone in installments or bring your own device. T-Mobile will also pay off your Early Termination Fees and the remaining balance of your device, if you switch from another carrier.
The plan starts at $70 for a single person and goes up to $180 for a family of 5. Unfortunately, it turned out that T-Mobile's definition of what "unlimited" means differs from what most people imagine when they hear the word.
For starters, you cannot stream video in better quality than 480p, unless you pay $25 extra a month per line. Like this wasn't enough, tethering is limited to 2G speeds, making it only slightly more useful than if you were to load web pages using carrying pigeons. Another 5 extra dollars await those who refuse to sign up for Auto Pay on their bills, and don't even think about surpassing 26GB of 4G LTE data – T-Mobile will promptly throttle your speeds down to 2G.
T-Mobile One Plus
The backlash was brutal, and it took John Legere, the CEO of T-Mobile, just two weeks to announce a brand new plan. "Oh you thought we were done?! Then you don't know us very well… we heard you and we're making some changes… AND maybe more 😉 Ready?!," posted Legere on his Twitter account.
The new plan is called T-Mobile One Plus, and it's finally a plan worth our recommendation. With this plan, you get to enjoy unlimited 4G LTE mobile hotspot, unlimited HD Day Passes, and unlimited international data at 256kbps. The only restriction that remains is the limit to 26GB of data in one month. Luckily, with T-Mobile's Music Freedom service, which lets you stream music using popular streaming apps such as Spotify without depleting your data allowance, you are unlikely to ever need more data.
These perks come with a small price increase that puts the premium plan at $80 for one line. Additional lines cost $25 per month per line. Overall, it's nice to see T-Mobile shifting away from annoying data restrictions that probably do nothing but anger their customers who missed the fine print.
Sprint
As a response to the T-Mobile One and One Plus plans, Sprint has introduced two unlimited plans of their own. Their cheaper plan, Sprint Unlimited Freedom, starts at $60 for a single line. What makes this plan considerably less attractive is the inability to stream video at a higher quality than 480p – you can't even pay for an upgrade.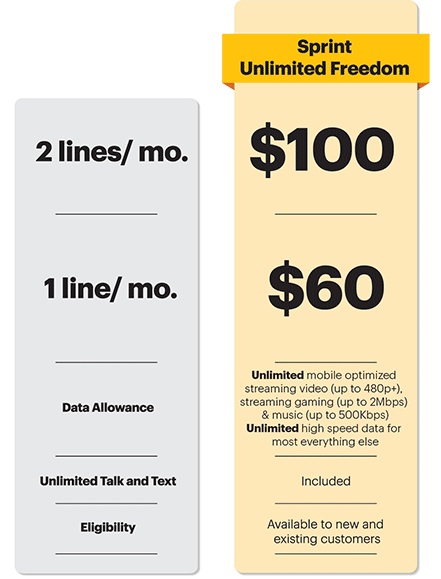 Sprint Unlimited Freedom Premium
That's where the Sprint Unlimited Freedom Premium plan comes in. For a $20 premium over the basic unlimited plan, YouTube addicts can get their daily dose of high-definition shows. The plan comes with HD video, HD music, and online gaming at up to 8 megabits per second.
To get more people on board, Sprint is running a promotional deal aimed at people who already have the Unlimited Freedom plan. If they sign up for the Premium upgrade by October 31, they get it for free.
Still, there is one huge limitation carried over from the cheaper plan: the complete absence of tethering. If you are someone who often finds himself in need of internet connection in places where Wi-Fi isn't widely available, Sprint may not be the right carrier for you.
On the other hand, if you rarely use tethering, the Sprint Unlimited Freedom Premium plan is a great way how to free yourself from the shackles of data restrictions.
Conclusion
Both Sprint and T-Mobile have really stepped up their game in 2016. Their premium unlimited plans are a very compelling option for anyone who is willing to pay some extra money to access perks that would otherwise be available only as paid extras.