If you're in the market for a new Chromebook, but don't want to spend a whole lot of money, both the ASUS Flip C302A and Acer R13 are options to consider. Both sit at around the same price point and have a similar processing package as far as speed goes. That said, with minimal differences between the two, it can be difficult to decide which one to go for. On the one hand, you have the ASUS Flip, which is a slightly more quality product as far as materials used but has essentially the same hardware, and maybe a slightly upgraded screen. On the other hand, you have the Acer R13, which has a cheap feeling chassis, a similar processing package, and an anti-glare display.
---
At A Glance:

Asus Flip C302A Vs Acer R13 Best Chromebook  2020
---
* If you buy through links on our site, we may earn an affiliate commission. For more details, please visit our Privacy policy page.
So, which one do you buy? If you stick with us and follow along below, we'll compare the two, and help you choose the best quality product out of our comparisons.
Asus Flip C302A Vs Acer R13 Best Chromebook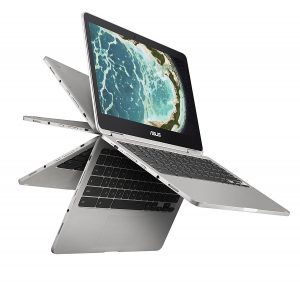 First up, we have the ASUS Flip C302A. The highlight of this laptop is its display, thus the name "Flip" in the product. The screen sits on a 360-degree hinge, allowing you to change between tablet mode and laptop mode effortlessly. It has a smaller 12.5-inch display that has Full HD resolution and doubles as a touchscreen (obviously). This makes it perfect for watching your favorite movies or catching up on the latest episodes of Game of Thrones. Throw it in tablet mode, and you're essentially getting a full-screen theater-like experience. It's undoubtedly no 4K laptop, but the ASUS Flip C302A will give you the most detail possible.
The hardware package is OK. You have two options — an Intel Celeron M3 or an Intel Celeron M5, with the latter only being slightly more efficient. You get only 4GB of RAM, and it's outfitted with 64GB of internal storage. Besides, you get a bright backlit keyboard for working or playing during the night.
The chassis design is relatively premium. You get a MacBook Pro-Esque looking laptop, with the only real differentiating factor being the ASUS logo on the screen and the different buttons on the sides of the laptop. Overall, the ASUS Flip C302A is an excellent Chromebook laptop, especially as far as portability goes — it's super lightweight and will last about 10 hours off of a single charge under normal use conditions (i.e., not a straight 10 hours of playing video).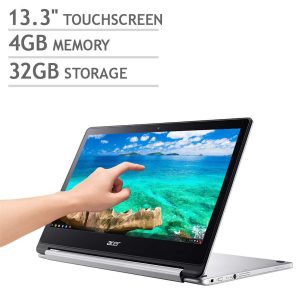 Next, we have the Acer R13. As far as the chassis goes, it doesn't look horrible; however, it does feel cheaply made, which is unfortunate for the price point. Similar to the ASUS Flip, it tries to take a MacBook-Esque design approach, but ultimately, it just feels cheesy.
The hardware package is OK. You get a MediaTek MT8173 processor, 4GB of RAM, and a meager 32GB of internal storage. The ASUS Flip is a little better here, giving you a slightly better processor with the Intel Celeron M3 or M5 and double the storage at 64GB.
Still, you get a great screen. It's slightly bigger at 13.3-inches — it's a Full HD display that has a resolution of 1,920 x 1,080. It's a glass screen that will play all of your favorite movies and TV shows beautifully (powering the graphics underneath is an integrated PowerVR GPU).
The Acer R13 also comes with a slightly better battery than the ASUS Flip. A single charge will keep the lights on for up to 12 hours under regular use. It's super lightweight as well and makes it easy for portability — perfect for travelers. You should get a pretty fast Internet connection with it, as it runs off of dual-band Wireless-AC (2×2 MIMO).
Is it worth the amount? We wouldn't say so, as the ASUS Flip is available for around the same price, but with slightly better hardware and display package. Sure, the battery life is rated for two hours less in the ASUS Flip, but you do get an overall better experience than the Acer R13.
Asus Flip C302A Vs Acer R13 Best Chromebook Verdict
So, which Chromebook do you get? Comparing the two, it's obvious which one offers slightly more value for money, and that's the ASUS Flip. It's super portable, being lightweight and having a long-lasting 10-hour battery. It makes it perfect for traveling, use on flights, and being able to compact into tablet mode means it won't take much room in the suitcase. The Acer R13 is an option if you need that two hours of extra battery life off of a single charge, but beyond that, you'll get more bang for your buck with the ASUS Flip.

* If you buy through links on our site, we may earn an affiliate commission. For more details, please visit our Privacy policy page.