WhatsApp, a widely popular messaging platform owned by Meta, has rolled out an automatic call-silencing feature called "Silence Unknown Callers" aimed at reducing the number of spam and scam calls received by its users.
The feature was introduced globally on Tuesday in response to a growing number of complaints regarding unwanted calls from unknown numbers, especially affecting Indian users.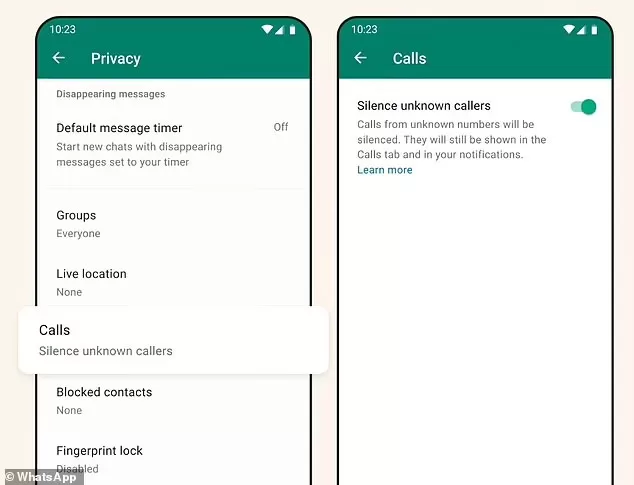 Tackling Worldwide Spam Calls
Recent reports have indicated that more than 500 million WhatsApp users have experienced a surge in spam calls originating from international numbers, particularly from countries with area codes +251 (Ethiopia), +60 (Malaysia), +62 (Indonesia), +254 (Kenya), and +84 (Vietnam). According to a 2021 Truecaller report, WhatsApp users in India were subjected to around 17 spam calls per month on average.
Consequently, the Indian government has expressed concerns over the rising number of spam calls. Last month, Rajeev Chandrasekhar, India's Minister of State for IT, announced plans to send a notice to Meta regarding the situation.
Improved User Control Over Incoming Calls
WhatsApp's new Silence Unknown Callers feature is designed to give users more control over their incoming calls while maintaining easy access to potentially misidentified conversations.
When activated, any incoming call from an unknown number will not ring but will be redirected to the user's call list where the missed call can still be seen.
The company has deployed machine learning technology in recent months, claiming it has reduced spam calls by up to 50%. It is anticipated that the new call-silencing feature will further enhance these filtration efforts.
Enhanced Privacy and Security Measures
In addition to Silence Unknown Callers, WhatsApp also launched a "Privacy Checkup" tool designed to guide users through important privacy settings they can activate on their accounts.
This feature assists users in securing their messages, calls, and personal information by reviewing options for protection and setting up additional security features like two-step verification or biometric authentication.
By introducing these latest measures, Meta aims to mitigate the risks posed by bad actors exploiting the platform for scams and fraud. The Federal Trade Commission (FTC) reported in 2022 that Americans lost approximately $8.8 billion due to such activities, reflecting a 30% increase over the previous year. Top scams included online shopping fraud, deceptive business opportunities, false investment propositions, and phony prize offers.
Activating Silence Unknown Callers
To enable the new Silence Unknown Callers feature on WhatsApp, users can navigate to the app's settings menu, select "Privacy," choose "Calls," and toggle the corresponding option. Once activated, calls from unknown numbers will be automatically muted and labeled as "silenced unknown caller" in the recent calls list for easy identification.
As spam and scam calls continue to pose significant challenges globally, WhatsApp's efforts to improve user privacy and reduce unwanted intrusions are likely to be well-received by its massive user base.