If you travel often, I don't have to tell you just how spotty your cellular connection can be in certain areas. It doesn't matter if you're in the city or out in the middle of nowhere, sometimes there seem to be more dead zones than areas where you can actually use your phone without a single signal issue.
---
At A Glance:

weBoost Vs SureCall Best Signal Booster For Cars
---
| Product | Brand | Name | Price |
| --- | --- | --- | --- |
| | weBoost | weBoost Drive 4G-X RV Cell Phone Signal Booster for Your RV or Motorhome | Check Price on Amazon |
| | SureCall | SureCall Fusion2Go 2.0 In-Vehicle Cell Phone Signal Booster Kit for Car | Check Price on Amazon |
* If you buy through links on our site, we may earn an affiliate commission. For more details, please visit our Privacy policy page.
That's why today, we're going to share with you two of our favorites when it comes to signal boosters for your vehicle. That's right: many people are aware there are signal boosters for either inside your home or on the exterior of your house to strengthen your cell signal at home, but did you know there are signal boosters especially made for your car? These will help boost and strengthen your cell connection, no matter where you happen to be, for work or for leisure.
weBoost and Surecall are two of our favorite products when it comes to signal boosters, and their products created especially for vehicles, the weBoost Drive and Fusion2Go, are no different. The only question is, which one is right for you? Today, we're comparing the two for you to find that out.
weBoost Vs SureCall Best Signal Booster For Cars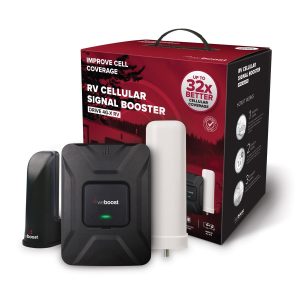 This car signal booster from weBoost, the weBoost Drive, is a workhorse for your cellular signal. Whether you are parked or are on an intense roadtrip across the country in your RV, this signal booster will work in your favor no matter what. It's compatible with any carrier in the U.S., or (our Canadian friends will love this) in Canada. Needless to say, the weBoost Drive will take you far and will be there to support you, wherever your bucket list may lead.
Not only can it strengthen your signal up to thirty-two times your regular signal, but it will do this for several users. So it's not only going to strengthen your signal, but it will also help everyone else in your vehicle all at the same time. It will extend the battery life of everyone's phones, and you'll also get a free 7 days of service support, as well as a two year warranty. Not happy with your purchase? You can get a full refund within 30 days of purchasing.
Buy it now: Amazon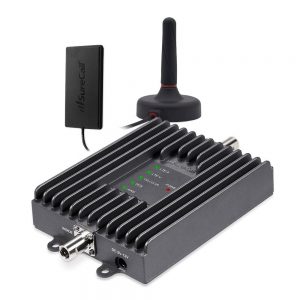 Another one of our favorites is SureCall's Fusion2Go 2.0, which is also a really, really great option when it comes to vehicle cellular boosters. It should work anywhere with any carrier in North America, so that includes the U.S., Canada, Mexico, and so forth. As you can tell, this product has a really far reach, and won't disappoint when it comes to working in your favor all over the map.
When you crack into your package from SureCall, you're going to find a helpful installation packet that includes everything you need, including a diagram with instructions on how you'll need to go about using the product. One of the neat things is that if you run into a problem with the booster at any point during the first 3 years of purchasing, you also have a manufacturer's warranty to use.
Buy it now: Amazon
weBoost Vs SureCall Best Signal Booster For Cars Comparison
First off, I think it's important to note that both of these signal boosters are similar in design and set up. Both will come with an antenna for the top of your vehicle, to get a better reach to the nearest cell tower. Both are easy to install, will boost your cellular signal, and help do what you need to on the road.
What's different about weBoost is that it appears to be that this device will only work in the United States and Canada, whereas SureCall covers all of North America with their wording. So if you're looking to take your signal booster even further, SureCall may be more of a guarantee that you can get a strengthened signal beyond just the U.S. and Canada.
It's also important to note that the refunds and/or warranties are different for both products. If there's a manufacturer's problem with your SureCall signal booster, you have a 3 year warranty you can pull from, whereas with the weBoost device, there are 7 days worth of service support, a 1 year warranty, and a 30 day money back guarantee. Both are a great deal, but if you feel you may need more help installing, or you're a little unsure about your purchase, weBoost gives a little more certainty to the fact that they're happy to help.
Now let's talk pricing. The SureCall Fusion2Go 2.0 is $300 if you purchase from Amazon. This is not a bad price at all, whereas weBoost's Drive 4G-X RV is a little more at $500. However, as we previously mentioned, there are some differences there to be aware of, so the higher price, or even the brand name, may be worth it to you to spend a little more.
weBoost Vs SureCall Best Signal Booster For Cars Verdict
Whether you go with weBoost or SureCall this time around, we're sure you're going to have a better time travelling across the country than ever before. If you do decide to pick one of these, be sure to tell us all about the product and your experience in the comments section.
| Product | Brand | Name | Price |
| --- | --- | --- | --- |
| | weBoost | weBoost Drive 4G-X RV Cell Phone Signal Booster for Your RV or Motorhome | Check Price on Amazon |
| | SureCall | SureCall Fusion2Go 2.0 In-Vehicle Cell Phone Signal Booster Kit for Car | Check Price on Amazon |
* If you buy through links on our site, we may earn an affiliate commission. For more details, please visit our Privacy policy page.