Surface Pro 9 users are experiencing battery drain issues on their device such as battery suddenly drains faster than usual. In this post, we will cover the troubleshooting steps that you can do to fix Surface pro 9 battery drain issue and to figure out why the issue happens in the first place.
* If you buy through links on our site, we may earn an affiliate commission. For more details, please visit our Privacy policy page.
Surface Pro 9 is powered by a lithium-ion battery with a battery life of up to 15.5hours. Though surface battery life varies and usually depends on the the usage of the device.
Solution 1: Restart Surface Pro 9
An initial step that you should do. A very simple step that requires restarting the device or simply shut it down. There's a possibility that other apps and processes are running the background that is consuming your memory or CPU. Often, pressing the power button only puts the device to hibernate or to sleep and not shutting it down.
Here's how to do a full shutdown and restart of Microsoft Surface Pro 9:
From the home screen, tap the Power icon.
Choose Shutdown option
Leave it shut down for at least 30 seconds to a minute.
Press power button again to turn it on.
For other surface tablet models such as Surface RT or Surface, the Power icon is usually located at Settings section by swiping in from the right side of the device screen.
Solution 2: Check for Updates
Another simple solution but might actually work. Microsoft recommends updating all available updates on Surface pro 9. There are times when the option Update automatically was disabled, if this is the case you may need to manually update your device from time to time. To check for update, you must be connected to a stable and reliable internet connection
To check for updates, follow the steps below:
From the right side of the screen, swipe in. Charms menu will appear.
Tap on Settings
Tap Change PC settings located at the bottom
Tap Update and recovery
Select check for updates tab. It will now search for available updates. If an update is available, choose Install now option.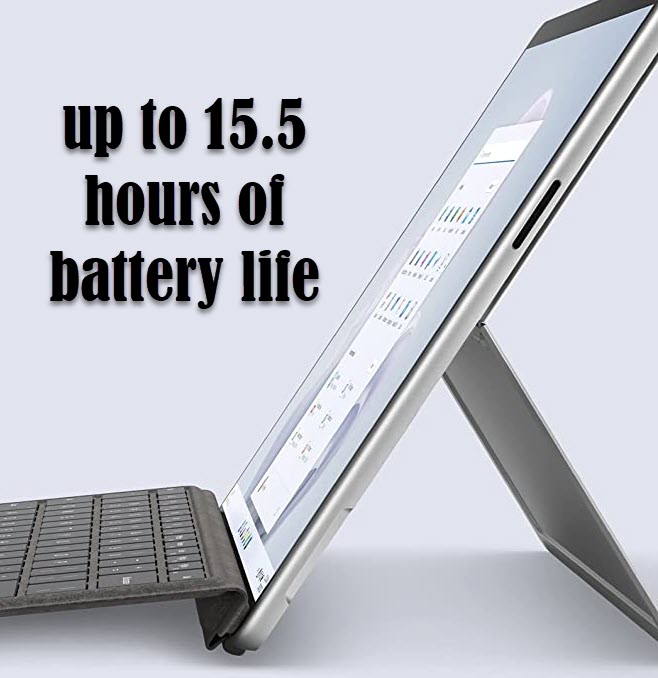 Solution 3: Do a Battery report
If after updating and battery drain issue still occurs on your Surface device, next step is to do a battery report. The report will show you battery information such as history of your graphic usage within a 72-hour period, battery power, capacity history and an estimate of your battery life (how long will your battery last)
With the battery report, you will know the status of your battery whether or not it is still in good working condition.
Here's how to run a battery report:
Type CMD at the search bar and press Enter
Tap Command prompt from the list
At command prompt window, type the command powercfg /batteryreport and then press Enter.
A report will be made and shows the located where the report was saved on the device.
Go to the location and then take a look at the battery report.
A simple guide to interpret battery report:
The full charge capacity should be as close as the result of the design capacity. If their number are too far or not even close, the battery device is having issues and could be the culprit for battery drain problem.
On Battery Capacity History section, if there is a sudden drop on the figures report this could mean you are having a failing battery.
Under Battery Life Estimates section, if there is a sudden drop on the figures report this could mean you are having a failing battery.
Solution 4: Energy report
If there is battery report, you should also do an Energy report. This report determines the device power issues such as errors, information and warnings.
Here's how to run an energy report via elevated command prompt:
Tap and hold on the device screen.
Select New from from the drop down menu
Select Shortcut from the drop down menu.
Type cmd on the section Type the Location of the item and then click on Next.
Click or tap on the Finish tab. New shortcut appears and it is named as cmd.
Tap and hold on the shortcut and then tap Run as Administrator from the drop down menu.
At the elevated command prompt window, type the command powercfg/energy and then press Enter.
An energy report will be made and can be accessed from the system32 folder on your device.
Solution 5: Uninstall Application
There are some installed applications that consumes too much space and CPU as well as draining battery more faster than other apps. But how can you tell which app is doing that, an easy way to do that is to open Task Manager. A built-in tool on your Surface device.
The task manager allows users to close and exit applications and processes to improve the performance of a device.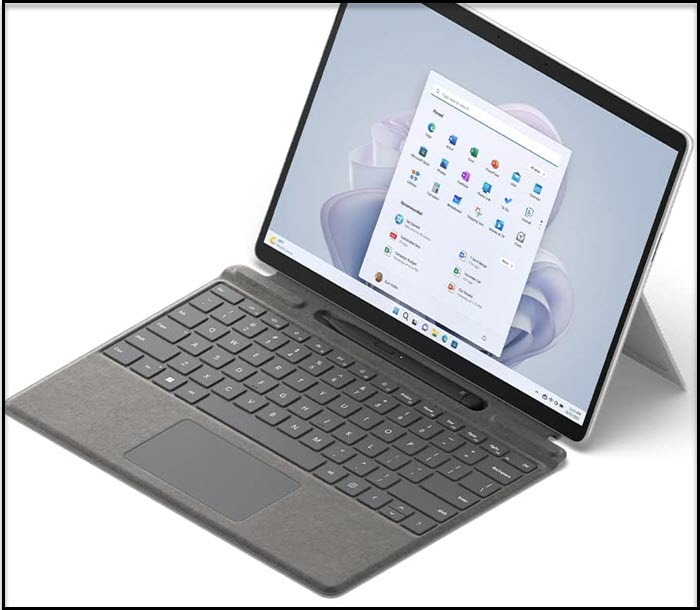 Solution 6: Check Account profile
A corrupt account profile can sometimes cause (although unlikely, but possible) battery drain issues. Fixing this involves resetting your Account profile by simply remove an account or deleting your account. Before doing that, make sure to have a backup of data and files.
After account profile is removed, add your account again. Reinstalling apps should also be done. Though you can install apps one at a time while at the same time observing each application and how the battery performs with a particular application before installing another one. This ensure that you are checking an application's impact to the battery life of the device. That way you'll know which app not to install and download to avoid problems.
Solution 7: Reset Surface Pro 9
If all else fails, you may need to reset your Surface Pro 9 device. Resetting simply means restoring the device to its default settings. Therefore, before you reset your device make sure to back up data and files. This means you will have to reinstall everything on the device.
Here's how to reset:
Press Start button
Tap on Settings
Tap Update and Security
Tap Recovery
Under Reset this PC option under Recovery section, tap Get Started option.
Choose from the options: Keep my files or Remove everything.
Select either Cloud Download or Local Reinstall option.
Another reset alternative is via the sign-in screen of your Surface pro 9 device:
Press Windows logo +L on your device keyboard.
Press and hold Shift key while selecting the Power button.
Tap Restart located at the lower right.
Once device restarts, select Choose an option.
Select Troubleshoot
Select Reset this PC option.
* If you buy through links on our site, we may earn an affiliate commission. For more details, please visit our Privacy policy page.