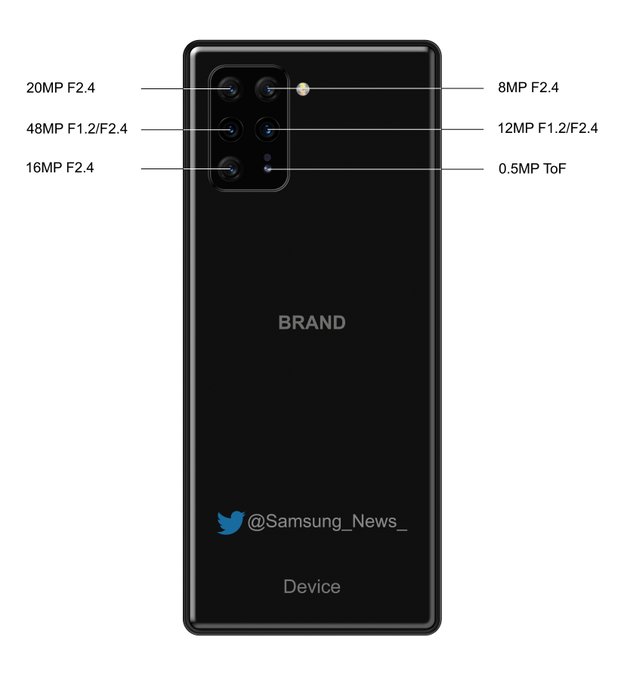 Sony's handsets certainly haven't been nearly as main stream as Apple, Samsung, or even LG; however, they might be trying to gain new ground with the Xperia 2.
A new render of the phone posted online shows the device as featuring six lenses in the camera module. We haven't seen another mainstream phone do this yet before, and would seriously upgrade camera quality.
The render, coming by way of Twitter users @Samsung_News_, is merely an 'imagined' render, not based off of any leaked cases or anything. He did post some information on megapixel specs, but we're not sure if these are imagined or are specs the renowned leakster got his hands on.
That said, we could be looking at a sensor with a 20-megapixel lens and f/2.4 aperture, another with a 48-megapixel sensors and variable f/1.2 or 2.4 aperture, a 16-megapixel unit with f/2.4, an 8-megapixel lens with f/2.4, and a 12-megapixel choice with f/1.2 or 2.4. There could also be a 0.5-megapixel Time of Flight (ToF) sensor.
Again, this is all imaginative, and we wonder if the amount of lenses and megapixels would actually do more for a quality photo than the three or four lenses we're already seeing in phones.
This is obviously no doubt the last we've heard of the Xperia 2, with more leaks and renders coming down the line as we get closer to a launch.