If you're looking for a great outdoor camera, there's plenty of choices. One of the more popular options out there lately is the Samsung Gear 360 and LG 360 Cam. They're fairly new to the game, but they're high quality cameras that have made a name for themselves in just a short amount of time.
---
At A Glance:

Samsung Gear 360 4K VR Camera Vs LG 360 Cam
---
* If you buy through links on our site, we may earn an affiliate commission. For more details, please visit our Privacy policy page.
One of the neat things about the Samsung Gear 360 and LG 360 Cam is that they're 360-degree cameras, meaning you can record video for virtual reality applications if you so choose. Not only that, but both of these units record video (and capture photos) in 4K resolution, so it'll always look great on any media platform, too. Today, we're going to show you which one to buy, the Gear 360 or 360 Cam — in function, they're primarily the same, but in quality, things start to differ quite a bit.
Follow along below, and we'll take you through the pros, cons and differences between these two different brands and their 360-degree cameras.
Samsung Gear 360 4K VR Camera Vs LG 360 Cam Comparison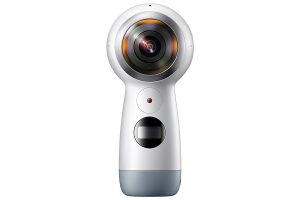 Samsung originally released the Gear 360 in back in 2016. The idea behind it was that it would be an enclosed unit packed with two cameras, achieving that 360-degree capturing capability. With it, you're able to capture video in 360-degree as well as camera stills. This records in 4K resolution, and can even be used in VR applications. Not just virtual reality applications, but on the Web as well — for example, you might be able to get a 360-degree video of Mount Rushmore that you can pan around in on Facebook.
The biggest downside to the Gear 360 is that you need a recently released Samsung device to use it (Samsung Galaxy S6 or later models). It's not a universal camera, unfortunately; however, it's ease of use is unprecedented when you do have a proper Samsung smartphone to go with it.
The Gear 360 is also very affordable. If you want a 2016 model, you can often find it a lot cheaper; but we do recommend going with the 2017 version, as it has a much more attractive design and refined camera.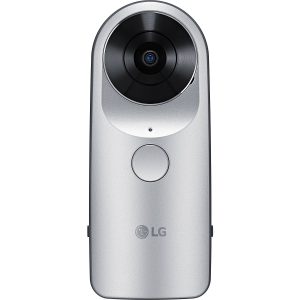 The LG 360 Cam is another option for those looking to up their photography or video capturing game in 360-degrees. It differs quite a bit from the Gear 360. In function, you're getting the same thing — the ability to capture stills and video in 360-degree using a two-camera setup inside this enclosed unit. These two cameras work together to obtain 360-degree footage.
Unfortunately, the LG 360 Cam is a lot different from the Samsung Gear 360 in quality. For example, it's only able to capture stills and video in 2K. The Samsung Gear 360 is able to do this in 4K resolution, which is a whole lot better for virtual reality applications. Similar to the Gear 360, the two 13-megapixel cameras inside have wide-angel lenses for wider field of view. It is able to record audio in 5.1 Channel Surround Sound, the same as the Gear 360 as well.
The resolution downgrade does mean a drop in price as well. You can pick up an LG 360 Cam for a cheaper price. That's a good and easy price to get into a 360-degree camera for, but if anything were to go wrong, LG isn't very good with its warranties, and has had a history of this on all their products.
Check the LG 360 Cam out for yourself below.
Samsung Gear 360 4K VR Camera Vs LG 360 Cam Comparison Verdict
So, which one should you buy? It's more of a Buyer Beware sort of thing. The Samsung Gear 360 might be restricted to Samsung devices only, but the sheer quality you get because of these limits is unmatched. Between the LG 360 Cam's much lower resolution and troublesome warranty issues, the extra $70 for a Samsung Gear 360 Cam is well worth the price.
Samsung backs all of their products if something were to go wrong that is no fault of your own. The downside of both of these cameras is that they're not too rugged and might be more difficult to keep safe outdoors. For that, we recommend taking a look at our article on the Samsung Gear 360 versus the GoPro Hero 5. In this scenario, the Samsung Gear 360 is the camera to buy no doubt — as long as you have a compatible Samsung phone.
If you need something more universal, the LG 360 Cam isn't a bad choice, but do keep in mind that you're not getting nearly as good video quality or a great warranty backing.
* If you buy through links on our site, we may earn an affiliate commission. For more details, please visit our Privacy policy page.