One of the newer technological advents in smartphones has been virtual reality tech, although it certain didn't start out as a polished feature. Years later, virtual reality for phones has been improved upon, quality increased and polished to the point where some really could use it on a daily basis. Not only that, but new headsets, like the Google Daydream and latest Samsung Gear VR, are making the experience a whole lot more comfortable, where someone really could sit for a couple hours playing in virtual reality.

---
At A Glance:

Google Daydream Vs. Samsung Gear VR
---
* If you buy through links on our site, we may earn an affiliate commission. For more details, please visit our Privacy policy page.
Today, we're going to show you which one is best — the Google Daydream or
Samsung's latest Gear
VR model.
Google Daydream Vs. Samsung Gear VR Comparison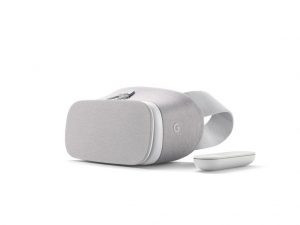 If you're looking for portability, the Google Daydream View is your go-to VR headset. It's super compact and can easily be thrown in a carry-on bag for on the go. The one downside is that it's primarily made out of a soft, cloth material, making it a little more difficult to clean. Still, it's small form factor makes it a "dream" for portability.
Next, you have to decide which offers better content. Daydream is fairly new to the market, so the content is a little more varied. Still, Google has been able to get some big name brands to develop content for the Daydream, such as Hulu, YouTube VR, Need for Speed, MLB and so much more.
The experience is really good, too. The cloth is comfortable when the headset is attached, and it doesn't feel too weighty. You could be playing for hours. And since your phone is the primary hardware source for all the VR technology, you don't have to worry about which headset is better performance wise, since that comes down to a phone to phone thing.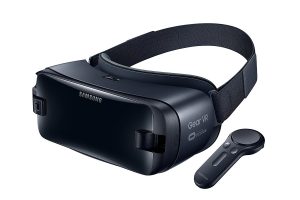 Portability isn't necessarily the Gear VR's strong suit. It's much larger than the Google Daydream, thanks to its hard plastic exterior. On the other hand, you know you aren't going to break it from a spill or drop — and it's easier to clean! You could still throw it in your bag for the day, but know that it's going to take up much more space and might not be nearly as comfortable for portability.
The Gear VR has some great content available for it. Samsung created this headset and platform in partnership with Oculus. That said, Oculus has been creating content for the Gear VR for years — they've been a step ahead of Google on this one. The Gear VR has a ton of exclusive content of its own as well. Some of the title do require a gamepad to function, such as for Minecraft Gear VR.
Comfort is a bit of an issue with the Gear VR. One of the problems with it having a much larger form factor is the whole comfort factor, especially with the phone inserted. Once it's on your face, it can feel difficult to hold up because of all the extra weight. You can really start to feel it in your neck after a period of time.
Again, performance really isn't something you have to worry about, although the downside to the Gear VR is that it only works with specific Samsung phones. Still, so many people have them it shouldn't be an issue. And with the Gear VR being made specifically for them, you're going to get the best performance/experience that way.
The Gear VR is definitely more expensive than the Google Daydream, but the Gear VR makes up for that in all the content it offers.
Google Daydream Vs. Samsung Gear VR Comparison Verdict
So, which one should you buy? If you have a Samsung phone, we definitely recommend the Gear VR to you. It's a little more expensive (and sometimes you can get it free or at discount because of your Samsung phone), but it's so much more worth it, simply because you get a ton more content that you just wouldn't find on the Google Daydream — when it comes to VR headsets, content is key.
For anyone else, we'd have to recommend the Google Daydream — there really isn't another headset out there that tops it content-wise. There's a lot of off-brand options, but they just don't have the content backing of a big company like Google.
No matter what headset you grab — whether that be the Google Daydream or Gear VR — you're going to get a great VR experience.

* If you buy through links on our site, we may earn an affiliate commission. For more details, please visit our Privacy policy page.