Does your PS5 won't launch in safe mode? There are several factors that can cause this problem such as a software glitch, corrupted cache, or even a hardware issue. To fix this issue, you will need to perform several troubleshooting steps.
PlayStation 5 (PS5) is a home console that was created by Sony. For the disc version of the device, it features an optical disc drive that supports Ultra HD Blu-ray discs; however, the digital edition does not have a disc drive, making it a less expensive option for those who prefer to download games digitally. A solid-state drive built for high-speed data streaming, an AMD GPU capable of displaying content in 4K resolution at up to 120 frames per second, hardware-accelerated ray tracing for realistic lighting and reflections, and the Tempest Engine for hardware-accelerated 3D audio effects make up the main hardware of the PlayStation 5.
PS5 Console Technical Specifications:
CPU: x86-64-AMD Ryzen™ "Zen 2" 8 Cores / 16 Threads, Variable frequency, up to 3.5 GHz
GPU: AMD Radeon™ RDNA 2-based graphics engine, Ray Tracing Acceleration, Variable frequency, up to 2.23 GHz (10.3 TFLOPS)
System Memory: GDDR6 16GB, 448GB/s Bandwidth
SSD: 825GB, 5.5GB/s Read Bandwidth (Raw)
PS5 Game Disc: Ultra HD Blu-ray™, up to 100GB/disc
Video Out: Support of 4K 120Hz TVs, 8K TVs, VRR (specified by HDMI ver.2.1)
Audio: "Tempest" 3D AudioTech
Fixing PlayStation 5 Won't Launch Safe Mode Options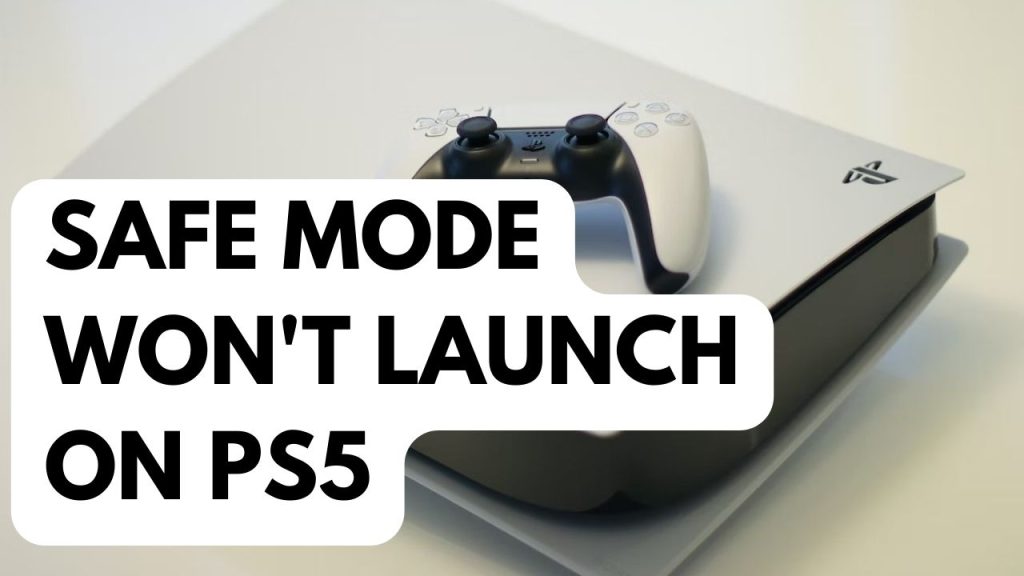 One of the issues that you might experience with your PlayStation 5 is when it does not go to safe mode. This can be a frustrating issue coming from an expensive console. What happens in this case is that the console cannot go to safe mode.
Here's what you need to do to fix safe mode won't launch issue on PS5.
Fix #1 Power Cycle PS5
The first thing you should do when your console is not able to go to safe mode is to do a power cycle. This is one of the official fix that sony recommends if you cannot access safe mode. You might be experiencing a temporary glitch with the console or temporary software issues, doing a restart will refresh the console.
Power cycling Console
Step 1: Press the PS button on your DualSense controller to open the Quick Menu.
Step 2: Use the D-pad to navigate to Power option.
Step 3: Select Restart Console.
Fix #2 Check Cables and Video Output
The HDMI cable may not be connected properly if the TV or monitor doesn't show PS5 in safe mode. You are more likely to get the issue if your HDMI cable and power cable connecting your TV to PS5 is defective. To see if it will fix Ps5 in safe mode issue, try using a new HDMI cable.
Fix #3 Update System Software
If you still cannot get to safe mode then the next thing to do is to update your PS5 because it is the best way to allow your console to run at its best and it usually has bug fixes and occasionally will have new features included. It is recommended to install the latest update to improve the performance of your PS5 console. Make sure you have a good internet connection.
Automatically Update PS5 Console
Step 1: On your PS5 go to Settings menu.
Step 2: Select System .
Step 3: Choose System Software .
Step 4: Select Console Information.
Step 5: Download update if there is a new update available.
Manually Update PS5 console
Step 1: Create a "PS5" folder on a FAT32-formatted USB drive using a PC or a Mac. Create a new folder inside called "UPDATE."
Step 2: Save the update file in the "UPDATE" folder after downloading it. Save file as: "PS5UPDATE.PUP"
Step 3: Connect your USB drive that contains the file to your console.
Step 4: Press and hold the power button while the PS5 console is in Safe Mode, then let go after the second beep.
Step 5: Choose the Update Software option under Safe Mode option 3.
Step 6: Select Update from USB Storage Device then OK.
After you have update system software try to check if the issue is fixed.
Fix #4 Restore Default settings your PS5 (Reinstall system software)
If at this point if your game still shows the error then you can reset to factory settings your console and see if it fixes the issue in not be able to go to safe mode. Use this step as a last resort only as this will restore default settings or return to default factory settings everything in your PS5.
Factory Reset System's Factory Settings
Step 1: On the PS5 Home screen, go to settings.
Step 2: Select System.
Step 3: Select System Software.
Step 4: Select Reset Options.
Step 5: Select Reset your Console.
Step 6: Select Reset to confirm hard reset.
Fix #5 Contact Sony Support
If the issue still persist, then you can contact PlayStation support as the problem might be hardware issues. You can contact them for warranty or additional troubleshooting steps or you can go to a nearby service center and have your unit check.
Frequently Asked Questions
How do you get your PlayStation 5 out of safe mode?

When in the Safe mode options,  you can choose the first option, Restart PS5 in Safe Mode, to exit PS5 Safe Mode. The console will then shut down and restart in normal mode. Alternately, you can also turn it off by pressing the power button.

How do I put my PlayStation 5 in safe mode?

Go to Safe mode by pressing and holding the power button. Release the power button after the second beep. It is usually 7 seconds from the first beep that the second beep will be heard.