There could be several reasons for experiencing Redfall fps drop. Outdated graphics drivers,high graphics settings, or a computer that does not meet the system requirements may all contribute to these performance issues. To fox Redfall fps drop issue, it's essential to perform some troubleshooting steps.
Redfall is a first-person shooter game that has been created by developer Arkane Studios, the studio behind popular games such as Dishonored and Prey. The game offers an open-world fps shooter gaming experience and is available on different platforms such as Xbox Game Pass, Xbox Series, and Windows PC. Players can choose to play the game solo or with up to four players in co-op mode. The game is set in the town of Redfall, Massachusetts, which is under attack by a horde of vampires that have blocked out the sun and cut off all communication to the outside world, causing the town to fall into darkness.
To save the town, players must explore the open world of Redfall and uncover the mystery behind the vampire invasion. They can team up with other survivors and fight against the bloodthirsty creatures. Redfall provides both single-player and co-op gameplay options, allowing players to either play with friends or go solo. Players can select from different heroes, each with unique abilities, and use various tactics and loadouts to defeat the vampire horde.
Redfall provides players with specialized weapons, character upgrades, and abilities, enabling them to play the game in different styles, including stealth combat and explosive, guns-blazing action. The vampires in Redfall are genetically modified and gifted with psychic abilities, making them a unique challenge for players.
The world of Redfall is handcrafted by expert level designers who have worked on games like Dishonored and Prey. Players will explore a wide range of environments, including downtown areas, haunted forests, seaside boardwalks, cultist outposts, and supernatural psychic spaces while trying to solve the many mysteries of Redfall.
Fixing Redfall FPS Drop Issue
Players of this open world game and first-person shooter game may encounter a frustrating experience caused by an abrupt reduction in the game's frame rate. This issue can be observed as a sudden slowdown in movement speed or stuttering of the game. This disadvantage can interfere with the overall gaming experience, causing frustration for the players.
Here's how to fix Redfall fps drop issue.
Fix #1 Check System Requirements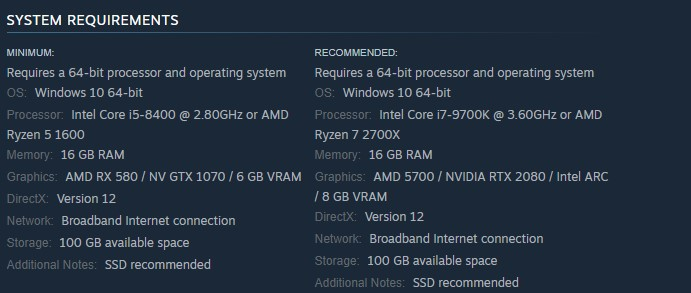 Before troubleshooting Redfall FPS drop issue, the first step is to make sure that your PC meets the necessary requirements to run the game. The game's minimum and recommended system requirements are listed on the Steam Store. If your computer's hardware does not meet these specifications, you may encounter problems such as FPS drop.
Minimum Requirements
Requires a 64-bit processor and operating system
OS: Windows 10 64-bit
Processor: Intel Core i5-8400 @ 2.80GHz or AMD Ryzen 5 1600
Memory: 16 GB RAM
Graphics: AMD RX 580 / NV GTX 1070 / 6 GB VRAM
DirectX: Version 12
Network: Broadband Internet connection
Storage: 100 GB available space
Additional Notes: SSD recommended
Recommended Requirements
Requires a 64-bit processor and operating system
OS: Windows 10 64-bit
Processor: Intel Core i7-9700K @ 3.60GHz or AMD Ryzen 7 2700X
Memory: 16 GB RAM
Graphics: AMD 5700 / NVIDIA RTX 2080 / Intel ARC / 8 GB VRAM
DirectX: Version 12
Network: Broadband Internet connection
Storage: 100 GB available space
Additional Notes: SSD recommended
Fix #2 Update Graphics Card Driver
Outdated graphics drivers can cause Redfall fps drop issues in the game. To fix this problem, it is necessary to update the drivers to the latest version. These updates include graphics card manufacturer updates and bug fixes, which can improve the overall performance of the game.
Updating Graphics Card Driver
Simply type Device Manager in the search bar on your desktop and then click the Device Manager icon that appears in the results.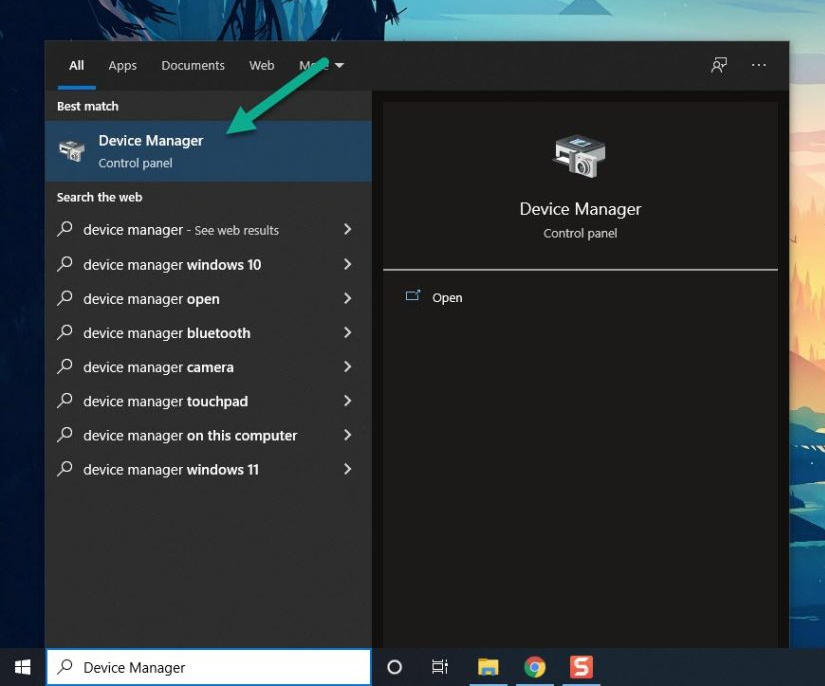 This will open the device manager.
Click the Display adapters icon.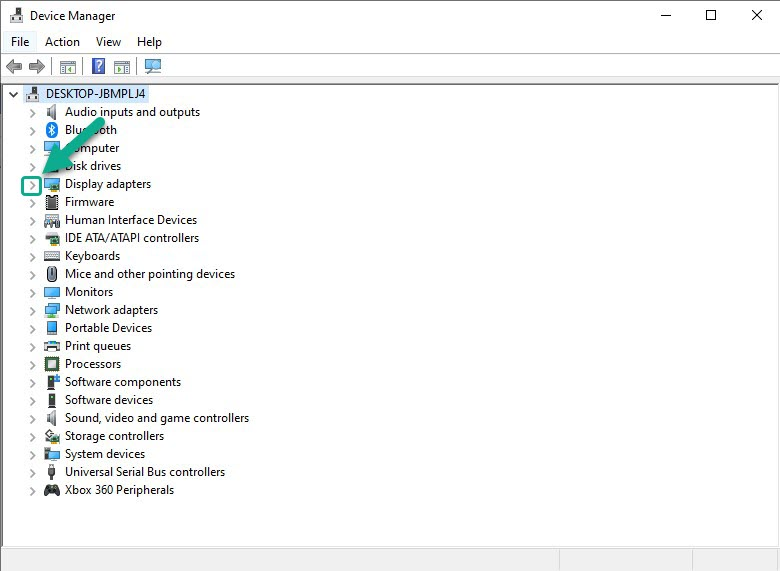 The list of display adapters will be expanded.
Right-click the dedicated graphics card you are using to play the game and then select Update driver.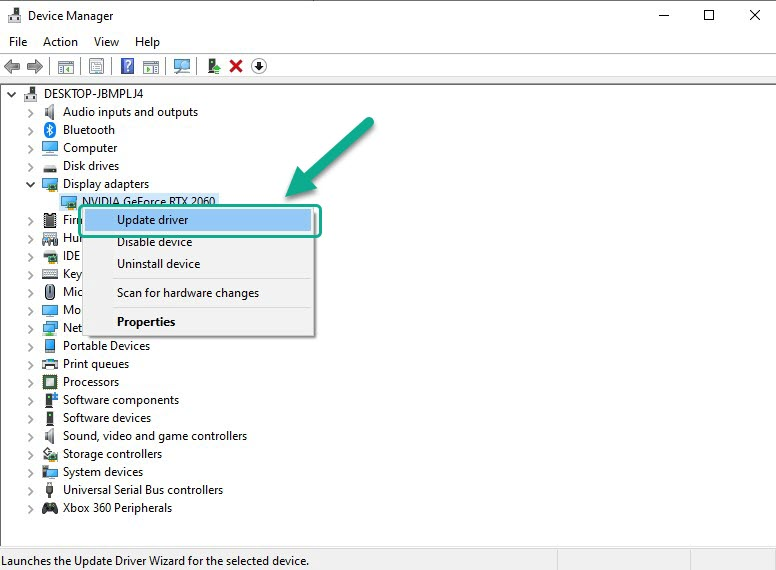 This will allow you to update your driver
Choose Search automatically for drivers.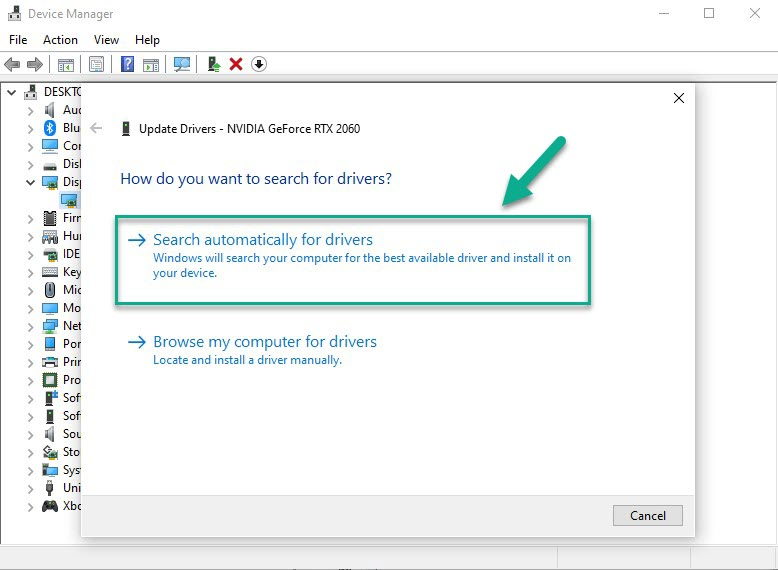 This will search online for any new drivers and install it on your computer.
Fix #3 Adjust Graphics Settings
If you experience Redfall fps drop, one of the reasons could be that you have selected high graphics settings, and your computer is unable to keep up with the game's demands, causing performance issues. To resolve this issue, you can try reducing the graphics quality in the game's settings menu and see if it improves game performance and resolves the fps drop issue.
Adjusting Graphics Settings
Step 1: Launch the game and go to the "Options" or "Settings" menu.
Step 2: Look for the "Graphics" or "Video" section in game menu.
Step 3: Locate the in graphics settings of game's settings menu, such as resolution, texture quality, anti-aliasing, ray tracing reflections, graphical fidelity, video scaling, motion blur, particle quality setting or game's particle effects in the graphical settings.
Step 4: Adjust the settings to a lower level to reduce the game's resource requirements or disable ray tracing and NVIDIA's DLSS feature.
Step 5: Experiment with different settings to find the optimal balance between performance and visual quality for a better immersive experience.
Step 6: Save the changes and restart the game to apply the change.
Using NVIDIA Control Panel
Step 1: Right-click on desktop
Step 2: Click Nvidia control panel
Step 3: Click Manage 3D Settings
Step 4: Click Program Settings
Step 5: Find The game, you can manually add the game if it's not in the list, then make the following changes
Step 6: Monitor Tech: G-Sync (If available)
Step 7: Maximum Pre-rendered frames: 2
Step 8: Threaded optimization: On
Step 9: Power Management: Prefer Maximum Performance
Step 10: Texture Filtering – Quality: Performance
Step 11: Low Latency Mode: Low
Using Radeon AMD software
Step 1: Open the AMD Software
Step 2: Anti-Aliasing Mode: Use Application settings
Step 3: Anti-aliasing Method: Multisampling
Step 4: Morphological Filtering: Off
Step 5: Anisotropic Filtering Mode: Use application settings
Step 6: Texture Filtering Quality: Performance
Step 7: Surface Format Optimization: On
Step 8: Wait for V-sync: Off
Step 9: OpenGL Triple Buffering: Off
Step 10: Shader Cache: AMD optimized
Step 11: Tessellation Mode: Override application settings
Step 12: Maximum Tessellation Level: Off
Step 13: GPU Workload: Graphics
Step 14: Chill: Off
Step 15: Frame Rate Target Control: Disabled
Fix #4 High Performance Mode
To ensure optimal performance while playing Redfall, it is important to examine your computer's power settings. Check if your computer is set to high performance or maximum performance mode. If not, switch to the High power plan performance level to get the most out of your game and avoid frame rate drops and other performance issues.
Setting High Performance Mode
Step 1: On the search bar on your desktop, type Power & Sleep Settings and click it from the search result.
Step 2: Click Additional Power Setting.
Step 3: Choose High Performance.
Fix #5 Update Windows
To address issues with the Redfall fps drop, it is recommended to check whether your desktop PC has the latest Windows updates installed. These updates include bug fixes, security patches, and stability enhancements, which can help resolve issues with the game and improve overall performance.
Updating Windows
Step 1: Press Windows logo key on your keyboard.
Step 2: Select Settings.
Step 3: Select Update & Security.
Step 4: Select Windows Update tab.
Step 5: Select Check for updates.
Fix #6 Close Background Programs
If you are experiencing Redfall fps drops while playing, other programs running in the background on your PC could be the cause of the issue. To address this, it is recommended to close any unused apps via the task manager to free up system resources, such as RAM and CPU. This can help the game run smoothly and without FPS issues.
Closing Background Programs
Step 1: Right click on the Start button. This can be found on the left pane of the screen.
Step 2: Select Task Manager. This will open Task Manager.
Step 3: On the pop up window, Click processes tab. This will allow you to show the running program.
Step 4: Right-click on the running program then select end task. This will allow you to close unused program.
Fix #7 Verify Game Files
Corrupted game files can cause FPS issues in Redfall. To fix this issue, you can use the Steam client to verify the integrity of the game file. This process checks the game files for any corrupt or missing files and replaces them with fresh copies. This can help to ensure that the game runs smoothly without any FPS issues caused by corrupted files.
Verifying Game Files
Step 1: Open Steam client.
Step 2: In your Steam launcher, click Library.
Step 3: Find the game then right-click the game in your Library and select Properties.
Step 4: Choose the Local Files tab and click Verify integrity of game files. This will let you verify the game.
Fix #8 Reinstall Game
If you have tried all the previous troubleshooting steps and the Redfall fps drop issue persists, it is possible that the game installation itself may be corrupted. In this case, the best solution is to uninstall the game from your computer and then reinstall it. This will ensure that the game files are fresh and free from any corruption that may be causing FPS issues and the latest game update will be installed.
Reinstalling game
Step 1: Open the launcher.
Step 2: Go to the libraries tab.
Step 3: Right-click on games you want to uninstall then click on manages then uninstall.
Step 4: Select uninstall.
Step 5: Right-click on the games you want to install then click on install.
Step 6: Click next to proceed with the installation.
Frequently Asked Questions
What console will Redfall be on?
It is available on Xbox Series X/S.
Is Redfall like Left 4 Dead?
Yes there are similarities.
Is Redfall split screen?
No, it does not have that functionality.