Power banks that support pass-through charging are useful because they let you charge both the power bank and the connected device simultaneously, which is a feature that not all power banks have. You can charge your power bank by connecting it to a wall outlet, and then use it to charge your phone. In essence, pass-through charging is connecting your power bank to a wall charger and simultaneously charging the devices simultaneously both your power bank and your device. Although this appears to be a straightforward task, it takes the use of specialized technology to do pass-through charging regularly to charge devices.
Power banks are portable chargers with an internal battery packs that have enough power to charge other devices via a USB connector thru a charging cable. Power banks come in a variety of sizes and are typically made up of 18650 battery cells. A single cell is used in the smaller power banks. Smaller ones for mobile phones normally feature a parallel circuit with a few cells, whereas larger ones have two series.
Power banks are commonly used to charge smaller battery-powered devices with USB connections that can do simultaneous charging, such as cell phones and tablet, and can also be used to power USB-powered accessories like lights, small fans, and external digital camera battery chargers. A micro USB port is frequently used to recharge them. Newer power banks use USB-C charging ports that can use power input and power output, it may include also a USB-B micro port for compatibility with older devices and standard USB-A port to charge the power bank or the connected device . The power bank has a control circuit that regulates battery charging as well as converts battery voltage to 5.0 volts for the USB connection.
The best pass through charging power bank
Pass through charging is a fantastic technology that allows you to prolong your battery life. As a result, pass through charging power banks are beneficial to a wide range of users. We've compiled a list of the finest power banks with pass-through charging for 2022.
1.) Anker PowerCore Fusion 5000mAh
Description
The next step in USB technology is a charger that can charge at high speeds both at home and on the move. Anker's most versatile charger combines the best of both charging worlds. With the Anker PowerCore Fusion power bank, you can keep your gadgets completely charged. Two USB ports with PowerIQ and VoltageBoost technologies simultaneously charge two devices, and the built-in battery allows you to charge gadgets without using AC power. When plugged into a wall outlet, the Anker PowerCore Fusion power bank recharges itself and connected devices.
Features
Designed to work with most smartphones and devices that have a USB charging port. Charges your phone and keeps it ready to go.
Rechargeable battery with a capacity of 5000 mAh.
Charge your phone and your tablet at the same time with this all-in-one charger.
In one elegant packaging, a hybrid high-capacity portable battery and dual-port wall charger.
VoltageBoost and PowerIQ technologies. Ensure that all devices are charged as quickly as feasible.
Indicator lights with LEDs. Provide battery information at a glance.
2.) Mophie Powerstation XXL 20000maH
Description
The mophie Powerstation XXL 20,000 mAh Portable Charger allows for lightning-fast charging. The powerstation charges and recharges your devices in quick time thanks to a versatile 18W USB-C PD connector. The USB port connections allow you to charge several devices at the same time. Furthermore, the powerstation power bank is both practical and fashionable. The high-end fabric finish adds flair while also protecting your electronics from scuffs and scratches.
Features
Battery capacity: 20,000mAh. The battery in this powerstation XXL is large enough to charge many devices.
USB-C PD output of 18W. With the USB-18W C's output, you can charge your phone at the fastest possible speed and receive up to 50% battery power life in just 30 minutes.
Multiple gadgets can be charged. Plug one device into the USB-C port and the other two into the USB-A ports to charge three devices at once.
USB-C port that can be used in a variety of ways. Use the port to quickly charge the powerstation or to charge a device at the same time.
Power indication with LEDs. The charging status and current battery life are displayed on the integrated four-light LED power indicator.
Fabric with a fashionable finish. The high-end fabric finish adds flair while also protecting it from scuffs and scratches.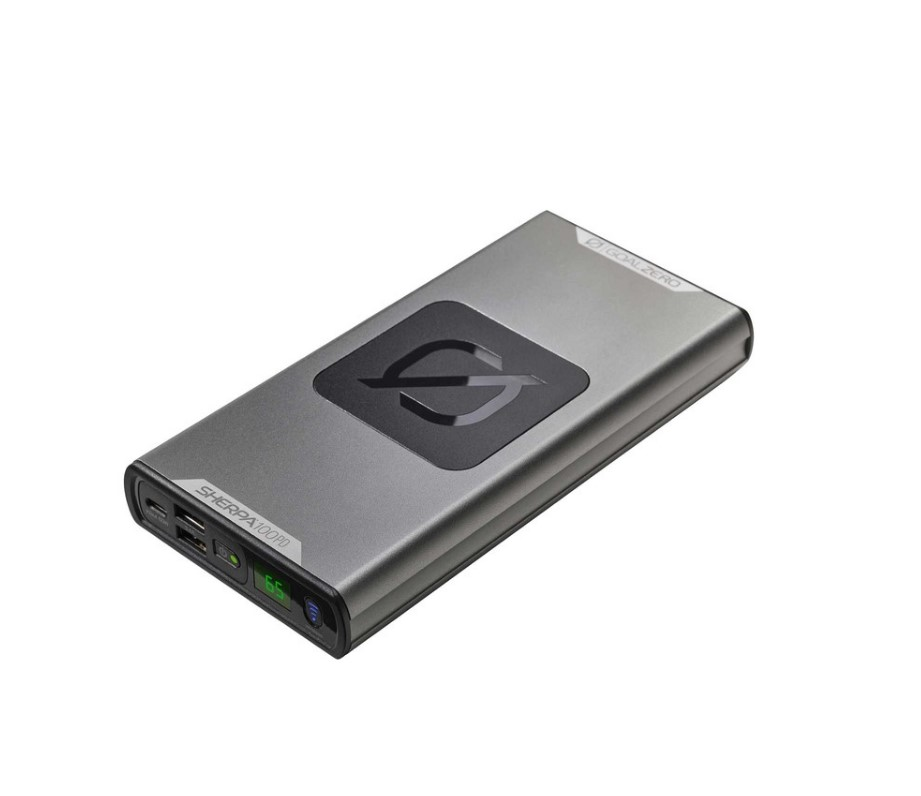 3.) Goal Zero Sherpa 100 PD QI
Description
The Sherpa 100PD is designed for action-packed days when every minute counts, with 94.72 Watts of power supplied to your most important devices in a fraction of the time. Laptops, tablets, phones, mirrorless cameras, and other USB-C devices can all be charged. Connect a compatible solar panel to recharge from the sun. The Sherpa 100PD is ideal for charging all of your laptops, tablets, and other USB-powered devices.
Features
Lightweight, sleek design fits effortlessly into packs, bags, and camera cases, making it airline approved and travel ready. When traveling with a restricted amount of luggage, this is the perfect solution.
Fast-charging Power Delivery allows you to get more power in less time when you're on the go. Use the 60W USB-C port to charge laptops, phones, and tablets.
If you can, avoid using wires and charge your Qi-compatible phone using the built-in Qi charging pad.
Fitness trackers, GPS devices, and micro/lightning phones all benefit from the two 2.4A USB connections.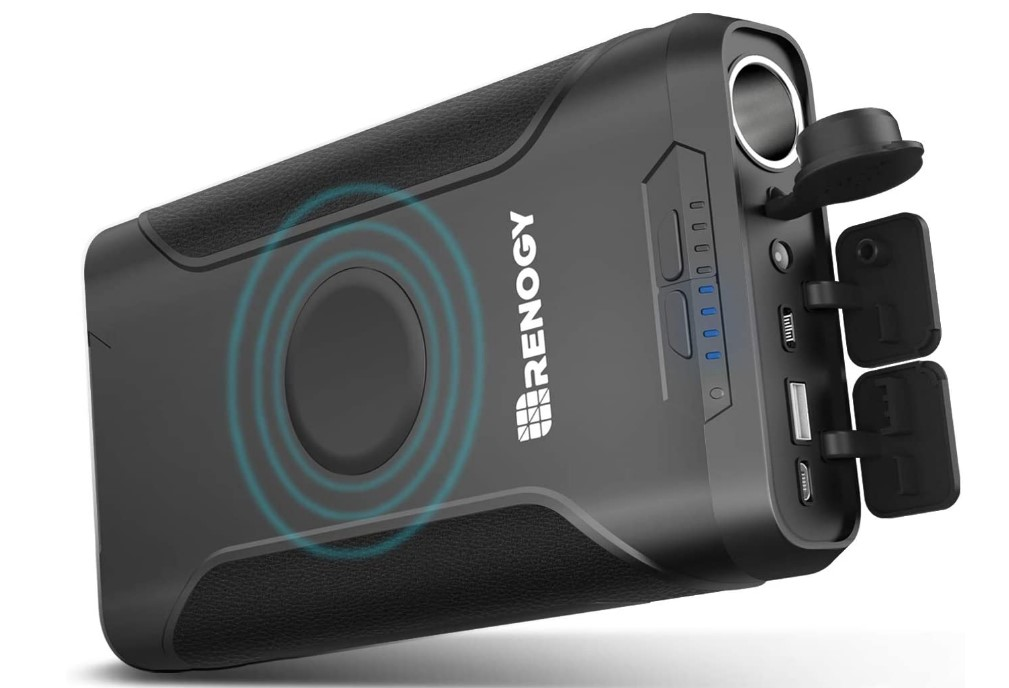 4.) Renogy 72000mAh Power Bank
Description
Renogy 72000mAh High Capacity Power Bank is a compact portable battery pack with improved USB-C technology that provides up to 60W high-speed PD charging for smartphones, tablets, laptops, and other mobile devices on the go. The new Renogy 72000mAh/266Wh Power Bank brings in additional cutting-edge charging technologies to give both performance and convenience.
Slip this compact battery pack into the supplied storage bag and you're ready to go for camping, road trips, fishing, and more. The two USB-C ports are equipped with power delivery to offer a fast and optimal charging experience, allowing you to spend more time on entertainment.
Features
This popular large power bank has been updated to include two high-speed USB-C PD connections to improve your portable charging experience. Send up to 60W of power to your laptop, and it can charge your phones at a maximum speed of Max. On the go, 27W.
This portable charger can pump out enough power to many devices simultaneously and safely at a high power conversion rate of up to 90%, thanks to its large capacity of 72000mAh/266Wh and battery management technology. (Note: not TSA-approved, not permitted on planes.)
Most CPAP machines on the market with a CPAP adaptor, including Philips Dreamstation, Resmed Airsense/Aircurve 10, and Resmed S9, can benefit from the high-performance DC 12V/5A (150W max.) cigarette lighter connector.
Charge the battery pack at full speed with the two-way DC port in 3-4 hours and the two-way USB-C port in 5-6 hours using solar.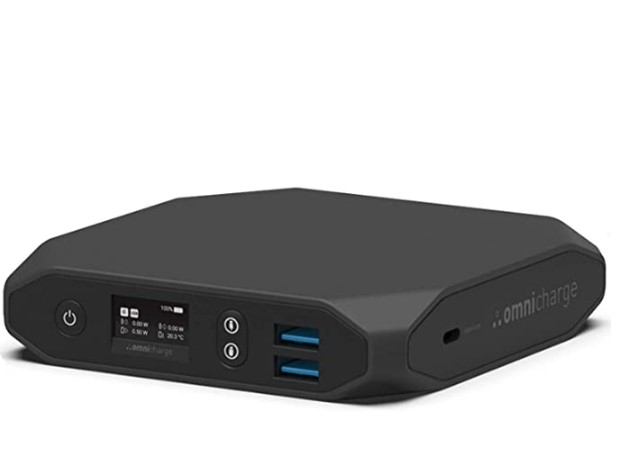 5.) Omni 20c+ 20000mAh
Description
The Omni 20c+ takes you one step closer to a world where you can charge laptops, tablets, gaming devices, and more from a single connection. It's a great power bank that allows you to transfer data quickly, easily, and safely without having to juggle various accessories. Charge your devices quickly and safely while transferring information and media such as images, videos, and music.
You only need one device to complete the task with an Omni 20c+. For some gadgets, wireless charging may eliminate the requirement for a charging cord. The Omni 20c+ is a one-stop shop for all of your gadgets. You can power even the most demanding laptops with a 100W charging port.
Features
You can sync and manage your files on many gadgets with a USB hub. To free up ports on your laptop, convert the port into three USB outlets. Simply connect your laptop to the hub port and attach your external USB gadgets to the two ports.
The Omni 20c+ accepts up to 45W of power and recharges in less than three hours. You can charge your laptop power bank while it charges your gadgets thanks to pass-through charging capabilities.
There's no need to guess how much power your gadgets require or how much power your 100w USB-C portable charger has left. The OLED panel displays intelligent power readings, allowing you to better manage your device's charge levels. To avoid overheating, you can also monitor which ports are in use and the temperature of the battery.
High-capacity, fast-charging 20000mah battery. Charge safely and quickly while getting a high charging efficiency. Most smart gadgets, including the MacBook Pro, Surface Book 2, and Wacom Mobile Studio Pro, are powered by this chip.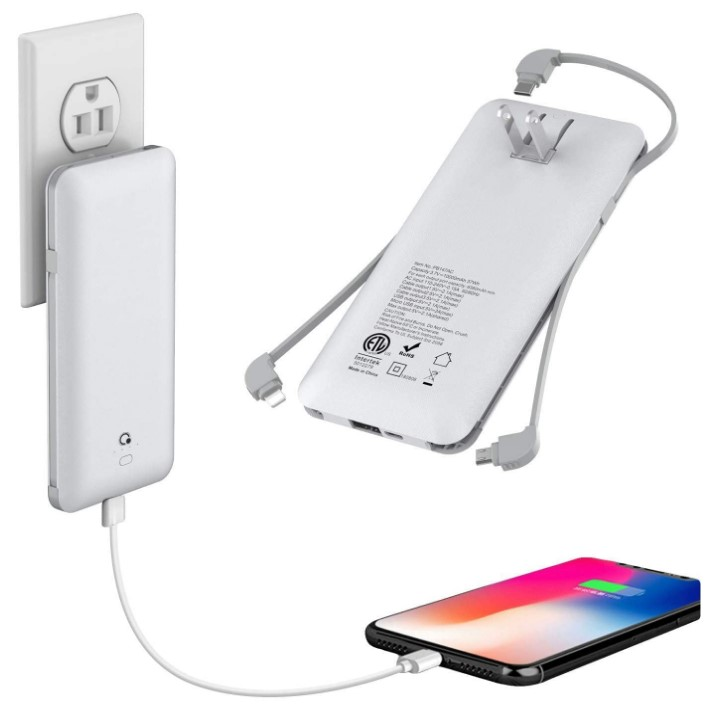 6.) Q Portable Charger 10000mAh
Description
The power bank has 10000mAh and if you want to avoid carrying long cables, this power bank features three types of built-in cables that can charge the phone directly, as well as a USB port output for charging different devices, making it compatible with all mobile phones.
Features
All mobile phones are compatible, and there are three charging cables included. With a built-in AC wall PLUG and a Micro input port for power bank charging.
Power bank is a slim and compact size of only 0.6inch, ultra-thin construction, and light weight, making it easy to carry.
To ensure safe charging, an intelligent power management IC provides power short circuit protection, over current protection, over voltage protection, and over heat protection.
Feel free to visit our YouTube channel for additional troubleshooting guides, discussion and support on various device and gadgets.