A router is your gateway to the wider world, allowing you to instantly connect your desktop computer, laptop, and mobile devices to the internet. Given how much our daily lives revolve around the use of the internet, the importance of a router shouldn't be underestimated. With a modern router combo, you can enjoy faster download and upload speeds, lower latency, and greater signal strength.
* If you buy through links on our site, we may earn an affiliate commission. For more details, please visit our Privacy policy page.
In this article, we are looking at the top seven best modem router combos, telling you exactly what makes them superior to the router given or rented to you by your internet provider. Firstly, allow us to explain what the differences between AC1900, AC1750, AC, and N routers are to those who are not familiar with these terms, and their effect on the performance of routers.
Difference Between AC1900 and AC1750 Routers
Much like an old FM or AM radio, a router communicates with electronic devices over specific wireless frequencies, usually 2.4 GHz and 5 GHz. Both of these frequencies, called bands, have their advantages and disadvantages, and you can learn more about them in this article.
What we are concerned with here are those two sequences of letters and numbers that manufacturers of Wi-Fi routers love to you use, it seems. Both AC1900 and AC1750 refer to the highest possible combined speed of the 2.4 GHz and 5 GHz wireless frequencies. An AC1900 can, theoretically, go up to 1,900Mbps, and an AC1750 can reach, you've guessed it, 1,750Mbps. So, if you want higher download and upload speeds, go with an AC1900 router.
Difference Between AC and N Routers
If each of us spoke a different language, we wouldn't be able to communicate. Similarly, if all routers transmitted data packets in hundreds of different ways, that YouTube video you've clicked on instead of working on your term paper would never load.
That's why IEEE (the Institute of Electrical and Electronics Engineers) has defined wireless standards for all router manufacturers to follow. Their first standard, 802.11a, was released in the 90s, and it's now virtually obsolete. It was quickly followed by the release of 802.11b, after which came 802.11g, 802.11n, and, finally, 802.11ac.
The 802.11ac standard is cited to reach up to 1.3Gbps, compared to just 0.45Gbps of  802.11n routers. If you want a router that can rival Google Fiber, forget about the older standard and go with an AC router that supports 802.11ac. Even if you don't have an obsessive interest in your download speed, you will still benefit from the increased range and higher signal strength of an 802.11ac router.
NETGEAR CM500
The NETGEAR CM500 comes up first on our countdown and is an excellent choice for those that are in the market for a modem router combo. You can choose which configuration you want for it. And depending on your choice, you can get download speeds all the way up to 1000Mbps.
This particular model gives you max download speeds of 300Mbps and is certified for Xfinity from Comcast, Spectrum, Cox, Cablevision, and a few other services. If you're looking for top speeds for online gaming or streaming video, this router and modem combo will help you for sure.
Motorola MG7315
In the second place, we have the Motorola MG7315. This router will provide you with Internet access for all devices in your home — even the smart devices you have. There are four 10/100/1000 Gigabit Ethernet LAN ports for wired connections that you may want to set up. As far as wireless speeds go, you're looking at a maximum of 343 in download speeds.
Being a modem router combo, this one is approved for use by Comcast Xfinity, Cox, Charter Spectrum, and more. It's a reasonably large router but takes up less space, and helps keep wires clean and organized.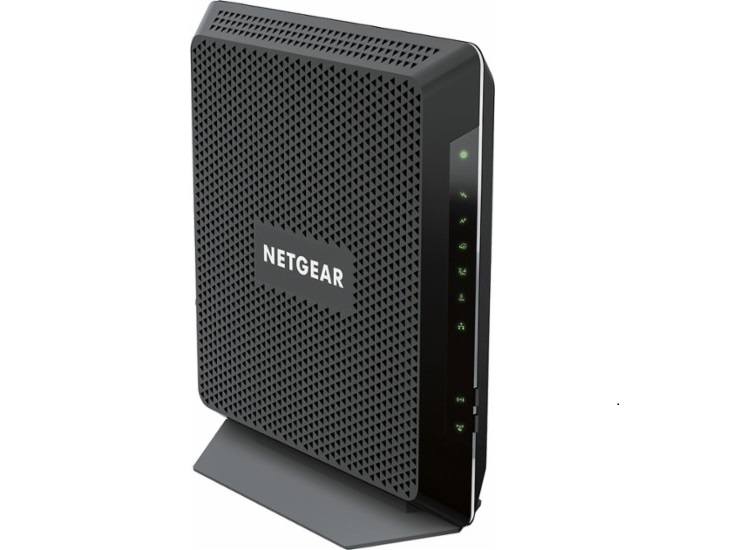 NETGEAR Nighthawk AC1900
Certified for use with Comcast XFINITY Blast, Comcast XFINITY Extreme, or Time Warner Cable Maxx, the NETGEAR Nighthawk AC1900 is a beast of a router capable of delivering excellent speeds even during peak hours. It uses Channel Bonding technology to prevent internet traffic jams from occurring by utilizing 24 separate downstream channels, which are like lines on a highway.
Beating inside this router is a fast 1.6GHz processor, which controls 4 Gigabit Ethernet LAN ports, a USB port, and all wireless communication. This processor speed improves the entire network's responsiveness and allows you to use advanced features such as ReadySHARE USB, a convenient way how you can play, view, listen to, and share your videos, photos, and music on TVs, consoles, and multimedia players.
* If you buy through links on our site, we may earn an affiliate commission. For more details, please visit our Privacy policy page.
What Users Like
Fast CPU
24×8 channel bonding
Certified for Comcast and Time Warner Cable
ReadySHARE USB
4 Gigabit Ethernet LAN ports

ARRIS SURFboard SBG6900AC
Built on over 60 years of innovation and industry experience, ARRIS SURFboard SBG6900AC is a reliable, high-end AC router on which you can depend. The product features 4 Gigabit Ethernet ports, support for the IPv6 standard, certified compatibility with US cable providers, and blazing fast Wi-Fi speeds.
So far, the router has received a total rating of 4.5 stars from almost 3,000 satisfied customers, who frequently comment on how easy it is to set up and how noticeably improved their internet connection has been since they made their purchase.
What Users Like
Proven reliability
Wide, certified compatibility
Support for modern standards
4 Gigabit Ethernet LAN ports
32 download x 8 upload channels

TP-Link AC1750
During the development of their AC1750 router, TP-Link has worked hand-in-hand with Comcast, Time Warner, Cox, Cablevision, and Bright House to create a product that would give customers guaranteed compatibility with major cable ISPs and take no time to set up.
Their secondary objective was to incorporate state-of-the-art Channel Bonding and Beamforming technologies to deliver a highly efficient wireless connection. A powerful dual-core processor inside the unit allows you to simultaneously access remote files via FTP using two built-in USB ports and, at the same time, max out your internet connection—all without any slowdowns or interruptions.
What Users Like
Dual-core CPU inside
Channel Bonding and Beamforming technologies
Built-in USB ports
Certified compatibility with major cable ISPs

NETGEAR AC1750
NETGEAR AC1750 is, in many ways, identical to the previous router on this list. They both support 16 downstream channels and four upstream channels providing efficient and reliable internet access, are certified to work with major cable ISPs, and can reach amazing download and upload speeds.
What makes NETGEAR AC1750 is the company's proprietary control and management panel called NETGEAR Genie. Using Genie, you can quickly secure your wireless network, use parental controls to prevent access to inappropriate websites, and create a separate wireless network for your guests. This will ensure that you don't have to share your Wi-Fi password with everyone who enters your house or apartment.
What Users Like
Certified compatibility
Fast download and upload speeds
ReadySHARE USB
NETGEAR Genie management panel

Motorola MG7310
This is a router that you don't want to hide away from view. Motorola MG7310 features an array of ten status LEDs located on the front, glossy panel to visually indicate the current status of the router. The router's stellar user experience extends far beyond its black or, optionally, white housing.
Motorola proudly states that all their customer support staff is based in the USA, which means much shorter waiting times and communicating with people who understand your problems and know how to help in a language you understand.
What Users Like
US-based customer support
Beautiful design
LED status lights
High internet speeds
Verdict
Your Internet setup can be a tad bit of a mess with all of the space and wires that it requires. First, you need a modem to bring your Internet connection — in layman's terms — into the home, and then a router to make your personal wireless connections available throughout the home or office.
That you can create quite a mess as far as wires go, which is why we love modem and router combos so much. A modem router combo ensures that you only have one piece of hardware taking up space, which also helps simplify troubleshooting if you ever have trouble with your connection. Any one of these will do, all bringing you fast and quick Internet speeds. Which is your favorite?