Are you experiencing Nier Replicant stuttering issue when using controller on your PC? Several factors can cause this issue such as outdated drivers, graphics settings, controller settings issue, and corrupted game files. To fix Nier Replicant FPS issue or stuttering issue when using the controller, you will need to perform several troubleshooting steps.
NieR Replicant ver.1.22474487139 is an action adventure single player RPG game that was developed and published by Square Enix. NieR Replicant is an updated version of NieR Replicant, previously only released in Japan in 2010. In Nier Replicant, you will learn about the unique prequel to NieR:Automata, the highly acclaimed masterpiece. Experience masterfully restored aesthetics, an engaging plot, and more now with a modern makeover.
Fix Nier Replicant FPS Issue, Stuttering Issue and Controller Issue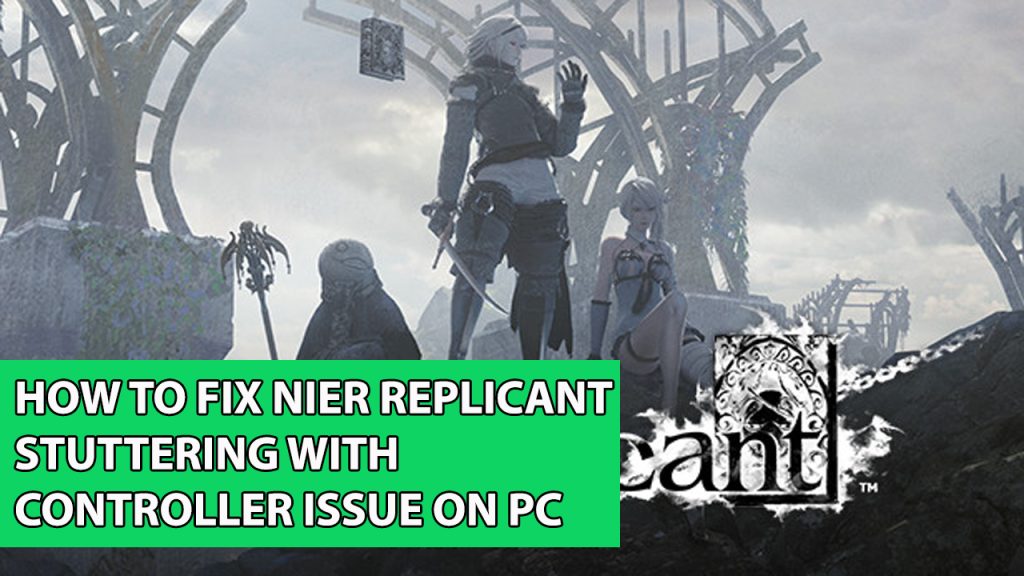 One of the issues you will experience when playing Nier Replicant with controller is a sudden stuttering or fps drop. This can be a frustrating experience especially if you want to play the game.
Here's how to fix Nier Replicant PC version stutter and low fps when using a controller.
Before starting the troubleshooting steps, make sure you have restart your computer.
Fix #1 Check System requirements
The first thing to check if your computer is capable of running Nier Replicant. If your computer does not meet the requirements to run the game then you will be experiencing stutter and low fps issue. Below is the minimum and recommended requirements to run Nier Replicant.
Minimum Requirements
OS: Windows 10 64-bit
Processor: AMD Ryzen 3 1300X; Intel Core i5-6400
Memory: 8 GB RAM
Graphics: AMD Radeon R9 270X; NVIDIA GeForce GTX 960
DirectX: Version 11
Storage: 26 GB available space
Sound Card: DirectX Compatible Sound Card
Additional Notes: 60 FPS @ 1280×720
Recommended Requirements
OS: Windows 10 64-bit
Processor: AMD Ryzen 3 1300X; Intel Core i5-6400
Memory: 16 GB RAM
Graphics: AMD Radeon RX Vega 56; NVIDIA GeForce GTX 1660
DirectX: Version 11
Storage: 26 GB available space
Sound Card: DirectX Compatible Sound Card
Additional Notes: 60 FPS @ 1920×1080
Fix #2 Disable steam input and enable steam input
The next thing to do is disabling steam input then re enable it. The issue you could be experiencing is a software glitch with your controller and Steam when playing Nier Replicant. Steam has good software that is able to identify and set up a controller directly. Try to disable input and enable it to fix the performance issues and inconsistent controller support.
Time Needed : 3 minutes
Disable support and re enabling controller support
Open Steam.

This will let you Run Steam.


Go to Steam Library Tab then right click the game.

Search for the game.


Select Properties.

This will allow you to go to Properties window.


Select controller tab then under override click the drop down menu under the word use default settings then select disable steam input then select again enable steam input.

This will disable and enable controller.


Click the general controller settings in the controller tab to enable PlayStation configuration, Xbox configuration or other controllers.

This will let you go to controller general settings.


Check mark the type of controller you have so you can use it in Nier Replicant.

This will let you choose controller.

Fix #3 Update graphics card driver
The next step is to confirm that the drivers for your video card are updated. An outdated graphics driver on your PC may potentially cause stutter in games. The most latest graphics drivers will include additional performance and bug fixes that may fix the lagging issue you are experiencing, so make sure you have them installed.
Updating graphics driver
Step 1: Simply type Device Manager in the search bar on your desktop and then click the Device Manager icon that appears in the results. This will open the device manager.
Step 2: Click the Display adapters icon. The list of display adapters will be expanded.
Step 3: Right-click the preferred graphics processor you are using to play the game and then select Update driver. This will allow you to update your driver.
Step 4: Choose Search automatically for drivers. This will search online for any new drivers and install it on your computer.
Fix #4 Disable in game overlay
Because overlay apps require system resources and operate in the background, they may cause the game to crash. The crashing problem might be resolved by disabling Steam overlays, third-party overlay programs, including game bars like the Xbox game bar and the NVIDIA overlay.
Disable Steam overlay
Step 1: Open Steam client.
Step 2: Click on Steam found on the upper left side of the client.
Step 3: Click Settings.
Step 4: Click In-Game.
Step 5: Uncheck Enable the Steam Overlay while in-game box.
Step 6: Click OK.
Disable Xbox Game Bar
Step 1: Click the Start button.
Step 2: Click Settings.
Step 3: On the Settings Window, click Gaming.
Step 4: Turn off the switch for Xbox Game Bar
Disable NVIDIA GeForce Experience app overlay
Step 1: Open NVIDIA GeForce Experience.
Step 2: Click Settings or the gear icon.
Step 3: Turn off In-game overlay.
Fix #5 Change graphics settings
There's a possibility that the stutter issue is caused by certain graphics settings that you are using. To minimize the occurrence of frame drops and allow for maximum pre rendered frames try to make the following changes.
Nvidia users
Open NVIDIA control panel
Click Manage 3D Settings
Click Program Settings
Find "Nier Replicant", you can manually add the game if it's not in the list, then make the following changes.
Monitor Tech: G-Sync (If available)
Maximum Pre-rendered frames: 2
Threaded optimization: On
Power Management: Prefer Maximum Performance
Texture Filtering – Quality: Performance
Low Latency Mode: Low
AMD users
Open the AMD Software then make the following graphics changes.
Anti-Aliasing Mode: Use Application settings
Anti-aliasing Method: Multisampling
Morphological Filtering: Off
Anisotropic Filtering Mode: Use application settings
Texture Filtering Quality: Performance
Surface Format Optimization: On
Wait for Vertical-sync: Off
OpenGL Triple Buffering: Off
Shader Cache: AMD optimized
Tessellation Mode: Override application settings
Maximum Tessellation Level: Off
GPU Workload: Graphics
Chill: Off
Frame Rate Target Control: Disabled