Electric vehicle company Lucid Motors paid its CEO Peter Rawlinson $379 million in total compensation last year, an astronomical sum that dwarfs the pay packages of other auto executives. The eye-popping compensation, which was comprised mostly of stock awards, comes despite Lucid struggling financially and generating just $608 million in revenue in 2022.
Rawlinson's Pay Dwarfs Other Auto CEOs
Rawlinson's pay towers over other auto CEOs. General Motors chief executive Mary Barra, who runs a company with over $127 billion in revenue last year, made $29.1 million in total compensation in 2022. Ford CEO Jim Farley collected $18.7 million while his company pulled in $156 billion in sales.
Lucid Defends Rawlinson's Massive Payday
The massive payday for Rawlinson, who co-founded Lucid in 2007, stems from him meeting share price milestones that triggered stock grants worth hundreds of millions of dollars. According to Lucid's filings with securities regulators, Rawlinson was awarded 5.9 million shares in February 2022 after Lucid's share price crossed $22.50 and stayed above that level for 30 consecutive trading days. Another 9.8 million share grant vested in March when shares eclipsed $35. Shares of Lucid peaked at nearly $60 last year before evaporating in value. The stock now trades around $7.
Lucid justified the $379 million awarded to Rawlinson by highlighting in a recent Securities and Exchange Commission filing that his pay is "aligned with the interests of stockholders" since it's tied to ambitious share price and operational milestones. The company also noted that Rawlinson's compensation next year will be "dramatically less" than 2022 as future tranches are triggered at share prices of $52.50 and above.
Huge Pay Despite Lagging Performance
Still, the disconnect between Rawlinson's compensation and Lucid's meager revenue and large losses is dramatic. Excluding stock grants, Rawlinson's salary and additional compensation totaled only $6.2 million last year. Lucid generated revenue of $27 million in 2021 and lost $2.6 billion. Last year, sales rose to $608 million but its net loss was still a staggering $1.3 billion. The company also badly lagged initial projections to produce 20,000 vehicles in 2022, delivering just over 4,000.
Lucid isn't the only fledgling electric automaker doling out huge sums to its CEO while struggling to ramp up. Nikola founder Trevor Milton received $265 million in 2020, mainly from a generous equity award, even though his company had no revenue. However, Milton was later fired and charged with criminal fraud.
Elon Musk Criticized Lucid CEO's Pay Package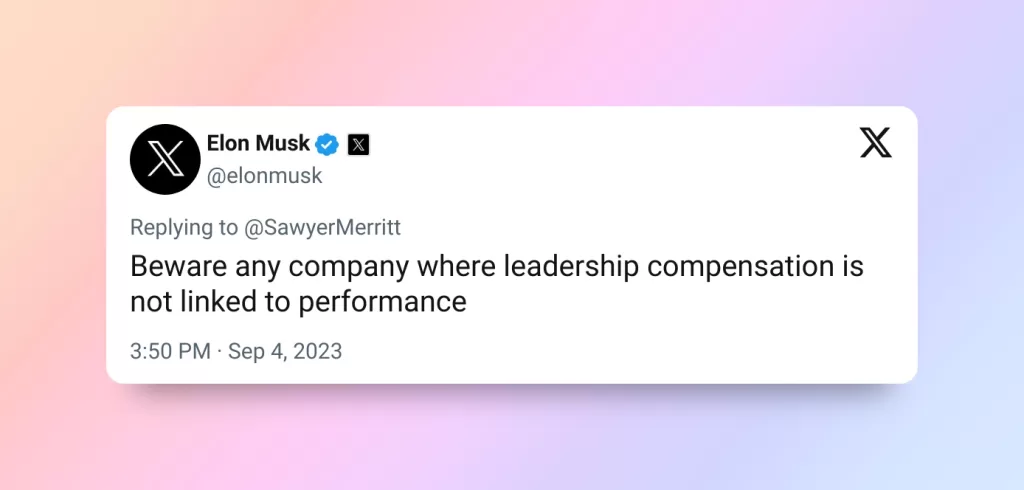 Elon Musk, the CEO of Tesla, criticized the pay package of Peter Rawlinson, the CEO of Lucid Motors, in a tweet on September 4, 2023. Rawlinson received a total compensation of $379 million in 2022, making him the highest-paid CEO in the automotive industry.
Musk tweeted, "Beware any company where leadership compensation is not linked to performance." He also pointed out that Rawlinson's compensation was much higher than his own.
Musk's tweet drew mixed reactions. Some people agreed with him, arguing that Rawlinson's compensation was too high, especially given that Lucid is still a young company that is not yet profitable. Others defended Rawlinson, arguing that he is a talented CEO who has helped to make Lucid a successful company.
Lucid's Future Remains Uncertain
The jury is still out on whether Rawlinson's mammoth pay will prove justified. With Lucid trading 85% below its peak, shareholders have seen nearly all their investment vanish. But Lucid has $3.8 billion in cash and is gearing up to build a new factory in Saudi Arabia. The company expects to produce 10,000-14,000 vehicles this year. While steep challenges remain, Lucid believes it's on the road to success in the burgeoning luxury electric car market.