You can lock home screen layout of your Samsung Galaxy Z Flip 4 so that it can't be repositioned or deleted. This makes it easy for you to immediately find the app icons on your phone home screen every time you use it. In this tutorial, we will be showing you how this is done.
The Samsung Galaxy Z Flip 4 is one of the latest Android phone models available in the market that uses a foldable display form factor. It's ideal for people looking for a full-sized Android phone that can still easily fit in a pocket. Some of its best features include a Snapdragon 8 Plus Gen 1 chip and a battery capacity of 3700 mAh.
How do you lock the screen on a Samsung Z Flip 4?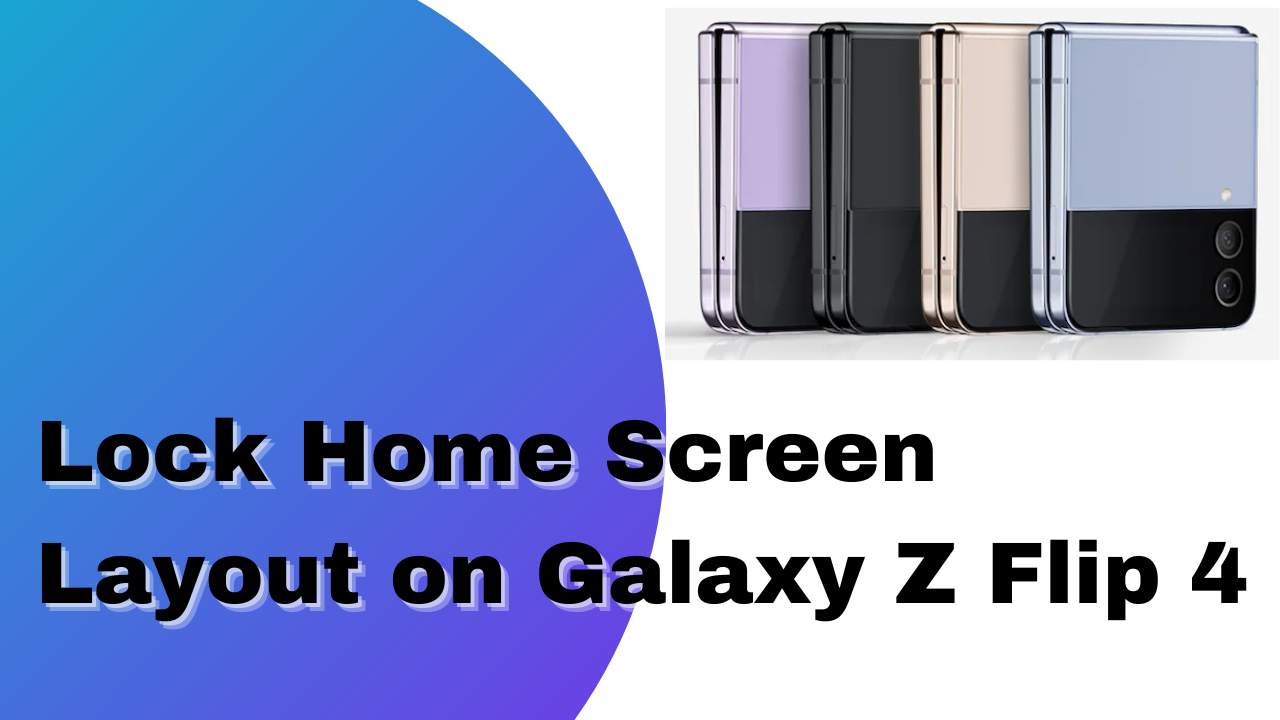 Do certain apps in your device home screen keep disappearing or are rearranged? You can prevent this from happening by locking your phone screen layout.
The home screen apps on your phone serve as shortcuts to access the different apps installed in your device. Tapping on an app icon will open the app or load up a menu where the shortcut can be deleted. Since the accidental deletion of the shortcut is possible then you should consider locking the home screen layout of your Galaxy Z Flip 4.
Samsung Galaxy Z Flip 4 lock home screen layout
Here's how to lock home screen layout of your phone.
Open the Settings app.
Scroll down then tap on Home screen.
Toggle the switch next to Lock Home screen layout to turn it on.
You can check if the new lock screen setting works by going to your home screen, then try to reposition or remove some of the app icons.
Freezing the home screen layout of Galaxy z Flip 4
Another way to access the home screen settings and lock the home screen is by following these steps.
Press with your finger for a long time on a free area of the Home screen.
Select "Home screen settings" at the bottom of the screen.
In this menu, you can now see the following option: Lock Home Screen Layout
Set the switch to "active".
Customizing the home screen layout of your Galaxy Z Flip 4
Before you lock your phone home screen you might consider customizing it first. This way you don't have to go to the unnecessary step of unlocking your home screen to make changes to the app screen layout.
Open the Settings app.
Scroll down then tap on Home screen.
Tap Home screen layout. Changing it to Home screen only will display all apps on the Home screen instead.
Tap Apply button to save the changes.
You can also make changes to the home screen grid. Select any from the given options including 4×6, 5×5, and 5×6.Tap save after choosing the grid.
You can also make changes to the App screen grid. The initial setting is 4×6 however you can change this by tapping on Apps screen grid for the Home screen menu then select any from the other options including 4×5, 5×5 and 5×6.
You can customize the folder grid by tapping the Folder grid option on the Home screen menu then tap on your selected option. You can choose from the default 3×4 or 4×4.
Other home screen features you can customize
Add media page to Home screen – swipe right from the Home screen to show the media page where you can select a service to use. By default, it's enabled and set to Google Discover. You may opt to switch it to Samsung Free.
Show Apps button on Home screen – when enabled, apps button will be displayed on the Home screen.
Lock Home screen layout – when enabled, it prevents items on the Home screen from being removed or repositioned.
Add new apps to Home screen – turning this feature will automatically add all new apps you download on the Home screen.
Hide apps on Home and Apps screens – you can use this feature to hide certain apps that you don't want other people to see or access from the Home or Apps screen.
App icon badges – by default, badge style is set to Number. You can change it to Dot instead. Badges appear on the app icon when apps have notification. Removing notifications from the notification panel also clears the badges.
Swipe down for notification panel – with this option turned on, the notification panel is opened by swiping down anywhere on the Home screen.
Rotate to landscape mode – enabling this feature prompts the device to automatically rotate to landscape mode based on the way it's held.
Frequently Asked Questions
Will having too many app icons on the home screen affect battery life?

Adding many app icons on your home screen has very little effect on your phone's battery life. Mobile phones today have excellent battery power management features that prevent it from being drained simply by adding apps to the home screen.

How to turn on always-on display for the Z Flip 4 cover screen?

Open the settings app.
Find and tap Lock Screen.
Tap Always On Display.
Switch to Show always.

Why have my apps stopped working on my Samsung?

One of the reasons behind this is due to a minor glitch. Try to force close the app then open it again. This action removes any corrupted temporary data that could be causing the problem.

Why does my Galaxy Z Flip 4 keep closing apps?

This could be due to corrupted third-party apps. Try to start your phone in Safe Mode and check if the issue still occurs. If it doesn't then find out the third-party app that is causing the problem and uninstall it.

Why does my phone keep glitching out of apps?

This might be due to a corrupted software. Try to do a factory reset to fix this issue.